Name: Mario Balotelli
Home country: Italy
Known for: scoring goals, self-regard, fighting with teammates, fighting with coaches, throwing darts at teammates, setting the bathroom of his mansion on fire with fireworks, parking tickets, yellow cards, red cards, fines, trespassing at a women's prison, struggling to put on bibs, hijinks.
Why he might be a jerk: Mario Balotelli does things that would be considered jerky if you or I did them. Like stomping on an opponent's head. Or fighting with a teammate during a training session. Or fighting with another teammate during another training session. Or fighting with his coach during a third training session. Or slapping a teammate on the back of the head. Or throwing a dart at a youth player because he was "bored." Or setting off fireworks in his bathroom because he was, again, "bored." (Maybe Mario Balotelli just needs a better hobby.)
Balotelli has the sort of rap sheet that inspires BuzzFeed to do a listicle calling him "The Most Interesting Man in the World." Then again, BuzzFeed also called a Mitt Romney strategist the most interesting man in the world. What's notable about Balotelli is that even austere British institutions like the BBC have been inspired to recite his various wacky transgressions in list form.
Also, he's a dirty player—here he is getting two yellow cards in four minutes. He was fined £340,000 (more than $500,000) after being suspended 11 games during the 2011-12 season for assorted red and yellow cards. This past season he was banned for three games for "intimidating and insulting" a ref during a game for his club team, AC Milan. In his eight-year professional career, the 23-year-old has accumulated 70 yellow cards and eight reds for club and country.
He's also reportedly been fined by various teams for smoking in a club bathroom, violating team curfew to go to a strip club, and violating team curfew to go out for a curry and engage in an impromptu mock swordfight with his fellow diners using rolling pins. (This last one is obviously very cool, and not at all jerky—just including for completeness.) In total, he's reported to have racked up more than $1 million in fines in his career, and the man is just 23 years old. That's an expensive jerk habit!
Why he might not be a jerk: He's probably trolling us all. That is to say, some of his allegedly jerky behavior is just a series of gags. Like when he required the assistance of a coach after several hilariously "failed" attempts to put on a training bib. Or the time he and former Manchester City teammate Sergio Agüero were seen bonking each other on the head.
His pranks at this World Cup have been relatively tame, but funny. At the start of the tournament, he posted a photo to his Facebook timeline showing that he had filled his Panini World Cup sticker book entirely with photos of himself.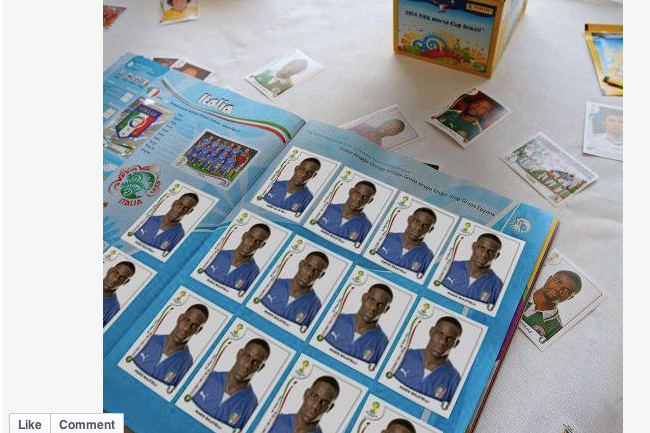 This would be like if Pikachu were real and he filled his Pokémon collection exclusively with Pikachu cards. (Or something—I'm not really sure how Pokémon works.) Still! It was a clever bit of self-marketing that was only enhanced by his "WHY ALWAYS ME?" caption. This is a bit of self-reference, a callback to the time he celebrated a goal in the Manchester derby one day after he set his house on fire with fireworks by lifting his jersey to reveal a "Why always me?" T-shirt. Stuff like this—and like this tweet before Italy's game with Costa Rica—indicates that Balotelli is very much in on the gag.
At that point in the tournament, the only way for England to stay alive was for Italy to beat Costa Rica. Italy lost, Balotelli got a yellow card, and England was eliminated one week after the Italian striker scored the game-winning goal against the Three Lions. And there was no kiss from the queen.
Like the stickers, and the queen joke, and the rolling-pin swordfighting, and the fireworks, and especially his response to the fireworks, most of his antics are playful. There is a childlike quality and silliness to the strange things he does. One time he invited a street magician to his house to learn tricks. Another time, he drove his Mercedes into a women's prison because he wanted to check it out. Another time he drove his Ferrari on a go-kart track because his contract banned him from driving go-karts on go-kart tracks, and he really likes go-karting.
At this point, Balotelli has become the Paul Bunyan of international soccer: It's impossible to tell whether some of these stories are real. For example, he denies that he went around Manchester dressed as Santa Claus giving away money. He also denies that he gave a hobo £1,000 he won at a casino. That's a shame—I liked that one.
When Balotelli is not doing certifiably bonkers things, he comes off as a very thoughtful and restrained person. Consider that he puts up with a lot. He was the first black player to represent Italy at a major tournament and the first one to score for Italy, and is one of the biggest victims of Italian fans' racism. (Most recently, he was racially abused by Italian fans during World Cup training.) But he has never lashed out at abusive fans. He is also the obsessive focus of made-up tabloid stories, but he is forgiving of the gutter press while attempting to maintain even the most basic of boundaries. "If you are one of the paparazzi and you follow me in town or you follow me in the airport or you follow me in Italy or America where you want, it's not a problem," he told Time. "But you cannot come in my house and wait for me to come out of my house. You do your job, I do my job."
Finally, he seems like a pretty good son. After he led Italy to the final of the 2012 European Championship by scoring two goals against Germany, Balotelli went over to the sideline and embraced his adoptive mother. The moment became instantly iconic in Italy. "I was happy for my mom. They really want me to do well on the national team," Balotelli later said. "They are not young, so the more good things I can give to them, the happier I am." How can someone who loves his mom be a jerk?
Jerk Score: 1 out of 3 for style, because of cool Stegosaurus hair. 1 out of 3 for technique, because the jerkiest thing about him—his dirty play—is also the most boring thing. 1 out of 3 for consistency, because he's punking us most of the time. And 1 out of 1 in the category of "Screwing With Mascots for Laughs." 4 out of 10 for Mario Balotelli.
Previously on World Cup Jerk Watch:
Is Uruguay's Luis Suarez Horribly Entertaining or Just Horrible?
Why You Hate Cristiano Ronaldo