Last month we pointed readers toward a map of where the Proclaimers, if they would walk 500 miles, and then 500 more, would walk to. This map was not technically accurate, cartographically speaking, as cartography blogger Kenneth Field chronicled in some detail. But it did inspire Field to think of what other song lyrics could be mapped.

The result is the map below, reprinted with Field's permission. The map shows, according to Field, all 3.5 million streets with no name (which are highlighted in gold, à la the album art). You can click on the map to view a zoomable version: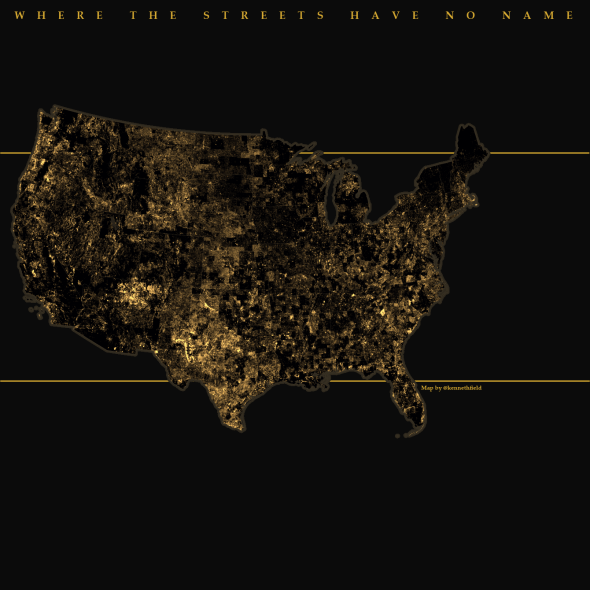 Over on his blog, Field—who is also a professional cartographer, a former cartography professor, and the editor of The Cartographic Journal—explained how he put it together:
First, start with a nice healthy dataset of all streets in the contiguous USA and use some Geographical Information Systems savvy to process it. I'm fortunate to have access to the 2012 version of the Tom Tom data for North America which contains over 15 million street segments.

Second, apply a few of query analyses to extract any street segment without a name, discounting outliers like connectors, ramps, slip roads and such like.
According to the map, Bono should stick to rural areas, while avoiding Vermont and Maine. The Joshua Tree album art was photographed in the Mojave Desert, but if Bono really wanted to show you "a place high on the desert plain …" with lots of unnamed roads, the map suggests that perhaps he should have stuck to the High Plains and Great American Desert of Texas.

Previously
Where Were the Proclaimers Actually Walking to? Mapped.
---