The other day, I caught up with the classic 1989 comedy Major League. When it was over, I headed to the movie's Wikipedia page to see if there was any interesting trivia about the movie, maybe some fun tidbit about on-set hijinks between Charlie Sheen and Wesley Snipes. What caught my eye instead was the plot summary, which kept going, and going, and going … for 1,197 words. That's a lot of detail for a movie that is basically The Producers on a baseball diamond.
I decided to do a little research to see if Major League's Wikipedia summary is especially long. It is. Many films with greater complexity and longer run times have significantly lower word counts. Saving Private Ryan, The Godfather, and Titanic all have plot summaries under 750 words; the Schindler's List summary dispatches with the 197-minute film's plot in 703 words. The summary of Major League (107 minutes), meanwhile, lavishes attention on manager Lou Brown's offseason job (tire salesman) and the mix of pitches Ricky "Wild Thing" Vaughn throws in his relief appearances. The summary of Major League II is even more digressive, weighing in at 1,569 words. It made me wonder: What movie has the longest Wikipedia plot summary of all?
Obviously, a longer run time doesn't necessarily mean that a movie has a more complicated plot—Nutty Professor II: The Klumps is longer than Casablanca. But on average, I'd expected that the longer the movie, the longer the plot summary. Looking at the word count of Wikipedia plot summaries compared to a movie's run time (also supplied by Wikipedia), there did turn out to be a relationship between plot summary length and run time: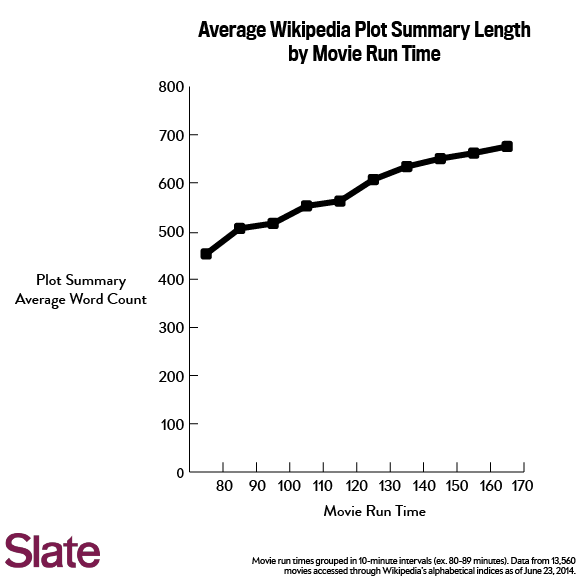 The chart above was made by analyzing 13,560 Wikipedia entries in the encyclopedia's alphabetical listing of all movies (which includes made-for-TV movies). Not every film ever made has a Wikipedia page, and the alphabetical listing may not even include every movie in Wikipedia, but the sample offers a huge cross-section of films. As you can see, the average length of the plot summary increases as the run time increases. But it's worth stressing that this is the average plot summary length. There is great variance in the plot summary length among films of the same run time. Though Last Tango in Paris and Jurassic Park: The Lost World are both 129 minutes long, the former's plot summary—231 words—is one-fourth the length of the latter's—1,116 words.
Judging by this sample, Major League is in the top 3 percent of longest film summaries. The median in the sample had a length of 503 words, and the average plot summary for a comedy released in 1989 (when looking only at films in this separate Wikipedia listing) was 561 words. This places Major League's summary at twice the length you might expect, though behind fellow 1989 comedies K-9 and Look Who's Talking.
So what's the longest plot summary on Wikipedia? I thought the honor would surely go to an epic like Ben-Hur, which has a run time of nearly four hours. Or a film like Inception, whose complex plot would invite competing fan theories. But no. In fact, the honor goes to the immortal 2000 Disney Channel original movie Alley Cats Strike.
For those of you unfamiliar with this made-for-TV title, Alley Cats Strike is about a group of high schoolers engaged in a bowling rivalry; Big Bang Theory's Kaley Cuoco stars. That's my 21-word summary. The Wikipedia article goes on for a stunning 4,266 words. It describes in intricate detail the climax of the bowling drama ("Finally, the ball hits the 7 pin, which spins into the 10 pin and knocks it over. This gives West Appleton a spare, the win, and the Mighty Apple!") and generally provides an exhaustive level of exposition ("In the meantime, Principal Morris has booked some radio time with Sweet Lou … ").
Here's complete list of the most verbose plot summaries on Wikipedia:
1. Alley Cats Strike: 4,266 words
2. He Died With a Felafel in His Hand: 3,798 words
3. Band of the Hand:  3,530 words
4. Ju-on: The Grudge 2: 3,415 words
5. V/H/S/2: 3,360 words
6. Premonition (2007): 3,130 words
7. House of the Dead 2: 2,996 words
8. Underground (1995): 2,824 words
9. Mickey's Twice Upon a Christmas: 2,738 words
10. The Insider: 2,395 words
In most cases, the reason for the extreme length is easy enough to determine: It's the work of a lone superfan. Almost all edits to the plot summary of Alley Cats Strike were made by user "Mattsinc," who has no user page and doesn't appear to be an active editor of any other page. One user contributed more than half the words to the plot summary in four of the other films on this list. A single contributor added more than 1,600 words to the summary of Mickey's Twice Upon a Christmas—on Christmas Day, 2005.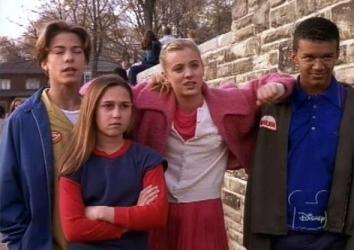 Typically such exuberance is kept in check by Wikipedia's editors, but the obscurity of most of the titles on the top 10 list seems to be contributing to their summaries' lengths: No one's around to enforce the encyclopedia's norms. Last week, the blockbuster Men in Black would have ranked in the top 20 longest summaries, at 2,355 words, but it has since been edited down to 657 words. According to Wikipedia statistics, Men in Black receives about 20 times more views in a month than Mickey's Twice Upon a Christmas.
If we consider only films that enjoyed a theatrical release in the United States, the top 10 list looks like this:
1. Band of the Hand:  3,530 words
2. V/H/S/2: 3,360 words
3. Premonition (2007): 3,130 words
4. Underground (1995): 2,824 words
5. The Insider: 2,395 words
6. For Colored Girls: 2,361 words
7. 2046: 2,346 words
8. Problem Child 2: 2,282 words
9. K-19: The Widowmaker: 2,046 words
10. The Good Girl: 2,042 words
Many of these articles appear to have been stuffed with detail by superfans. An editor on the discussion page for Kathryn Bigelow's K-19: The Widowmaker states that it is "well worthwhile to add another couple paragraphs" based on fact that the "elaborate production is described in considerable detail on the DVD." But some of these titles may be due for a trim: The Good Girl and Band of the Hand have been tagged by Wikipedia editors ("This article's plot summary may be too long or excessively detailed"); it's only a matter of time before someone cuts them down to size.
What's the shortest summary on Wikipedia? Below is that list. To be clear, not all movie pages have a plot description—some movie pages are just stubs and aren't included here:
1. Hysteria: "An amnesiac tries to solve a murder." (seven words)
2. Hamlet (1996): "The film follows the plot of the original play." (nine words)
3. Abhimanyu: "The film tells the story of the Pandava prince Abhimanya." (10 words)
4. Unto the Third Generation: "A Jewish women faces a dilemma over an interfaith marriage." (10 words)
5. Les Misérables (1982): "This film is one of the most faithful adaptions of the book." (12 words)
6. Alibi: "Police hunt for the killer of a nightclub hostess in pre-war Paris." (12 words)
7. That Darn Cat: "A cat has a watch around its neck, leading to a kidnapping investigation." (13 words)
8. Cash (1933): "A businessman on the brink of bankruptcy struggles to keep his company afloat." (13 words)
9. Ed: "This movie is about the relationship between a baseball pitcher and a chimpanzee." (13 words)
10. Dead Cert: "A young jockey investigates on strange deadly accidents that involve his race horse." (13 words)
In most cases, these are little known films whose plot summaries seem to be lifted from descriptions elsewhere (TV Guide, perhaps), as opposed to the fan-driven plot summaries on the list of longest summaries. While Les Misérables, the novel, boasts a word count of 530,982—enough to land it on Wikipedia's "longest novels" page—its 1982 film adaptation comes in with a plot summary of a mere 12 words. Victor Hugo's classic has been adapted to film or television at least 12 times, and Wikipedia's editors seemed not to think this one was remarkable enough to merit much describing. The most recent revival, by contrast, clocks in with the longest plot summary: 1,401 words—the same length as this article you just finished.