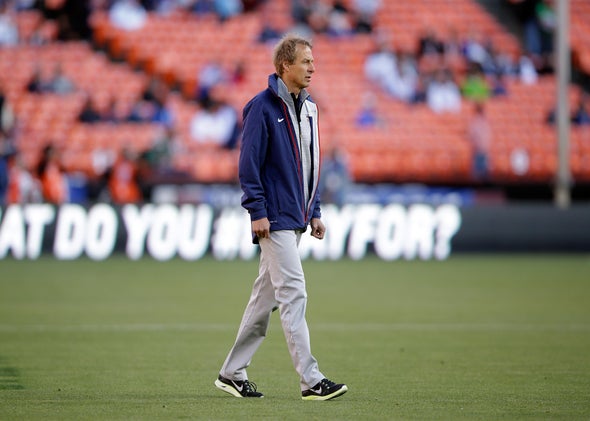 With just two weeks and one friendly left until the U.S. faces its opening World Cup match against Ghana, the starting lineup for that game remains up in the air. The American squad that beat Azerbaijan 2–0 last week and Turkey 2–1 on Sunday looks incredibly, terrifyingly shaky on the back line. Given that obvious weakness, this USMNT looks like a team destined to crash out of the Group of Death in Brazil and give up a lot of goals along the way.
Given the way the Americans have defended in their last three games, going back to April's friendly against Mexico, Ghana's Black Stars should expect to have a field day. (And let's not even mention Cristiano Ronaldo or Mario Götze.) Against a less-than-full-strength Turkey squad, the American back line conceded chance after chance, often due to failures of communication. It was only through good fortune that Turkey did not put at least two or three in, and the U.S. has not been so lucky against Ghana in the past.
Jürgen Klinsmann, who we are certain is a regular Spot reader (guten Tag, Klinsy), seemed to have taken our advice from last week. As we suggested, he gave Brad Davis the start in place of Alejandro Bedoya on the left side of the midfield. He also played around with his back line, removing DaMarcus Beasley like we also recommended. Unfortunately, the player he selected in his place at left back, Timothy Chandler, had an error-riddled 90 minutes that ended with a costly turnover. That giveaway led to Turkey's only goal, on a penalty after a flagrant Geoff Cameron handball. 
The Cameron handball would have called for a red card had it not been in the final minutes of a friendly in front of a ref who couldn't be bothered. But Chandler bears basically all of the responsibility for that goal, and that was by no means his first mistake, as analysts noted on Twitter throughout the game.
Omar Gonzalez, whose poor performance against Mexico and recent knee injury helped cost him his starting position, is probably not the answer either. But at this point, he's probably the best answer the Americans have. The 25-year-old Galaxy defender had been Matt Besler's regular partner at center-back for much of the last year, during a better run of form at the back for the Americans. Gonzalez, you're back in. Chandler, you're out. And here's the rest of our starting 11:
As mentioned last time, Gonzalez should get a chance to earn his spot back in the next friendly, and Cameron should return to the right side of the field where he played well for Stoke this year. After one early mistake, John Brooks looked very strong as a sub at center-back for the Americans. But the 21-year-old Hertha Berlin defender only has four caps for the U.S. and might be too much of a gamble to start the tournament in such a key role.
The left side of the pitch is where we'd tinker a bit more. Fabian Johnson played brilliantly yesterday, scoring an absolute wonder goal for the U.S. opener:
If you watched U.S. qualifying at all, you know Johnson is one of the best players on the team, which has looked especially dangerous whenever he has crept up from the back line into an attacking position. Because of the threat he can pose offensively, and because the left side of the midfield has looked like a weak spot, this is where we propose moving Johnson. He has, after all, played on the left side of the midfield before. This will allow him to come forward more and will give the U.S. some more defensive cover and control on the left side. DaMarcus Beasley gets Johnson's place at left back, where Johnson normally plays for his club and has played for the U.S. in qualifying, by default. (UPDATE: This sentence has been changed to clarify that Johnson's regular position has been left-back, even though he played right-back against Turkey and Azerbaijan.) Twenty-year-old Seattle Sounders defender DeAndre Yedlin looked decent on the left side as a sub, and we'll be watching the Nigeria game to see how he performs, but with only three caps he might be too green to start in Natal.
Brad Davis, who we wanted to see start after a strong performance against Azerbaijan, didn't play as well against Turkey. For one thing, he managed to get away with his own stupid and obvious handball. He goes back to the bench.
Despite Jozy Altidore's inability to finish in front of the goal, the rest of the midfield and attack look pretty much set. Also, despite Brad Guzan's brilliant second-half performance in goal, the spot obviously still belongs to Tim Howard. If Howard goes down with an injury, though, Guzan looks as though he'll be just as good. And the U.S. will need him, or Howard, to be if it has any chance of keeping the ball out of the back of the net.
On Saturday, the U.S. national team plays Nigeria in its final pre-Brazil friendly with the opportunity to go into a World Cup having won all three pre-tournament friendly matches for the first time ever. Even if they pull it off, there will be little reason to feel confident about Brazil unless the defensive performance improves significantly. And at this point, that seems like a long shot.
---