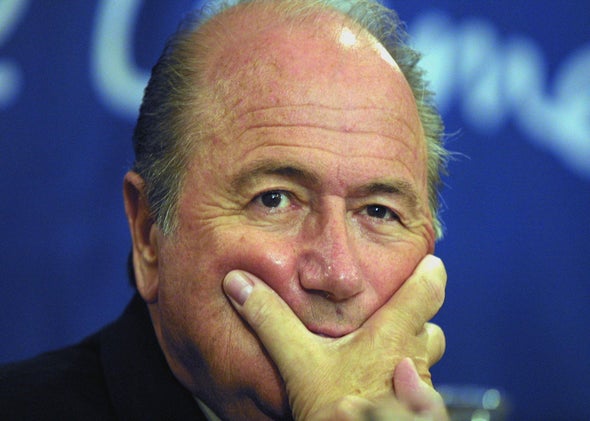 A crazy opening day to the World Cup got crazier when ESPN's Jorge Ramos reported that FIFA has asked U.S. soccer to prepare an organizing committee if the 2022 World Cup does not happen in Qatar.
Update, June 12, 2014, 9:55 p.m.: Ramos has since deleted the tweet in which he made the report, and U.S. Soccer Federation President Sunil Gulati has flatly denied the report as "simply not true." Gulati, who sits on FIFA's executive committee, told New York Times reporter Sam Borden "they haven't asked us and I cannot imagine it happening anytime soon."
If the report is true, it could mean a couple of things, but the implication is that FIFA's internal investigation into charges of corruption related to the decision to award the tournament to Qatar has the world soccer governing body considering a revote.
Earlier this month the Sunday Times of London reported that it had a giant cache of emails, bank statements, and letters proving that a man lobbying for Qatar made $5 million worth of bribes in an effort to influence the decision.
The Times report was immediately followed by calls from European soccer officials and members of the British parliament for a revote if the claims were proved true. The leader of Britain's opposition Labour Party, Ed Miliband, even weighed in on the side of reopening the bidding process. What may have been the last straw for FIFA was new pressure from sponsors to deal with the scandal.
As a soccer fan, my initial reaction to hearing that the World Cup might be coming back to my home country instead of going to a nation whose tournament prep has been marred by labor rights issues and bribery accusations was "please, please, please, please, please."
But then I remembered just how corrupt FIFA is, and how corrupt the organization will continue to be even if the tournament is ultimately awarded to the United States or another non-Qatar country. There's no quick fix for FIFA's long list of sins—for a refresher course on many of them, watch this amazing John Oliver rant. But a good first step would be to start from the top with the removal of President Sepp Blatter.
On Wednesday, Blatter said he planned on running for a fifth term as FIFA president despite calls from European soccer officials for him to step down, including the president of the European soccer federation, Michel Platini, and English soccer federation chairman Greg Dyke.
Every country offered to rebid or bid for the 2022 World Cup, including the United States, should make one of the conditions of accepting to present a bid that Blatter retire. If enough big countries do this, then the 78-year-old Swiss will either be pressured to not seek a new term, or FIFA will be exposed as the crooked, unaccountable organization that it is. If the world rejects FIFA, then sponsors can't possibly be far behind.
Obviously, this is all incredibly fanciful. If the U.S. were to surprise everyone and attempt something like this, then it's unlikely anyone else would join them and FIFA would probably just award the tournament to another country, like England or Australia. But the ignominy of being rejected by America would shine one of the biggest spotlights ever on FIFA's venality, and put more pressure on the group's corporate sponsors then ever before. Even if all of this failed, at least it would be a true example of American exceptionalism in choosing not to lie down with dogs.
---