Call it face-in-the-clouds syndrome, but there is something about the World Cup that demands that we try to discern some larger meaning in its twisting narratives. Sometimes, of course, a football match is just a cigar, as the saying nearly goes, but Spain's shocking exit this week provided a topical instance of the World Cup narrative neatly mapping to the real world.
On Monday, an intense debate broke out in certain corners of the Internet after Jill Lepore set about debunking the notion of disruption in The New Yorker, taking particular aim at the research by Harvard Business School professor Clayton Christensen in his landmark book The Innovator's Dilemma. Christensen famously posited that successful incumbents were vulnerable to disruption by smaller rivals because reliance on their existing business models led them to ignore new technologies.
Lepore was withering in her assessment of Christensen's research, pointing out that many of his case studies appear cherry-picked and in fact don't even support his hypothesis. But Lepore was somewhat less convincing in demonstrating that the theory of disruptive innovation has no value whatsoever. Sure, she's bang on the money in pointing out that "disruption" is an annoyingly overused buzzword, but that's kind of beside the point—just because a concept has been hijacked by hucksters doesn't mean it has no value. As Will Oremus put it in Slate this week: "Overused and reified as the phrase 'disruptive innovation' has become, it remains useful as a descriptive model for understanding how incumbent businesses can sometimes struggle to fend off smaller startups peddling seemingly lower-quality products."
That brings us back to reigning World Cup champion Spain, which suffered shock back-to-back defeats against the Netherlands and Chile. To describe Spain merely as the reigning champion is to do the team's recent achievements a disservice. La Roja had established an unprecedented hegemony at the top of the international game, winning two consecutive European Championships on either side of the 2010 World Cup. They have defined soccer's modern international era, playing an irrepressible brand of tiki-taka, a strategy pioneered by Barcelona involving short, sharp passing designed to maintain huge amounts of possession before incisively cutting through rival defenses once they had been stretched apart. At its best, Spain's brand of tiki-taka was dizzyingly brilliant and simply unbeatable. Their dominance was awesome and complete.
But that very dominance presented national team coach Vicente del Bosque with soccer's equivalent of the innovator's dilemma. Like the CEO of an industrial giant that dominates its market and is wedded to the business model that guarantees its revenues, del Bosque was tied to the players and system that had guaranteed so much success even as Spain faced fresh threats to that dominance.
The first symptoms were evident in the 3–0 defeat to Brazil in last year's Confederations Cup final—one of the warning signs that tiki-taka's era of pre-eminence was coming to a close. Months before, Barcelona experienced a humiliating 7–0 Champions League aggregate semifinal defeat to a finely honed, counter-attacking Bayern Munich side, bringing an abrupt end to their dominance. This year, with Bayern Munich now playing a Teutonic variation on the Spanish style under the former Barcelona coach and high priest of tiki-taka Pep Guardiola, the German champions experienced a similarly emphatic 5–0 drubbing at the hands of counterattacking Real Madrid. As the great soccer tactics writer Jonathan Wilson put it, these results showed that "radical possession football could be defeated by radical non-possession football." Patient possession can be a liability when faced with reactive teams content to strike fast.
Like his club counterparts, del Bosque failed to tweak his tactics to accommodate this new reality. But the increasing vulnerability of tiki-taka to counterattacking football was not the only disruption he faced. Another came with the inexorable march of time.
With an average age of almost 28, Spain has one of the older squads in the World Cup. The more telling statistic is the 23-man squad's collective experience: a combined total of 1,375 international caps going into the tournament, which was 243 more than second-placed Uruguay. Sixteen of the squad had also played at a previous World Cup. These warriors have been in a lot of battles.
Most obviously, Spain's acclaimed goalkeeper and captain, Iker Casillas, has not been an automatic starter for his club, Real Madrid, for two seasons now. At this tournament it was painfully clear that his timing and confidence are long gone. Similarly, the magnificent Xavi Hernandez, the unflappable midfield metronome that made the side tick, has lost his rhythm in the past year, no longer so reliable or effective.
The same symptoms of fatigue, age, and waning self-confidence were palpable throughout the side. However, del Bosque's efforts to rejuvenate the squad largely consisted of conscripting the Brazilian-born striker Diego Costa to lead the attack. In the event, Costa's presence only seemed to gum up the previously fluid attacking style.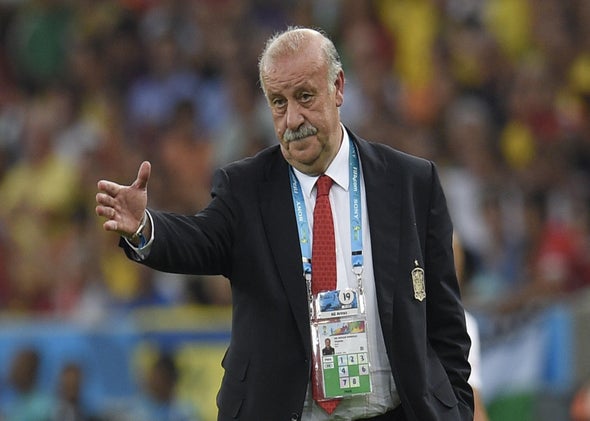 There is a plethora of fine young Spanish players coming through the ranks, but del Bosque's options were constrained. Perhaps he thought, like many of us did, that there was one more tournament in these great players, that the transition could come in the next 12 months. Just like a CEO who lacks the courage to undermine the model that has proven so successful to ensure future success, he failed to change the winning formula at the right time. Slate contributor Ken Early captured del Bosque's quandary well when, describing Spain's demise on Twitter, he wrote, "It happens to all great teams. How do you drop yesterday's heroes? Their status prevents it. They have to lose first."
This is the sporting equivalent of the observation from Christensen and co-author Joseph Bower that "it is nearly impossible to build a cogent case for diverting resources from known customer needs in established markets to markets and customers that seem insignificant or do not yet exist." Those new customers have to become significant, and the existing revenues have to dwindle, before the difficult choices can be made.
And just as Christensen prescribes difficult managerial choices to fend off disruptive rivals, so there exists in soccer a proven strategy for solving the innovator's dilemma. It was proven, again and again, by the truculent giant of modern soccer management, Sir Alex Ferguson, who presided over an unprecedented 26-year reign in charge of Manchester United, winning 13 English league titles and two Champions League titles.
"I believe that the cycle of a successful team lasts maybe four years, and then some change is needed," Ferguson said in an interview in 2012. "So we tried to visualize the team three or four years ahead and make decisions accordingly."
That is the very definition of self-disruption, and Ferguson repeatedly broke up winning teams before they had a chance to be "disrupted" by age and complacency, something akin to Steve Jobs making the iPod Mini obsolete by introducing the iPod Nano, and then the iPhone. (It's possible to see U.S. coach Jürgen Klinsmann's dropping of Landon Donovan in favor of younger talents in a similar light, but the U.S. are hardly incumbents and could probably do with all the talent at its disposal.)
Ferguson famously said his greatest challenge upon taking the Manchester United job in 1986 was "knocking Liverpool right off their fucking perch," but the demise of the great Liverpool era of the 1970s and 1980s owed as much to the club's inability to solve the innovator's dilemma as anything Ferguson ever did. Liverpool's formula for self-disruption involved replacing the manager every few years with an internal candidate from the famed "Boot Room," thereby ensuring both change and consistency, but that well of coaching talent ran dry around the time of Ferguson's ascent.
Ferguson is a notoriously driven, egocentric, and ruthless individual who showed zero loyalty to even his greatest players. Del Bosque, on the other hand, is renowned for his understated, avuncular demeanor and lack of ego—Ferguson's managerial opposite. And at this World Cup, del Bosque's loyalty to the players that served him so well in previous tournaments was his downfall.