Argentine superstar Lionel Messi can't help but be compared with his countryman Diego Maradona. Sometimes the results can be unflattering to the star striker. But we think the following comparison favors Messi.
His brilliant game-winning goal versus Bosnia and Herzegovina on Sunday produced this instantly iconic image of five stumbling Bosnian defenders.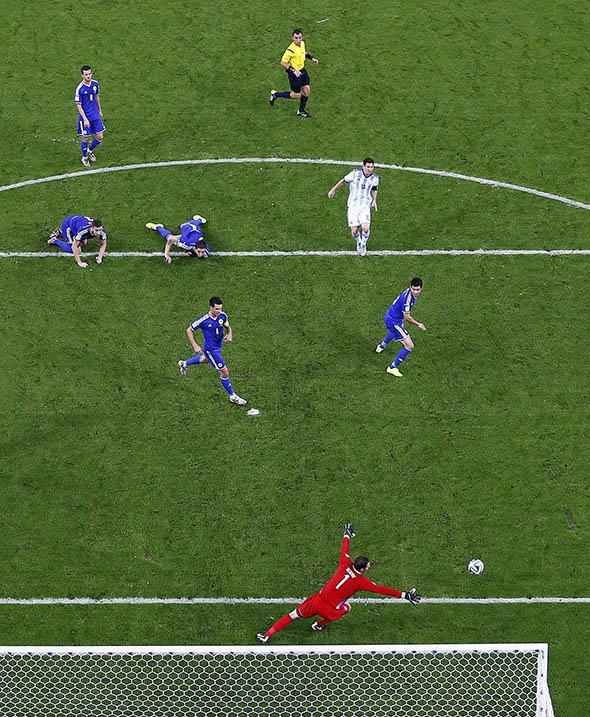 It immediately brought to mind this photo of Maradona appearing to take on half of the Belgian team at the 1982 World Cup.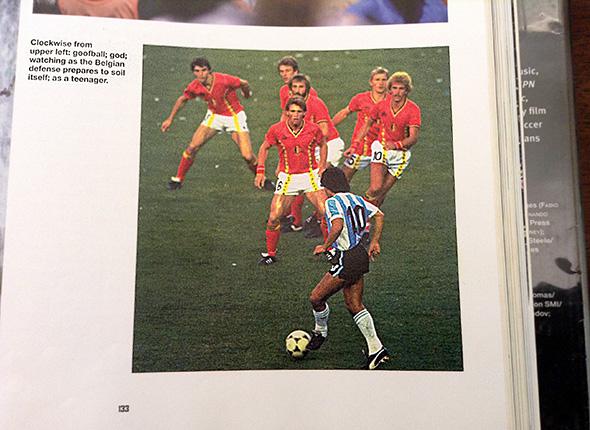 This is a case though where Maradona did it first, but Messi did it best.
The 1982 photo, while a perfect encapsulation of Maradona's usual dominance, is incredibly misleading. According to this analysis by the Irish website The Score, footage of that game reveals that the Belgian players had been lined up in a wall to defend a free kick when the ball was passed to Maradona. The Belgian defense was naturally in that shape, but when they all turned to see the pass to Maradona, it looked like they were all there to defend him. Maradona was certainly capable of dancing through entire defenses. While his photo represents that concept perfectly, it doesn't actually show it.
Meanwhile, the Messi photograph is an accurate illustration of his dominance in that precise moment. After a gorgeous one-two with striker Gonzalo Higuaín, Messi strolled around four defenders and fired a shot just outside of the goalkeeper's diving reach.
It was one of the goals of the tournament and a clear instance where the legend of Messi beats the legend of Maradona.
Looking for a case where Maradona did it better? Check out this side-by-side comparison of his second goal (the non-"Hand of God" one) against England at the 1986 World Cup and a similar-looking Messi goal for Barcelona. Advantage, Maradona.