The World Cup begins on Thursday, and, right on time, Argentina's collective angst is spiking. This year, just like in 2010, there are questions about whether Lionel Messi can propel the national team to glory. You see, the superstar striker has always played better for his fancy European club than for his country. Adding to the dread is the disquieting fact that F.C. Barcelona's all-time leading scorer was merely great this season, not otherworldly.
"We all hope that he's a bastard betraying all that he held dear [at Barcelona] just in order to be good in the World Cup," Argentine writer Martín Caparrós told the New York Times Magazine's Jeff Himmelman in a recent piece. "Because if not, if he keeps playing like he has played the last two months, we're gone."
Never mind that Messi was hobbled by a hamstring injury this winter. Or that in 2013–14 he still piled up 41 goals in 44 appearances. For Messi's critics—and in Argentina there are many—that's not enough. It's never enough. Only a World Cup trophy will do.
Is that fair? Of course not. But Argentina's relationship with Messi has never been based on reason. Argentines have never fully embraced Messi because they believe he's never fully embraced them. As Himmelman puts it in "The Burden of Being Messi": "The main resistance to him, beyond his uneven play for the national team thus far, is that he isn't Argentine enough."
Messi moved to Spain as a boy, never played for an Argentine club at the senior level, and most unforgivably, lacks the almost pathological loyalty to the national team that seemed to possess his talismanic predecessor, Diego Maradona. "Argentines like their heroes to be bombastic, in the Maradona and Evita Perón mold, but Messi is, in truth, rather dull," John Carlin recently wrote in the Financial Times, "More histrionics, more preening, more patriotic rhetoric is required of an Argentine idol than he is temperamentally equipped to deliver."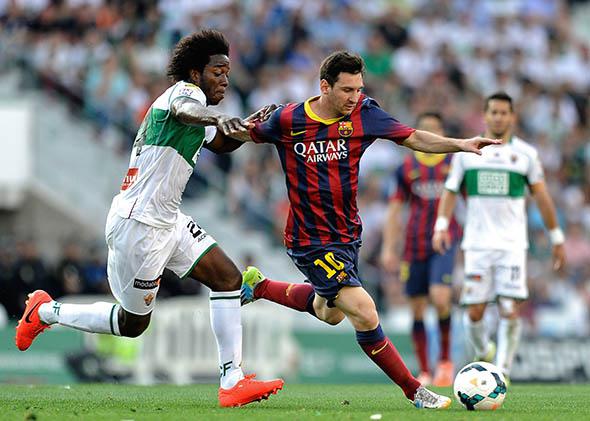 Argentines also like their heroes to win, and in exceedingly romantic fashion. Maradona's list of indiscretions may be as long and remarkable as his playing career—legendarily poor sportsmanship, drug use, arrests, a disastrous stint as Argentina's manager, and on and on—but he almost single-handedly lugged a flawed side to a World Cup title in 1986. In 1990, he nearly repeated the feat, fighting through injuries to drive his team back to the final, where it lost to West Germany.
Before the 1994 tournament, Maradona said, "I am tired of all those who said I was fat and no longer the great Maradona. They will see the real Diego at the World Cup." During the group stage, he tested positive for five kinds of ephedrine and never played for Argentina again. Yet not even such an egregious offense was enough to turn his country against him. He burned out spectacularly, but remained defiant until the end. At least that Argentines could understand. When Argentina got knocked out of the 2010 World Cup, Messi wept. Somehow that wasn't enough. Failure may be forgivable, but crying quietly to yourself is not. Messi is guilty of the crime of not making a spectacle of himself.
He also stands accused of living a double life—of cheating on his country with his second family. International soccer stars must serve both club and country, and this can create the perception of divided loyalties. Barcelona invested in Messi early. When Argentine club Newell's Old Boys reportedly balked at paying for the young Messi's growth-hormone treatments, Barça agreed to cover the full cost. In 2000, he enrolled in the Spanish team's youth academy. In 2004, the 17-year-old made his La Liga debut. With a roster of all-time greats surrounding him, Messi has amassed six league championships, three Champions League titles, and four Ballon d'Or trophies, markers of his status as the best player in the world.
His national team tenure has been a far less gilded one. In 86 international appearances, he's scored 38 goals—far below his tally of 243 in 276 La Liga matches for Barcelona. At the 2010 World Cup, the first in which he played a key role, he infamously failed to score. He was, though, his team's best player. After Argentina beat Nigeria 1–0 in the group stage, the BBC's Phil Dawkes called Messi "the standout performer" and "a magnetic focal point on the pitch." Messi created several chances in wins over South Korea, Greece, and Mexico before his side fell to Germany 4–0 in the quarterfinals. After that defeat, out came the knives.
"He hung back too much for the ball to reach him," Argentine daily Clarin said of Messi. "He had a few bursts which gave hope, yet the Germans had him in their grip pretty much throughout. He left the tournament without exploding into life or scoring any goals." Not mentioned in that assessment: The Argentine defense conceded four goals against Germany, meaning nothing Messi could've done would have been enough.
In 2011, Argentina hosted the Copa América. Messi assisted his team's only goal in its quarterfinal loss to Uruguay, but once again, failed to score in a major tournament. "The takeaway from Argentina: Lionel Messi and impotence," wrote Argentine daily La Nación's Cristian Grosso.
To Argentina, this is maddening. How can Messi be so prolific for his club and so mediocre for his country? While there have been other stars who have underperformed internationally, none had Messi's pedigree. This only adds to the frustration—every goal he scores for Barcelona is a taunt to his homeland.
For all the psychological probing about what his national team frustrations could possibly mean, there is a simple explanation for Messi's disparity in performance, one that has nothing to do with how much he loves Argentina. Messi suits up for his country only sporadically, and when he does he plays alongside teammates he rarely trains with. By contrast, he has been with Barça for nearly 15 years, where he's the centerpiece of a squad designed to suit his talents. It would be shocking, then, if he didn't play better for his club than for his country.
Consider the case of Cristiano Ronaldo. The Portuguese star has scored 49 goals in 110 international appearances—a ratio of 0.45 per match compared to Messi's 0.44 per appearance—and has two World Cup goals compared to Messi's one. So why doesn't Ronaldo's loyalty come under attack? Mostly, it's a question of expectations. Portugal hopes to perform well in major international tournaments. Argentina expects to dominate them.
After a stellar qualifying campaign (Messi scored 10 goals), the nation is asking itself the same question it always does: How can we hoist another World Cup? The answer, of course, is Messi. To shed his reputation as a dispassionate mercenary, he must lead Argentina to the knockout round, then guide it to four straight victories. Oh, and the last of those may come against archrival Brazil, the host nation, in the final. Have fun with that, Leo.
The Argentine press is at least trying to fashion Messi into the hero he's never been. La Nación just published an image-polishing 124-page commemorative called "Leo Messi, el Patriota." In a first-person account therein, Messi admits that he has been hurt by what he considers unfair criticism. "Of course I heard all of the comments: that I was not enthusiastic about playing for Argentina, that I did not sing the national anthem or that I was not committed to the shirt," he said. "It was painful to come to my country and for lots of people to hit out at me unfairly."
Over the last six months, as Barcelona slogged through its first trophy-less season in six years, many local experts have weighed in on the forward's relatively so-so form. "I do not believe he is reserving anything for Brazil," former Argentina manager César Luis Menotti said in an interview with Catalan radio station La Xarxa. "I believe there is a certain disorder in his head, it is not clear."
For the people of Argentina, it would be a wonderful inversion if Messi showed up for his country in a year when his club did not perform to its usual standard. Clear head or not, this will likely be Messi's best shot at a World Cup title. The soon-to-be 27-year-old striker and Sergio Agüero, Gonzalo Higuaín, and Ángel di María make up the most fearsome group of attackers in the field of 32. Defense still may be a liability, but Sports Illustrated's Grant Wahl, for one, has picked Argentina to win it all.
And if Argentina isn't the last team standing in Brazil? Messi will retreat to Barcelona, where he makes $27 million a year to play for the most famous club on the planet. He likely won't end up as beloved in his home country as Maradona, but his highlight reel goals will continue to bring joy to the masses. Messi can take comfort in the fact that in the 21st-century, soccer is a global sport, and the best player in the game doesn't only belong to Argentina. He belongs to the world.