Name: Jürgen Klinsmann
Home country: Germany
Known for: scoring goals, diving, celebrating his goals by diving, cutting Landon Donovan, leading an American soccer renaissance, dressing like a fourth grader, environmentalism, charity work, being Californian, being German
Why he might be a jerk: He played soccer like a jerk. Klinsmann is best remembered for crashing to the turf like he'd been shot and writhing around on the pitch as if he might not survive. Most famously, Klinsmann treated West Germany's 1990 World Cup final against Argentina like it was a rehearsal for West Side Story. His theatrics got Argentine defender Pedro Monzón sent off—the first red card ever in a World Cup final—as Klinsmann lay on the ground being treated by medical staff for an injury that was soon miraculously healed. "Every time this blond fellow gets even the slightest physical contact, down as if he's been walloped by, well I don't know what," said a bemused Ron Atkinson during a live British broadcast of the game. After the game, when England star Gary Lineker congratulated the victorious German team while claiming the tournament's fair play award for his own country, Atkinson was still going on about Klinsmann's antics. "I just seen Gary shake hands with Klinsmann," he said. "It's a wonder Klinsmann hasn't fell down."
The striker's diving was so notorious that it inspired the Guardian's Andrew Anthony to write a column titled "Why I Hate Jürgen Klinsmann." An excerpt:
In Germany's game against Spain on Tuesday, Klinsmann took exactly 34 seconds from the kickoff before doing a double spin and crashing to the ground, after an innocuous challenge. The new stretcher law—requiring an injured player to leave the pitch immediately—was almost certainly brought in to counter this one individual's histrionics. Eight minutes later, he was on his back again, apparently dead, and 20 minutes after that he arched his back so dramatically after an opponent's tackle that ITV's Alan Parry was moved to observe that Klinsmann "went down as if a sniper in row E had caught him."
Klinsmann, who always denied that he was a diver, made great sport of trolling his detractors, creating a trademark swan dive goal celebration.
Considering that he retired from top-level professional soccer in 1998, it may be a tad unfair to criticize Klinsmann for things he was doing 20 years ago. Since he became coach of the U.S. men's national team in 2011, he has done one very jerky thing: cut Landon Donovan. As Stefan Fatsis wrote in Slate, getting rid of the U.S. national team's all-time leading scorer and assist man—a player who still had potential to help this team—seemed more about a personal vendetta than ability.
Klinsmann has also said mean things about other American stars. Specifically, he attacked Michael Bradley and Clint Dempsey for opting to leave Europe and return to MLS, and more generally for not playing for big clubs. "[Dempsey] hasn't made shit," he told the Wall Street Journal last year before Dempsey had made his move to Seattle. "You play for Fulham? Yeah, so? Show me you can play for a Champions League team, and then you start on a Champions League team." As for the rest of the U.S. national team and its successes in consistently advancing past the group phase and once reaching the quarterfinals: "Just because you won a game in the World Cup in the knockout stage, you haven't won anything."
Also, Klinsmann has said he wants our brave boys in red, white and blue to play a dirtier, more Klinsmann-esque game. "We need to get an edge, more nastier," Klinsmann argued in 2012. "Maybe we're a little bit still too naive. Maybe we don't want to hurt people. But that's what we've got to do. You've got to do that at the end of the day. So we've got to step on their toes more and get them more frustrated and make a case with the referee maybe as well, for us, not only the opponent."
Finally, he doesn't believe in America. At least he said back in December that he didn't believe the U.S. would win this World Cup. As a coach, you're supposed to boast "I believe that we will win" even if your team's odds are vanishingly slim. He has so little faith in the U.S. system, in fact, that he brought in seven dual citizens, including five German players, to his 23-man World Cup squad. That's more than one-third of all U.S. field players.
Also, he scored on us at the 1998 World Cup. Not cool, Klinsy.
Why he might not be a jerk: He has a very long CV of non-jerky behavior. For example, in Simon Kuper's excellent Soccer Men, Kuper describes how Klinsmann was the only player on the German national team who would object when notoriously nasty teammate Lothar Matthäus made racist jokes. He is also well-known for his charitable contributions, his environmentalism, and his generally progressive and open-minded crunchy Californian worldview. And Klinsmann has a decent sense of humor (for a German). That dive celebration is pretty funny, you must admit. And during his introductory press conference upon signing with Tottenham Hotspur, he joked with reporters about looking for a diving school in London, and he nearly pulled out a snorkel and goggles.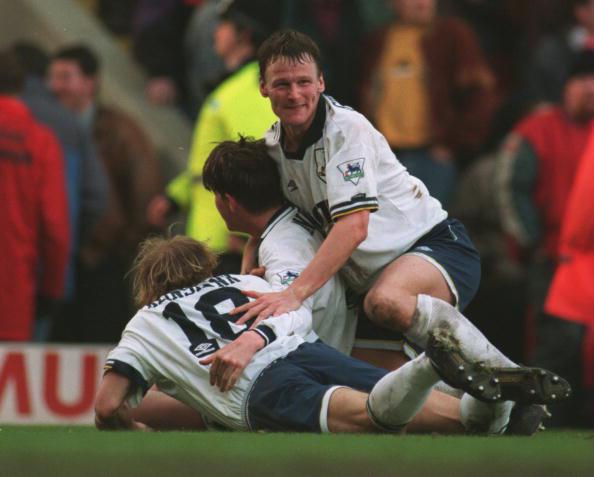 In the hypocritical world of soccer, Klinsmann-esque diving is only a grave sin when your opponent does it. The guy who wrote the "Why I Hate Jürgen Klinsmann" column reversed himself six weeks later when Spurs, his favorite team, signed the German striker. As even American hero/goalie/human wall Tim Howard concedes about diving, it's all in the game.
Moving on to the present day, his public challenges to Bradley and Dempsey are nothing more than standard-issue, rah-rah, motivational coachspeak. All of the sniping from anonymous U.S. players last year—that Klinsmann doesn't know strategy, and that the team is divided into a bunch of cliques—has evaporated in the face of undeniably good results. (And besides, anonymous sniping makes the snipers look like jerks, not the coach.) The U.S. escaped a group of death with Germany, Portugal, and Ghana when they were largely expected to fail. Klinsmann's pre-tournament tactical decision to bolster his shaky backline with defensive midfielder Kyle Beckerman has proven inspired, allowing Jermaine Jones, Michael Bradley, and Fabian Johnson to maraud further forward. Even with the Donovan thing, he was mostly respectful about it—at least publicly.
The German-born players, meanwhile, have proven to be a revelation. The youngster John Brooks scored a stunning game-winner against Ghana, Jermaine Jones saved America's tournament with his thunderbolt against Portugal, and Fabian Johnson has arguably been the best player on the team. So what if Julian Green and Timothy Chandler haven't contributed and probably won't. Questions about their dual nationalities or potential dual loyalties are xenophobic and stupid. (I apologize for raising the possibility above—hey, I needed to fill out the "jerk" section!)
The same goes for similar questions about Klinsmann, who has lived in California for years and whose wife and children are American. "The Golden Bomber" has, in fact, been an America-phile for years. During his playing days he drove a humble Volkswagen Beetle with a Snoopy decal on the dashboard that read Ist es noch weit bis Amerika?—Is it much farther to America?
That about seals it: Would a jerk have a Snoopy decal?
Jerk Score: 0 out of 3 for style, for dressing like he's 10 years old. 0 out of 3 for technique, because "diving is part of the game." 0 out of 3 for consistency, because no one who speaks German could be an evil man. And 1 out of 1 in the category of "Did You Cut Landon Donovan for No Discernible Reason?" 1 out of 10 for Jürgen Klinsmann.
Previously on World Cup Jerk Watch:
Is Uruguay's Luis Suarez Horribly Entertaining or Just Horrible?
Why You Hate Cristiano Ronaldo
Mario Balotelli Is the Paul Bunyan of International Soccer