Clint Eastwood's latest directorial effort, the follow-up to 2011's J. Edgar, adapts the Tony Award-winning musical Jersey Boys, bringing the Broadway hit to the silver screen for the first time. Both the musical and the film tell the story of The Four Seasons' rise to stardom in the 1960s with a string of No. 1 singles, including "Sherry," "Big Girls Don't Cry," and "Walk Like a Man." As in the musical, all those fan-favorite tunes are included in the film—as is the group's surprising relationship to the Italian Mafia.
But just how faithful to the Four Seasons' story is Eastwood's interpretation? For the most part, it's doesn't stray far from the musical or from the true story on which it's based. (Marshall Brickman and Rick Elice, who wrote the musical, also wrote the film's screenplay.) But it does take some liberties with the musical, which itself did a lot of what original bandmember Bob Gaudio calls "juxtapositioning." Below, we break down what's fact and what's fiction—and you might not believe what's actually true. (Note: If you're not familiar with The Four Seasons' story, this post does spoil some of the film's major events.)
Rise to Fame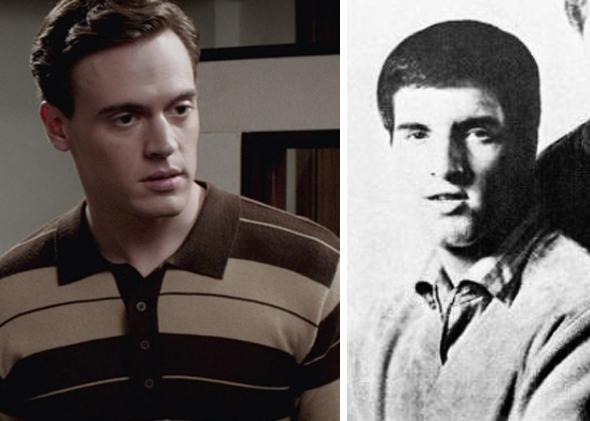 Before The Four Seasons were The Four Seasons, they performed under many different monikers, most notably as The Four Lovers, at local New Jersey clubs like The Strand, as seen in the film's beginning. And one key move that helped the band take off was the addition of Bob Gaudio, a songwriter who'd garnered some popularity for 1957's "Short Shorts." In the film, Joe Pesci (the same Joe Pesci that went on to star in Goodfellas and My Cousin Vinny, though he's played here by Joseph Russo) hassles Tommy DeVito at a bowling alley about Gaudio, whom he claims he discovered, insisting that the group meet with him. Unbelievable as that all might sound, Pesci really is a New Jersey native and had been a longtime friend of the group in their early years. And he actually was responsible for Gaudio joining what became the Four Seasons and even appeared on stage at the 2006 Tony Awards with the group's surviving members to remind audiences of that point.
Not much later, we see the band outside a bowling alley—having just been rejected from a gig there—arguing about their name. All of a sudden, the alley's previously broken neon sign lights up to reveal the name The Four Seasons, and the guys have a collective epiphany that that'll be the name they perform under from that point on. It admittedly comes off like a cheesy plot device meant to segue to the story's success chapter, but they really did get their name from that bowling alley. (Not from Vivaldi, as you might assume.)
Bob Crewe (Mike Doyle)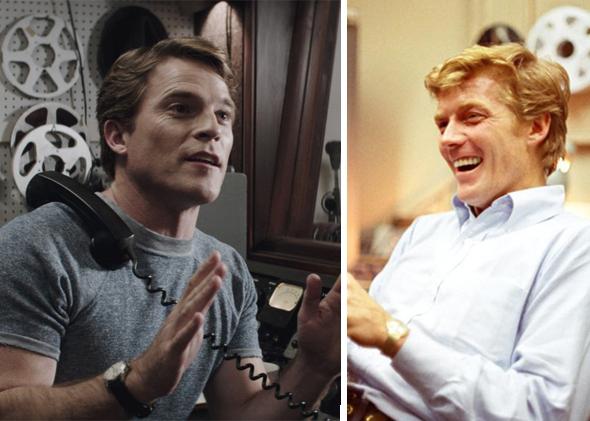 The film's turning point for The Four Lovers' career happens when Valli and Gaudio skip DeVito's proposed Atlantic City getaway for some grunt work promoting their demos at radio stations in New York City. There, at the Brill Building, after several slammed doors, the duo bump into record producer and songwriter Bob Crewe. Impressed with their potential, he signs the band to a one-year deal recording back-up vocals for his solo singers and helps finesse Gaudio's songwriting until he delivers a good-enough hit like "Sherry" to promote the group as a headlining act. (That bit checks out.)
All the while, Crewe is depicted as flamboyant, and the movie emphasizes—through some not-very-subtle (or funny) Liberace jokes and DeVito's snide comment about seeing him with another man—that he's gay. The real-life Bob Crewe, now 82, openly identifies as bisexual, according to actor Jonathan Hadley, who plays him in the musical. Hadley also told the Washington Blade, "Today we'd identify Bob Crewe as a gay man," explaining, "He dated women but he had boyfriends." Hadley further said that "Can't Take My Eyes Off of You," which Crewe co-wrote, was about Crewe's boyfriend.
Angelo "Gyp" DeCarlo (Christopher Walken)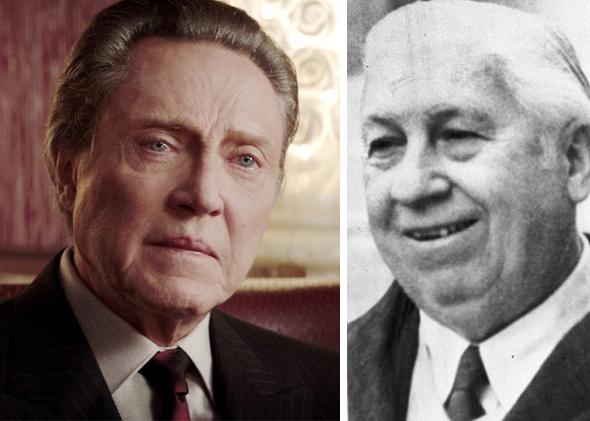 During the 1950s and 1960s in Newark, the Four Seasons' hometown, the Italian Mafia and other organized crime networks ran the city's streets. At that time, it was easy for anyone, even a mild-mannered singer like Valli, to get mixed up in their dirty work—especially with Tommy DeVito, who had a long rap sheet and spent time in prison, in your inner circle. In the film's beginning, DeVito is seen working part-time as a driver for Angelo "Gyp" DeCarlo (Christopher Walken), a powerful member of the Genovese crime family, and is a close confidant of his. From there, Gyp pops up frequently to save Valli and DeVito from whatever impossibly deep hole they've dug for themselves. But what was Gyp's real role in the group's career?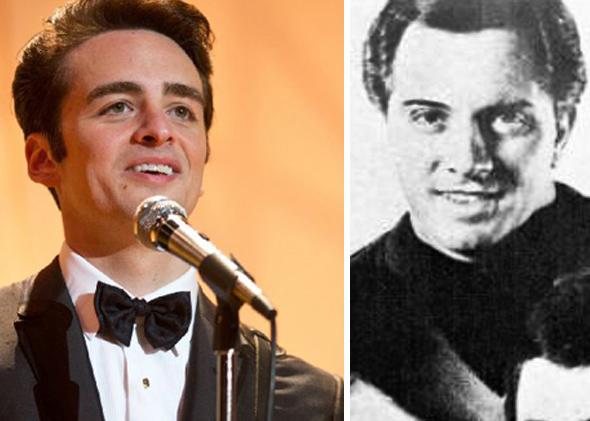 DeVito once described him as a "really, really, good friend," while Valli took his affection a bit further, calling Gyp "like a father to me." Before DeCarlo's death in 1973, he did indeed watch over the group, acting as their unconventional mentor, particularly to Valli and DeVito, there to make any problem disappear by whatever means necessary. He did, truly, orchestrate that pivotal deal shown in the film between Valli, Gaudio, and the loan shark Norm Waxman that absolved DeVito of his $1 million debt and sent him packing to Las Vegas in 1970—DeVito, on his end, agreed to quit the group and allow Valli and Gaudio to buy his shares, thus ending the original Four Seasons.
And as for that out-of-character scene in which Walken awkwardly weeps to Valli's rendition of "My Mother's Eyes"—it's 100 percent true, according to the film's screenwriters.
Frankie Valli's Family

As in the movie, Frankie Valli and Mary Delgado married at a young age in the late '50s. The marriage didn't last and after they divorced in 1971, Valli remarried twice, first to Mary Ann Hannigan in 1974 and then to Randy Clohessy 10 years later—though the two have since divorced. "If you're in show business, your partner has to understand they'll always come second," Valli explained to the Daily Mail. Those marriages are not included in the film, nor are his five children with Clohessy. The focus is, instead, on his three daughters with Delgado.
One of the film's most tragic moments comes when Valli and his first wife's troubled teenage daughter, Francine, dies from an accidental drug overdose just before she's set to break into the music industry herself and record a few songs with Crewe. That, sadly, did happen in real life in 1980. What isn't depicted in the film is that six months prior to Francine's death, Valli's stepdaughter, Celia, was also tragically killed in a fall from her apartment fire escape. That particular event isn't included in the Jersey Boys musical either, and writer Rick Elice explained why in an interview with Vegas Seven: "If you put that in the show, no one would believe it. It would be too horrible and seem like it was fiction."
The Later Years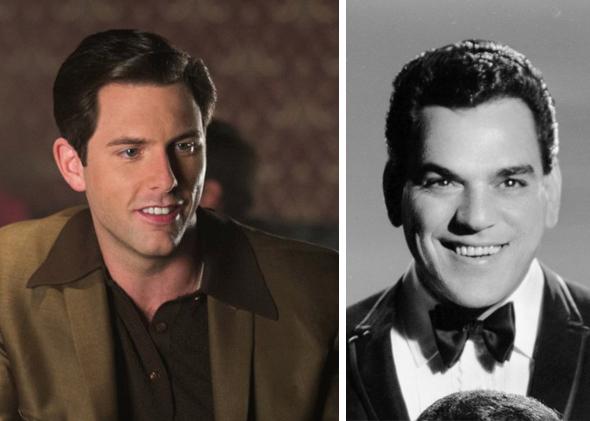 By the time the group started to fall apart in the early '70s—Nick Massi had already left in 1965, unlike in the film—DeVito takes most of the blame. Prior to the DeCarlo-arranged deal, the film gives off the impression that The Four Seasons were riding high with a successful tour and popular hits. And that was true, up until their last album, The Genuine Imitation of Life Gazette, a concept album that wasn't well received. After that, the band struggled to again strike gold until 1975's Who Loves You—but that brief struggle is largely omitted from the film.
There's also the matter of the band's 1965 arrest in Cleveland after the Ohio State Fair, explained by Massi in the film as the group's final straw with DeVito. (He'd allegedly skipped out on a Holiday Inn bill there the year before.) That arrest did happen, but not quite as it's laid out in the film; they were actually arrested in Columbus, not Cleveland, and spent the night in jail in Springfield.
But Elice and Brickman say the location switch was necessary to "bookend the band's moment of shame with a later moment of glory"—that being the band's 1990 return to Cleveland for their induction into the Rock and Roll Hall of Fame. That, of course, really did happen.
Correction, June 23, 2014: This post originally misidentified the Four Seasons members in three photos, identifying a photo of the real-life Tommy DeVito as Bob Gaudio, a photo of the real-life Bob Long as Tommy DeVito, and a photo of the real-life Bob Gaudio as Nick Massi. The photos have since been corrected.
Previously:
How Accurate Is Lone Survivor?
How Accurate Is The Monuments Men?
How Accurate Is The Wolf of Wolf Street?
How Accurate Is Captain Phillips?
How Accurate Is American Hustle?
How Accurate Is 12 Years a Slave?