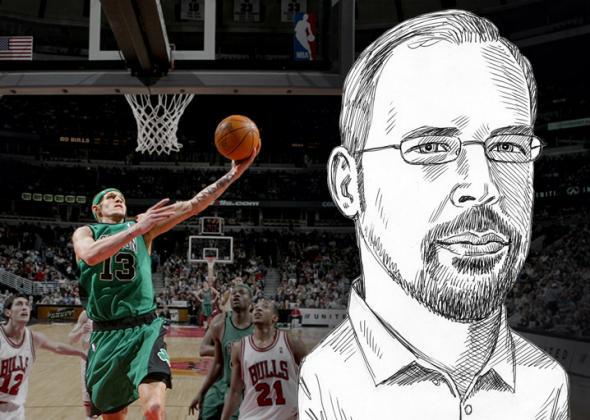 This story is part of a special Slate Plus feature package on "Why Isn't Delonte West in the NBA?" Be sure to check out the other Slate Plus exclusives related to this story, including a behind-the-scenes podcast conversation between writer David Haglund and editor Josh Levin and a full audio version of the piece.
As one of Slate's most dedicated readers, you may already be aware of the Fresca program. It's one of my favorite things about working here: All members of the editorial staff are encouraged to pitch a long piece for the magazine once a year, and if that pitch is accepted, you get four weeks off your regular job—in my case, running Brow Beat, Slate's culture blog, plus editing and writing other arts-related pieces—to research, report, and write it.
At least, that's how it works in theory. In practice, these stories tend to be, by their very nature, complicated, so four weeks doesn't begin to cover it. Thus was the case with my Fresca about Delonte West and mental health in the NBA. And in this case, the most complicated part was also the most important part: From the moment I pitched the story to Slate editorial director John Swansburg—as a serious attempt to understand a guy who most fans didn't seem to understand at all—we both knew that for the piece to work, I needed to spend a lot of time with West himself.
I figured I could make that happen. Wouldn't he want a chance to tell his story? But it turned out that securing that interview was much more difficult than I expected—and in fact it didn't happen until the very end of the project.
I started by contacting other journalists who had interviewed West before. And, to their credit, everyone I wrote to was generous and helpful. One writer texted him on my behalf. Another gave me his phone number. I was struck by the feeling that all these journalists who had met West were pulling for him, which bolstered my interest in telling his story. But I didn't hear back from him.
The obvious route was to find his agent, but no one, at this point, seemed to know who that was. I found someone who had once represented him, but he said he didn't anymore, and he couldn't help. A former business manager and childhood friend directed me to another friend of West's, but that person didn't get back to me.
I got a break, I thought, when West signed with the Texas Legends of the NBA's Development League. Then he didn't show up to the team for weeks. There had been some sort of misunderstanding. I wrote to the team, and they told me that once he reported, I would be welcome to come see a game and introduce myself in the locker room. Which I finally got the chance to do, in April 2013, when I went to see his last two games with the team.
We spoke for a few minutes, and an assistant coach said he'd try to arrange a dinner for the three of us. But that didn't happen. After a couple days I was back in New York, having seen him play and spoken with some of his coaches and teammates, but without much more.
Then in the late summer, West did a couple new interviews, and one of the journalists who interviewed him told me that West had gone back to his original agent, the man who represented him out of college. The journalist also gave me this agent's phone number. I described the piece I was trying to write to the agent, who said he would try to put me in touch with West. A couple of months later, we were finally on the phone.
By then, he was in China. He had signed with a team over there, which was an interesting wrinkle in his story, but effectively put my piece on hold until after his season was over, in February—Slate could send me to Texas, but a trip to China was a Fresca too far. But West and I talked for about an hour on the phone, and I got a sense for how he was doing. By now I had spoken with coaches who had worked with West in high school, college, and the pros, so I was able to ask him about some of the things they had told me. And he also went into detail about something he had hinted at in the two interviews he'd done over the summer, but not fully explained, at least in print: He now thought the bipolar diagnosis was mistaken and that he didn't have any chronic mental illness.
While West was in China I continued calling and emailing other people who had coached or played with or employed him, and I started sketching the outline of his story as I understood it. John and the other editors who run the Fresca program thought that the piece should run before the NBA playoffs were over, so even though I had yet to secure a long, in-person interview with West, they decided I should take my four weeks off in March and April, after he got back to the U.S.
During those four weeks I interviewed more people, and I researched mental health and professional sports, sport psychology, and psychiatry, and I read everything I could find about West that had been published before. I spoke to West's agent frequently, and I texted and called West himself. But for four weeks, I couldn't get the interview.
Finally, on the Friday of my final week off, West was inducted into the St. Joseph's Basketball Hall of Fame. I bought a ticket to the ceremony and a train ticket to Philadelphia, and there I met his mother, his brother, and a good friend of his. I didn't speak to West. But the next day I texted him and asked if I might come see him at home in Maryland. This time, he texted back: "sure."
I went back to my regular job that Monday but spent Wednesday afternoon talking with West in his spacious home near the Potomac. We sat in his furnished basement, with 1990s R&B playing in the background, and spoke for a few hours. Afterward we went upstairs and he introduced me to his wife and baby boy and showed me the work he and his father and other family members had done on the house. When the day was over, I felt like maybe I understood him, at least a little.
---