Batten down your toupees. Tighten your girdles. Hot-glue your dentures to your gums, and prepare yourselves for a shock. Here goes: I am a major soccer fan.
I realize that for you, dear reader, this is a bit like finding out that Angela Merkel wears frilly crotchless knickers from Agent Provocateur, or that Mother Teresa had offshore bank accounts. Yes, it goes against type, but there it is. Despite all evidence to the contrary, I, Monsieur Fashion, am a huge futbol fan. And I am only getting huger.
Soccer has never been easier to love than it is today. In the olden days it was often more of a Kafkaesque endurance test than a spectator sport. As a U.K. teen, back in the 1960s, I spent many a Saturday afternoon on the rain-lashed terraces, dying of hypothermia and trying to avoid making eye contact with the hordes of psychotic skinheads who constituted the bulk of the fan base.
Cut to: World Cup 2014.
The level of glamour and drama is so extreme that I am not sure my gay nerve endings can handle it. This is shaping up to be the most exciting World Cup ever! WAGs a-go-go. Brilliant games. Naked poolside frolics. Massive upsets. Great goals and … drumroll …  gorgeous men. Yes, the beautiful game has never been more beautiful.
Not every player is a 10. But many are. The most gorgeous of the gladiators fall into six basic categories:
Tressy but Tough: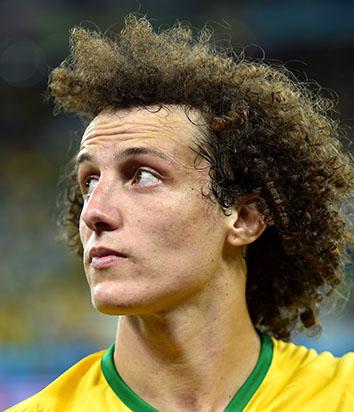 With his torrential curls and pouty lips, Brazilian David Luiz is the preeminent pre-Raphaelite beauty of the global soccer scene. Don't be fooled by those fecund foaming follicles. He is a fighter on the pitch. After he joined Chelsea, they won the Champions League and the FA Cup. Just saying.
Regarding tresses: They are far from ubiquitous. The majority of today's players eschew long hair in favor of mohawks, fauxhawks, or brutalist Tilda Swinton–esque haircuts with shaved sides and quiffy tops. (Does this style make headers less painful? Memo to me to engage the lads on this issue the next time I need a flimsy pretext to linger in the locker room.)
Luckily a few players are still prepared to fly the Fabio flag and let their hair grow long. Freshly arrived on my radar is U.S. team's Graham Zusi—he set up the winning goal in the first U.S. game—who sports the thick locks of a bodice-ripping romance-novel hero. At times, however, he sports a rather dainty headband, which I'm less sure about. A Björn Borg terrycloth number might add a more contemporary normcore touch.
Rough Trade: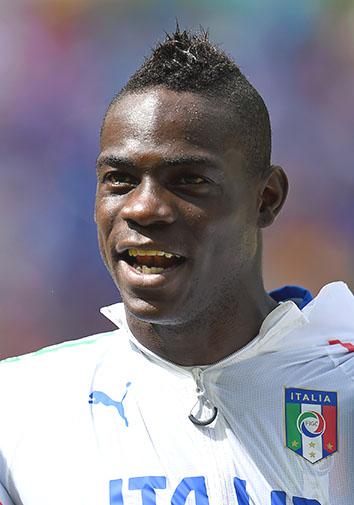 Compared with super-butch NFL players, soccer players are, in general, a total bunch of screeching, fainting, Barbie-loving girlie girls. The butch factor is, in other words, far from prevalent. But there are a few beautiful exceptions: Butch Balotelli, with his camo-painted Bentley, and Brit James Milner, the Channing Tatum of the Premier League, who projects the brutish allure of a thick-necked rugger-bugger.
Many of today's soccer beauties are attempting to amp up their perceived macho by adding a little ink. "It works for U.S. athletes, why not moi?" is the line of thinking. Beautiful Dutchman Nigel de Jong has augmented his macho appearance with a terrifying-but-titillating confection of tribal tats. Small wonder the Oranje beat the crap out of Spain.
Almost Too Pretty: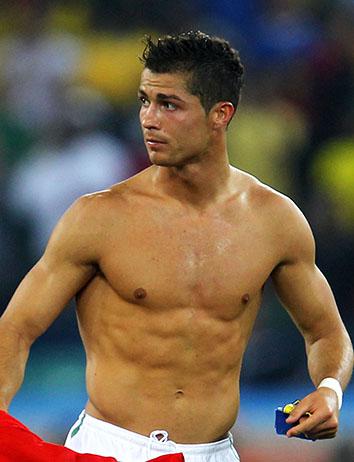 There is no shortage of cute. If Diaghilev came back from the dead and started looking for a new Nijinsky down in Brazil, he would have his pick. Can't you just see Cristiano Ronaldo gobbling down Portuguese grapes whilst flitting across the stage in a revival of L'Après-Midi d'un Faune?
Regarding Senhor Ronaldo: I adore him and have no truck with his detractors. So what if his eyebrows look like Ava Gardner's? Have some respect. It's not all giggles being the FIFA Ballon d'Or prettiest player of the year, you know. Heavy lies the head that wears the cute crown. As with David Beckham, fans and press get a little suspicious/jealous/nasty when the bloke who has everything—looks, million-dollar licensing deals, the glam girlfriend, the clothes—seems to be enjoying himself a little too much. To the haters: Do yourselves a favor, accept the fact that CR is a super-deity, and know that you are never going to know what it's like to cuddle Irina Shayk.
Grows on You: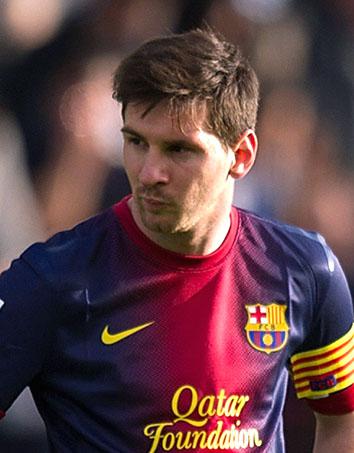 Argentine Lionel Messi is the best example of this genre of beauty. When I first saw his face plastered all over every tourist shop in Barcelona, I was blasé. Then I watched him whipping around Camp Nou like a gorgeous little show pony and I started having second thoughts. Then I saw him poured into a blazing red Dolce and Gabbana skintight shantung suit and I was a total convert.
Also in this grows-on-you category is Brazilian bombshell Neymar. The nuances of his urchin beauty take a while to work their magic, after which you become slavishly and terminally addicted.
Another sassy slow build: France's Olivier Giroud, who scored in France's drubbing of Switzerland last week. A tad weasel-ish at first glance, he will eventually win you over with his breezy charm. 'Ere long you will love him so much that you will even forget that he's French. No offense.
And then there's Nigerian midfielder John Obi Mikel. Those cheekbones! That effortlessly regal posture! Since Mikel hails from homophobic Nigeria he probably never gets to hear men telling him how beautiful is, therefore I sincerely hope he gets to read this.
Smoldering Orbs: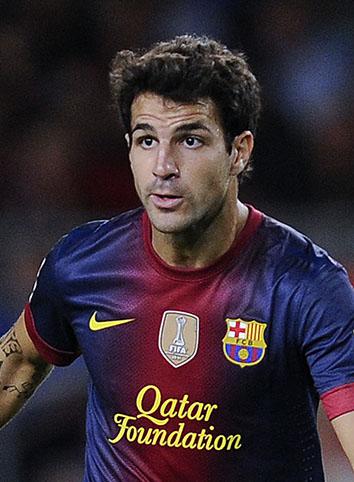 Kun Agüero, another puckish Argentine lovely, has such huge sad dark Walter Keane eyes that I always expect a tear to emerge at any moment. Needless to say, I am poised on the sidelines, waiting and ready with a tissue or two.
Also sporting a seductively needy gaze: Oscar of Brazil and Chilean dreamboat Alexis Sánchez. Cesc Fàbregas, formerly of Barcelona and now poised to add luster to the Chelsea lineup in the coming season, has the perfect combo of athletic prowess and studly beauty, the latter being largely attributable to his huge dark eyes and rustic untweezed brows.
Beautifully Belgian:
The land of serial killers and chocolate has injected World Cup 2014 with a bizarrely varied crop of dishy dudes, many of whom remind me of British thespians: Thomas Vermaelen is the Jude Law of the bunch; Jan Vertonghen is the Michael York/ Michael Caine; Eden Hazard is the hunky Jamie Bell, which is a polite way of saying he has a great ass. (Indeed, his ass has its own Twitter feed.) And striker Romelu Lukaku is not exactly Marty Feldman either.
In conclusion: Futbol enthusiasts will note a statistically significant bias toward Chelsea players in my beauty pageant selections. Disclosure: Mourinho's boys are my team. Further disclosure: They are my team because they are the best looking.
The most beautiful manager? It has to be Croatia's Niko Kovac. When scandalous pictures of his lads frolicking naked in the hotel pool surfaced this week, I pulled out my lorgnettes in order to get a better look, but the regal Niko was sadly absent. This has only served to increase my ardor. Hopefully I will make it to July 13 without having a stroke.
To all the brave, hot, sweaty, dehydrated footballers (and their panting pursuers), I say: boa sorte!