What does World Cup success taste like? For Luis Suárez, it's slow-roasted Italian shoulder. Côte d'Ivoire goalkeeper Boubacar Barry prefers the subtle flavors of surf and turf—hold the surf.
Les Éléphants needed at least a draw against Greece to potentially make the World Cup's knockout round. When Wilfried Bony scored in the 74th minute to tie the match 1-1, it seemed like Côte d'Ivoire was going through. As Bony's teammates swarmed him, Barry celebrated on his own, by stuffing a large hunk of soil into his appreciative maw.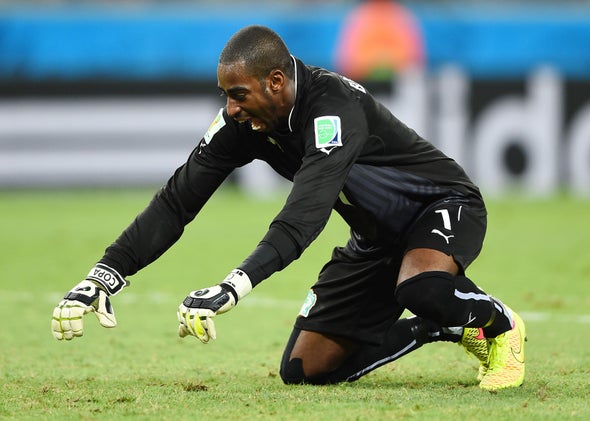 Barry is not the only sportsman to snack on a blade or two. In November 2010, LSU football coach Les Miles dined on grass during a game against Alabama. "I have a little tradition that humbles me as a man, that lets me know that I'm a part of the field and part of the game," Miles later explained. "You should have seen some games before this. I can tell you one thing: The grass in Tiger Stadium tastes best."
The Tiger Stadium grass tasted particularly sweet on that November day because LSU beat the Crimson Tide. Boubacar Barry, though, will be haunted by bitter gustatory memories when next he dines on a sumptuous lawn. Nineteen minutes after the goalkeeper's herbaceous snack, the Greeks scored on a penalty kick, eliminating Côte d'Ivoire from the tournament. After the game, Barry lay face first on the turf at Fortaleza's Estádio Castelão, inconsolable. His mouth was empty.