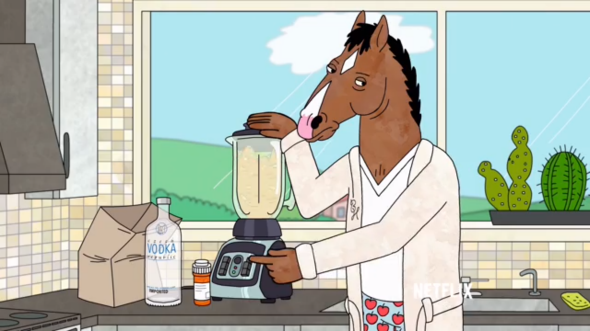 With successful live-action shows like Orange is the New Black and House of Cards racking up audiences and accolades, Netflix is making its first foray into the world of adult animation, with this summer's BoJack Horseman, featuring a washed-up sitcom actor (voiced by Will Arnett) who also happens to be a horse.
Horseman is your consummate has-been, 18 years out from his last successful acting gig with only a potbelly and an empty bottle collection to show for it. Taking a hint from Bob's Burgers, which has seen cameos from pretty much everyone who's anyone in comedy, the show rounds out its cast with a gaggle of comic veterans. Supporting Horseman are his ex-slash-agent, a lilac-colored cat voiced by Amy Sedaris; his human girlfriend, voiced by Alison Brie; a golden retriever named Mr. Peanutbutter (Paul F. Tompkins); and a hoodied, Pinkmanesque human friend voiced by Aaron Paul.
The trailer is mostly one sad-sack snafu after another, with just a touch of sentimentality. As Horseman blends his morning cocktail of vodka and pills, Paul's character tells him that he sees the man (or horse) behind the antics: "Even though you don't want anyone to know it [sound of pills and vodka blending] you secretly have a good heart." All 12 episodes will be available for binge-watching on August 22.
---