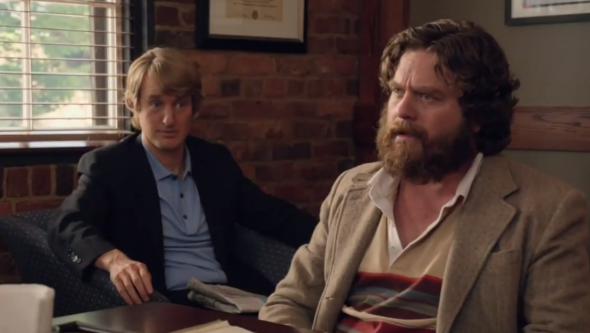 While Mad Men fans have to wait until next year for the show's final half-season, showrunner Matthew Weiner's giving us something to chew on this summer. The trailer for Weiner's silver screen debut, Are You Here, is a far cry from Mad Men's highly stylized drama. And after a lukewarm reception at the Toronto International Film Festival, it's unclear whether the director's second stab at film (his first was the 1995 low-budget indie What Do You Do All Day) will come anywhere close to the success he's enjoyed in television.*
But could watching two hours of Zach Galifianakis, Owen Wilson, and Amy Poehler gallivant onscreen together really be so terrible? The film revolves around the fallout from a will that leaves his father's entire estate to Ben (Galifianakis) and nothing to his sister Terri (Poehler). Ben calls on his childhood friend Steve (Wilson) to support him through both his grief and the ensuing legal battle. Steve's working to get off of drugs and Ben's struggling with an unspecified mental illness. There's a road trip in a red convertible, a "slutty wicked stepmother," and a shirtless, squawking Galifianakis cavorting into the sunset.
Though it's billed as a comedy—Weiner, lest we forget, got his start in sitcoms—the trailer's laughs are few. It's a little disappointing to see Poehler playing the straight woman, and the apparently serious mental illness of Galifianakis' character is not exactly a bucket of giggles. The anthemic soundtrack suggests that perhaps Weiner's aiming for something a little more profound. Focusing more on male friendship than on hemlines or mid-century furniture, Weiner's aware that the film is "decidedly less glamorous than Mad Men." It has also reportedly been changed significantly since the chilly reviews from Toronto. We'll see if the changes are enough to yield a warmer response when Are You Here hits theaters on August 22.
*Correction, June 6, 2014: This post originally misstated that Are You Here is Weiner's first film. It is his second. 
---