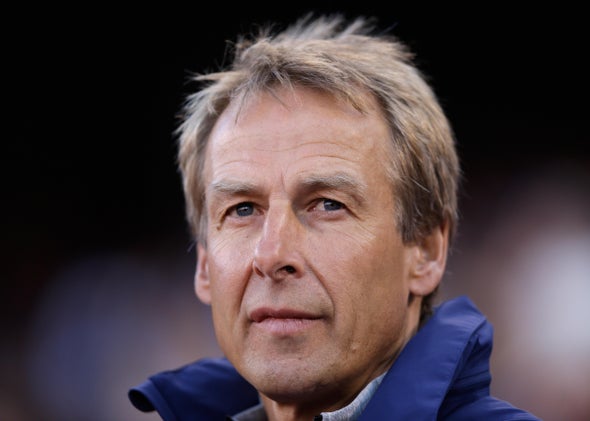 Azerbaijan is not Ghana. The world's 85th-ranked team stacked 11 men behind the ball for much of last night's pre-Brazil warm-up friendly against the United States, offering none of the counterattacking flair the team will face in its opening World Cup match against the Black Stars.
But with only two more friendlies prior to facing Michael Essien, Kevin-Prince Boateng, and Asamoah Gyan, every one of these games could help Jurgen Klinsmann decide who to start against Ghana on June 16. In that spirit, we're going to lay out our preferred starting 11 after each one of these tune-ups, starting with Tuesday's match against the Azeris.
My old colleagues at Eurosport have made a fun little website that allows you to pick a starting 11 formation for your national team of choice. We used this advanced technology to produce our 11 to face Ghana. This team will represent a combo of the players that Klinsmann will probably pick, and the selections we wish he would make based on recent playing form. Without further ado:
Jozy Altidore will have to do much worse than he did on Tuesday to lose his job. Against Azerbaijan, he was a lumbering colossus up front who the U.S. midfield could blast balls to with the expectation that he'd at the very least control them. Clint Dempsey was a late scratch with a groin injury, but Klinsmann has said that was a precautionary measure and the layoff should last just a few days. The captain will surely be kept fit enough to provide the necessary attacking presence in the opener. Sporting Kansas City's Graham Zusi continued his fine run of form, providing the USA's only real creative presence in a lackluster first half.
Here comes our first controversial pick: Brad Davis on the left wing. Davis was clearly the man of the match, helping to create both U.S. goals off of set pieces with his beautiful left foot, and nearly creating another after being robbed of a penalty when he was taken down in the box.
The other reason to pick Davis is that Klinsmann's first choice on the left side of the midfield, Alejandro Bedoya, made several mistakes, giving up possession in positions that would have been deadly against the Black Stars.
On current form, I like Davis ahead of Bedoya. The only time that Team USA looked consistently dangerous was with Davis on the pitch. The 32-year-old might not have the pace of Bedoya, but against Azerbaijan he took better care of the ball than the Nantes winger did. He also has been playing well in MLS this season, with five assists and one goal in eight games for the Houston Dynamo.
Michael Bradley and Jermaine Jones are both set in the center of the midfield. Nothing counterintuitive here.

Our second contrarian stance comes in the back. Everyone now believes that Geoff Cameron will be Matt Besler's central defensive partner, with DaMarcus Beasley at left back and Fabian Johnson on the right. Klinsmann has even declared that Cameron's position is firmly in central defense, and when the Golden Bomber declares your position it seems to be a set in stone. But Cameron and Besler have only played two matches together, and Besler—who isn't going anywhere—looked unsettled early in the game, and more comfortable after his normal center-back partner Omar Gonzalez came in. I would also rather see Fabian Johnson marauding down the left than Beasley. In our lineup, Gonzalez would get his old central defensive position back, while Cameron would return to right back, where he played admirably for Stoke in England's Premier League all year.
Tim Howard is Tim Howard. Only a madman would replace America's keeper.
We'll see you again on June 1 after the friendly against Turkey.
---