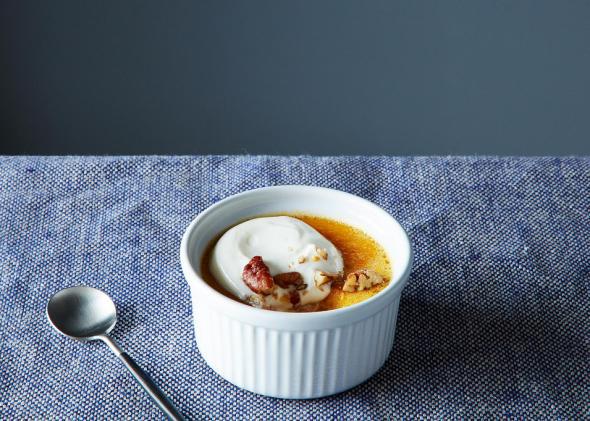 This column—this whole underslept, overthought exercise—has always had a very simple premise: that small humans eat a lot like big humans. 
It's a ludicrous premise, of course, but I believe it. And even if you don't believe it, I think you should act as if it were true. A lot of what makes small humans different from us at the table—a lot of what makes them so unpredictable, so stubborn, so impossible—comes from us acting as if they're not like us. If we behave as if they're going to eat like us, they're much more likely to do so. 
This idea may seem too absurd to take seriously. But as I say to the toddler when he denies having dirtied his diaper: Sometimes you need to believe the lies you tell yourself.
All that said, I won't deny that small humans can be very different from you and me. 
Exhibit no. 1: They are capable of consuming that pizza they serve at bouncy house birthday parties. Exhibit no. 2: They can eat more sweet potatoes than Takeru Kobayashi.
For a snack last week I roasted a few pounds of sweet potatoes, mashed them with butter, and then stepped back so I wasn't injured in the scrum. That's how most sweet potatoes are eaten around here: in a Road Runner-like blur of flying elbows.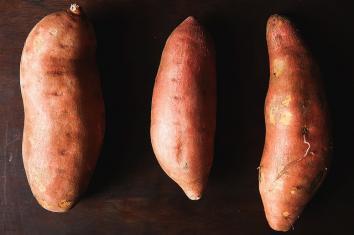 Although the toddler would want to point out that they're also a fantastic hair product.
I've written about this before—that for children, sweet potatoes are the candy you are always allowed to eat. For the rest of us, though, that isn't quite enough. (We're adults. We're allowed as much candy as we want. Whoops, just kidding, early readers! Totally joking there.) So I always have an eye out for sweet potato recipes that appeal to somewhat larger humans too. I'm also always looking for desserts with less than a sandbox worth of sugar.
I recently found both in one: a sweet potato flan from Deborah Madison's wonderful Vegetable Literacy. It's an elegant, easy flan that scarcely takes more active time than pancakes. It's just some leftover roasted sweet potato—if you don't have any, I do; just ask—mixed with spices and a little maple syrup, plus eggs and buttermilk; baked and topped with casually caramelized nuts and DIY-ed maple yogurt. It has the ingredient list of breakfast, basically. But it tastes magically like dessert. 
I'm not going to discourage all parties from having it for breakfast, though.
Deborah Madison's Sweet Potato Flan
Serves 6
The Flan
1 cup mashed sweet potato

½ teaspoon ground cinnamon

¼ teaspoon freshly grated nutmeg

⅛ teaspoon ground ginger

¼ cup maple syrup

4 eggs

1 cup buttermilk (or yogurt)

2 teaspoons vanilla extract

Sea salt
Caramel Pecans and Maple Yogurt
1 teaspoon butter

½ cup pecans, broken or whole

1 teaspoon sugar

Sea salt

1 cup yogurt

1 tablespoon maple syrup
See the full recipe at Food52.
Previously:
Why Kids Don't Like Cauliflower—and How to Trick Them Into Eating It
Is It Still Winter Where You Are? Have We Got a Recipe for You!
How to Make Tofu Appealing to Children
Can Peasant Food Prevent Your Children From Becoming Entitled?
Miso Is the Hottest Ingredient Right Now. You Should Love It Anyway.
---