With two weeks to go before the World Cup, it's time to get acquainted with who's going to Brazil. Slate's team-by-team previews will run in reverse order of the countries' chances of winning the World Cup. Team No. 20: Russia. [Correction, May 30: This post originally stated that these previews were running in reverse order of the countries' predicted finish at the World Cup. They are running in reverse order of the countries' chances of winning the World Cup.]
In every World Cup, someone has to play the role of global pariah. In 2010, it was North Korea. This time, fresh off the back of its recent "adventure" in Ukraine, it's Russia. And like the North Koreans, who crashed out in the first round four years ago, the Russians are no threat to take home a World Cup title.
A quick look at the FIFA rankings shows Russia in 18th place—not bad at all. But the country's World Cup history tells a different story. Russia's team hasn't coped very well with the post-communist transition, which is no surprise since it lost all its Ukrainian players, not to mention those footballers playing for Belarus, Georgia, and all the other former Soviet republics. The Soviet Union was a footballing power, making it to three World Cup quarterfinals and a semifinal. Russia, by contrast, has only qualified for the World Cup twice before, in 1994 and 2002, and went out in the first round both times. And except for a spectacular run to the semifinals at Euro 2008 under renowned Dutch manager Guus Hiddink, Russia has failed to advance from its group at any other Euro tournament.
When the USSR collapsed, Russian club football underwent a tough transition. Once upon a time, Russia's club soccer teams were organized mostly around labor groups, state organs, and industries (teams still have names like Lokomotiv Moscow). When communism collapsed, so did the structure of Russian domestic football.
Soccer went the way of many other Russian institutions: to the oligarchs and new business monopolies. This hasn't helped the Russian national team. These wealthy individuals, or powerful companies like Gazprom, have invested heavily in luring the best foreign players to the Russian league. (Cameroonian star Samuel Eto'o came to Dagestan club Anzhi Makhachkala in 2011 thanks to a contract that reportedly paid him 300,000 pounds a week, making him the globe's highest-earning player.) In a different world, some of that money spent on superstars could have gone to nurturing younger Russian talent.
That is "a big problem" according to Russia's Italian coach, Fabio Capello. "[I]n the teams of the Russian league, there are seven foreigners and only four selectable [Russian players]," he said in 2012. "It is very hard to work in this way."
The influx of foreign players has not gone over well with some Russian fans. Last winter, supporters of Zenit Saint Petersburg sent a letter to the club demanding that the coach bench the team's black and gay players. Yaya Touré, an Ivory Coast international and the 2011, 2012, and 2013 African player of the year, has threatened to boycott the 2018 World Cup, held in Russia, if the fan culture doesn't improve.
Given that Russia is next in line to host the World Cup, the international community will be paying extra attention to its fans' behavior in Brazil. "I don't know exactly what the problem has been but I would urge the Russian supporters to be more calm," midfielder Alan Dzagoev said during Euro 2012, a few days after Russian fans attacked stadium stewards, sending four to the hospital.
On paper, this is a good team, and Russia played some wonderful attacking soccer at Euro 2012. If it hopes to do well when it hosts the tournament four years hence, it would be helpful to lay the foundation now.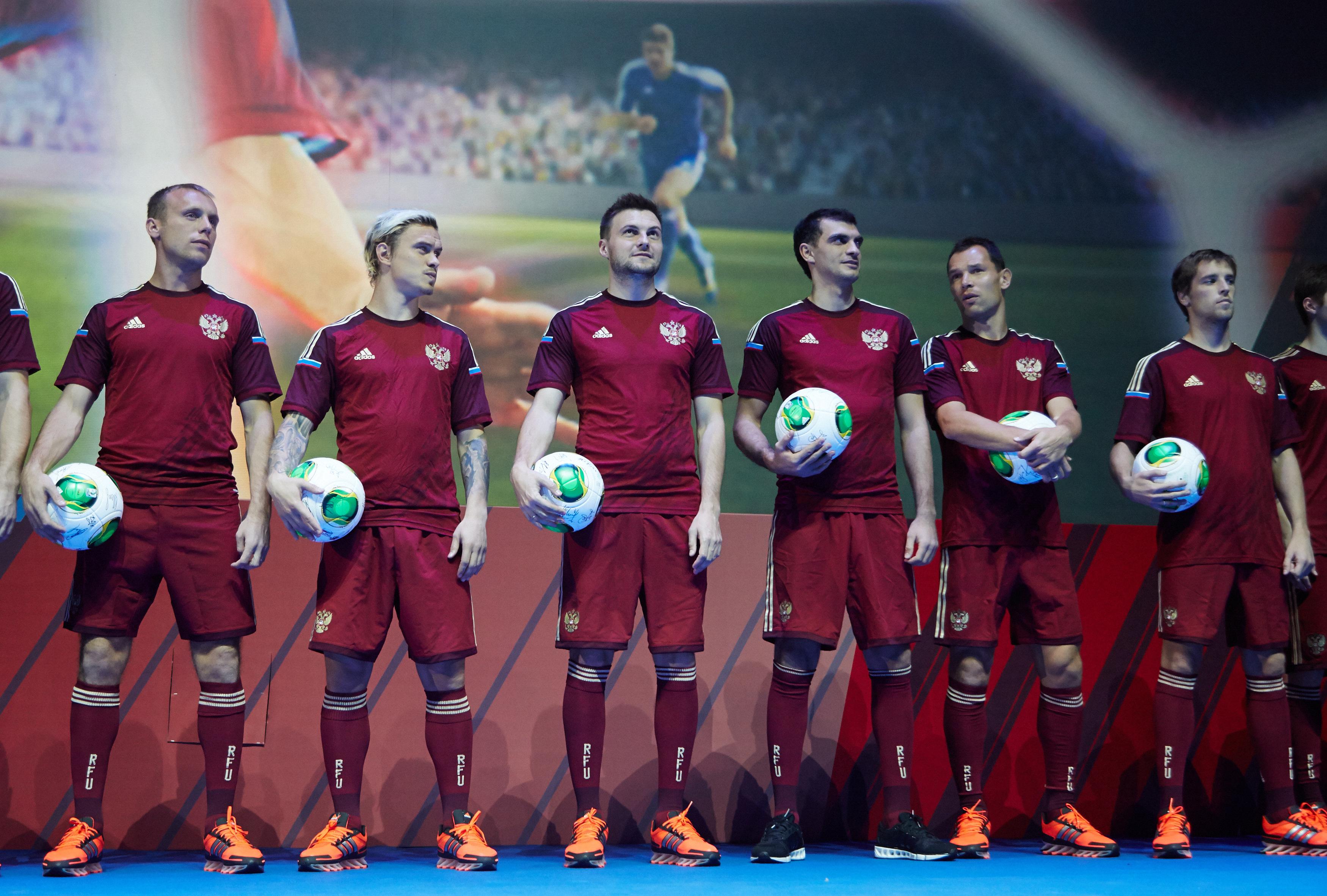 Match Schedule: Russia is in Group H, which gives it the possibility of advancing. The Russians' opening game is against South Korea on June 17 and will go a long way toward deciding who finishes second in the group. Belgium is next, on June 22, but will pose a much greater attacking threat than the Koreans. The final game is against Algeria on June 26, and Capello will be reasonably confident of coming away with three points.
How They Line Up: Historically, a fluid 4-3-3, with attacking midfielders rushing forward to join the attack. But this team is getting older, so we may see Capello insist on a more rigid system with limited mobility.
Key Players: Capello's preliminary squad contained only a single player who didn't play in Russia, and most compete for the top few teams. Up front, it's Aleksandr Kerzhakov (Zenit Saint Petersburg)—31 and still kicking. His reputation for missing the net from in close led the Guardian to coin a new verb ("to Kerzhakov"), but he's actually an extremely effective link-man for the rest of the team.
In midfield, Alan Dzagoev of CSKA Moscow is excellent—his clever runs and intelligent movement make space for other players, and his finishing has also markedly improved (he bagged three goals at Euro 2012). But he'll probably have to settle for the bench because Capello likes Igor Denisov (Dynamo Moscow) and Roman Shirokov (Krasnodar, on loan from Zenit), who is captain.
In defense, CSKA teammates Sergei Ignashevich (34) and Vasili Berezutski (31) will add experience at the expense of mobility, and there's a chance that both could flounder in the heat. But not to worry: Igor Akinfeev (also CSKA Moscow) has long been one of the better keepers in Europe. If it goes to penalties, the Russians will be tough to beat.
Rising Star: Dynamo Moscow's 23-year-old striker Aleksandr Kokorin, who will be hoping for a chance if Kerzhakov struggles. He'll probably get one.
Previous entries: Australia, Iran, Costa Rica, Honduras, Algeria, Cameroon, USA, Greece, Croatia, Nigeria, Ecuador, Ghana
Want more World Cup previews like this? You can read all of Harrison Stark's country-by-country guides by purchasing the e-book The Global(ized) Game: A Geopolitical Guide to the 2014 World Cup for $3.99.
Some of this material has been adapted from World Cup 2010: The Indispensable Guide to Soccer and Geopolitics by Harrison Stark and Steven D. Stark.