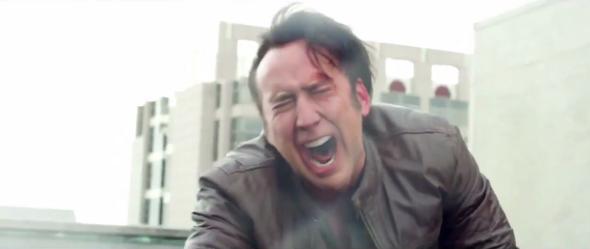 Around the release of David Gordon Green's Joe last month, many critics suggested it might herald the return of a calmer, subtler Nicolas Cage. "Nicolas Cage Trades Theatrics for Authenticity," ran the headline on NPR, which announced Cage's "re-birth," while Indiewire called the performance "a Comeback for Nicolas Cage" and "a new beginning."

The trailer for Rage is here to put all that silliness to rest. Cage stars as the titular ungovernable force, and he rages all over the trailer, sweating and screaming and generally losing his shit as only Cage can. (I'd say it scores about 4 bee-buckets out of 5 on the Cage-o-Meter.)
A look at Cage's forthcoming projects suggests he won't be turning in any more understated performances any time soon. In the martial arts film Outcast he is set to play "the legendary Crusader-turned-bandit, Gallain," who is similarly out for vengeance. (Here is a still.) In The Dying of the Light—directed by Paul Schrader—he's set to play a CIA agent suffering from early-onset dementia. And this fall he stars in the second movie adaptation of Left Behind. For those looking for a return to subdued Cage, you can always rewatch Joe.
---