With two weeks to go before the World Cup, it's time to get acquainted with who's going to Brazil. Slate's team-by-team previews will run in reverse order of the countries' chances of winning the World Cup. Team No. 23: Nigeria. [Correction, May 30: This post originally stated that these previews were running in reverse order of the countries' predicted finish at the World Cup. They are running in reverse order of the countries' chances of winning the World Cup.]
There have been 15 international FIFA Youth Championships. Nigeria has won four of them, including the 2007 and 2013 titles, and finished second another three times. The Nigerians are also the reigning champions of Africa, have one of the best World Cup pedigrees outside of Europe or South America, and a roster that features a handful of household names. Why, then, isn't Nigeria a serious contender in Brazil?
The answer is that, historically, Nigerian football has been synonymous with self-sabotage and dysfunction. "Traversing the minefield of Nigerian football is no task for the faint-hearted," writes Osasu Obayiuwana, a BBC journalist and expert on African football. "Pulling defeat and sorrow out of the jaws of victory … is a well-established Nigerian tradition."
It's tough to know where to start. How about the fact that current coach Stephen Keshi won the 2013 Africa Cup of Nations but still didn't get paid? There's also the recent match-fixing in Nigeria's domestic league that led to the farcical scores of 79–0 and 67–0. And consider that the secretary-general of Nigeria's football federation once said it was OK for refs to take bribes, so long as they don't let the money influence their decisions.
These scandals are nothing new for a country that has become a symbol of the ills plaguing African soccer. The line between corrupt soccer and corrupt politics is almost invisible. Nigeria is, after all, the country where there was a Senate investigation into the country's poor performance at the 2008 Africa Cup of Nations, and the nation's executive branch once took over the national team.
Amidst all this, it's easy to forget that Nigeria has been a force on the field, performing admirably at last year's Confederations Cup and in all of those under-17 and under-16 world championships. But in its four previous World Cup appearances, Nigeria has never gotten past the round of 16, and it hasn't even gotten that far since 1998.
Could Nigeria be a victim of its own youth success? Tactical expert Michael Cox has written about how European teams frequently sign promising young African players and then change their style of play, asking them to be less creative and more physical. The result is that most young African players are often shoehorned into "the Makélélé role"— named after famed French international player Claude Makélélé, who almost never crossed the halfway line—transforming into defensive midfield enforcers rather than attackers.
John Obi Mikel, Nigeria's captain, is perhaps the best example of this phenomenon. "[He was] a young, strapping lad in the No. 10 jersey, languid in style but absolutely majestic in his control of a football game … his game was about economy of movement, finding the right pass at the right time to unlock a stubborn defense," remembers Colin Udoh, a prominent Nigerian journalist. But when Mikel moved to Chelsea, he was forced to play a very conservative role, freeing up players like Frank Lampard to dictate play. Mikel returned to Nigeria a worse player. "[He] lost the creativity that catapulted him onto the world stage," complained Samson Siasia, a Nigerian coach. "Chelsea destroyed the player Mikel once was."
That seems to be the trend for a number of players in this Nigeria team. Today, the squad plays well-organized but not particularly creative football. Still, Nigeria is in an easy-ish group—though beating Bosnia to get second place is a tough ask—and could make a run. But most likely they won't, and the Super Eagles will fly home to their usual tune of interference, corruption, and infighting.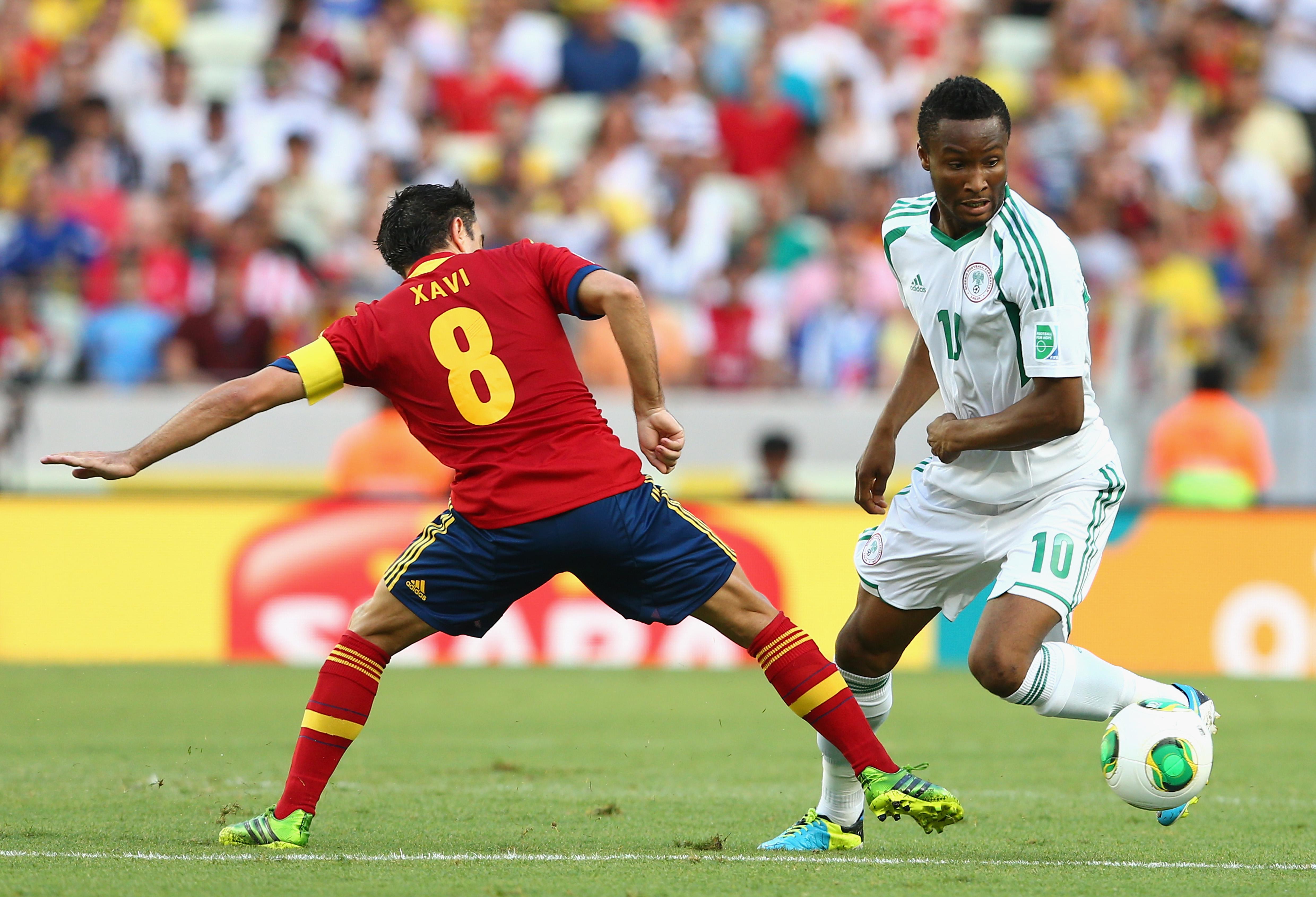 Match Schedule: Nigeria is in Group F, and it opens its World Cup campaign against Iran on June 16—a must-win if the Super Eagles are to advance. Nigeria then lines up against first-timers Bosnia and Herzegovina on June 21, in what is a likely battle for second place. Nigeria will be hoping Argentina will be through to the second round by the time those two play on June 25.
How They Line Up: A cross between 4-2-3-1 and 4-3-3. Nigeria has varied its approaches in the past several years, sometimes pressing and sometimes siting back. 
Key Players: Fenerbahce's Emmanuel Emenike will offer pace and power up front, while Chievo's Victor Obinna also has a good record for the national team. In midfield, Victor Moses (Liverpool, on loan from Chelsea) will add width, while Chelsea's veteran John Obi Mikel will hold down the center, playing simple passes in a much more conservative role than he used to play for this team.
The defense is young, but has a remarkably large number of caps. Middlesbrough's Kenneth Omeruo, for example, is only 20 but has played for the national team almost 20 times. Champions League fans will recognize Celtic's Efe Ambrose, who will play alongside Monaco's Elderson. And in net, it's Lille's Vincent Enyeama—a decent shot stopper who is also phenomenal at taking penalties. He could be a double hero in a shootout.
Rising Star: CSKA Moscow's Ahmed Musa, who has been a revelation in the past couple years. He's been phenomenal for his club, and with Europe's top teams already hunting his signature, it's tough to say he's still a rising star. But, amazingly, he's only 21. This will be his first World Cup of several.
Previous entries: Australia, Iran, Costa Rica, Honduras, Algeria, Cameroon, USA, Greece, Croatia
Want more World Cup previews like this? You can read all of Harrison Stark's country-by-country guides by purchasing the e-book The Global(ized) Game: A Geopolitical Guide to the 2014 World Cup for $3.99.
Some of this material has been adapted from World Cup 2010: The Indispensable Guide to Soccer and Geopolitics by Harrison Stark and Steven D. Stark.