I love the NBA draft combine very, very much. Now, don't get the wrong idea—I've never actually seen the NBA draft combine, as it seems incredibly boring to watch dudes get measured and run through drills. Nevertheless, I was thrilled to learn that the league's scouting jamboree was happening this week. That's because the combine generates the greatest data set in sports: a comprehensive list of basketball players' wingspans.
According to one study, the average adult man has an arm span 2.1 inches longer than his height. The 2014 NBA combine wingspan numbers—helpfully aggregated by DraftExpress—reveal that elite basketball players are not average adult men. The players measured at this year's combine have a wingspan that is, on average, 4.8 inches longer than their height without shoes. (That's a bit stretchier than the usual draft crop: According to DraftExpress's historical numbers, the average NBA prospect is 4.4 inches longer than he is tall.) David Epstein, the author of the excellent book The Sports Gene, says that most people have an arm length-to-height ratio of 1.01-to-1. By contrast, Epstein reports that the average NBA player has an arms-to-height ratio of 1.06-to-1, "greater than … the diagnostic criteria for Marfan syndrome, a disorder of the body's connective tissues that often results in elongated limbs."
Among this year's elongated, possibly Marfan-having elite is Indiana's Noah Vonleh. A likely lottery pick, the Indiana freshman stands 6 feet, 8 inches without shoes but has an outrageous arm span of 7 feet, 4 ¼ inches. The 18-year-old Vonleh is a classic NBA type: the tall guy who's even taller when you measure him from fingertip to fingertip. Also see Kevin Durant (who measured 6 feet, 9 inches at the 2007 combine with a wingspan of 7 feet, 4 ¾ inches), Anthony Davis (6 feet, 9 ¼ inches vs. 7 feet, 5 ½ inches), and the enormous Shaquille O'Neal (7 feet vs. 7 feet, 7 inches). But there are also players like Tennessee's Jarnell Stokes, who at 6 feet, 7 inches is often described by scouts as an "undersized center." Stokes, though, is not so undersized when he spreads out his arms, given that his wingspan is 7 feet, 1 ¼ inches—the same as Chicago Bulls center Joakim Noah's.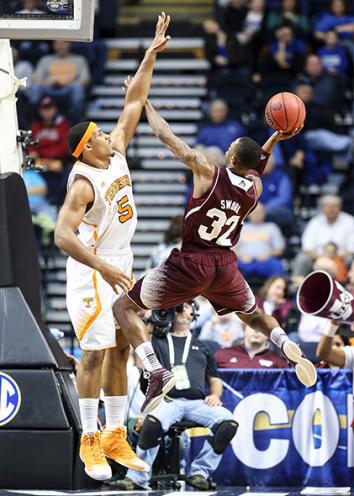 It's because of players like Stokes that wingspan should emerge from the shadowy statistical underground. Wingspan deserves to be an official statistic, one that's listed on every player's ESPN.com bio and featured prominently on every NBA broadcast. Sure, it makes sense to mention boring old height, because it's easy for everyone to relate to: We all know how tall (or short) we are. But an enormous wingspan doesn't just look cool on a basketball poster. For NBA players, it's a crucial data point. A long-armed fellow can release his jumper without being bothered by defenders (Durant should've thanked his disproportionate limbs in his MVP speech), and can make it tough for an offensive player to get off a shot on the other end. By comparison, what does height get you—does it really matter how close the top of your head comes to scraping the ceiling of the arena?
Indeed, Epstein notes the unsurprising finding that wingspan is better than height as a predictor of shot-blocking prowess. (The top three shot blockers in the NBA postseason: Dwight Howard with a wingspan of 7 feet, 4½ inches; DeAndre Jordan, who stretches to 7 feet, 6 inches; and Taj Gibson, whose arms fan out to 7 feet, 4 inches.) Wingspan can also be a great equalizer, a way for shorter players like Jarnell Stokes to match their longer-necked peers.
Stretched-out limbs are no guarantee of pro success. John Riek, Saer Sene, and Chris Marcus—all with wingspans of 7 feet, 8 inches or greater—did not use their long arms to cash large NBA checks. And neither is a puny wingspan a sign of puny basketball ability. As Epstein wrote in Sports Illustrated in 2012, the only active NBA player at that time with a wingspan shorter than his height was J.J. Redick, whose elite shooting skills recently earned him a $27 million contract with the Los Angeles Clippers.
But all things being equal, I'll take the guy who can stretch his wings the farthest. DraftExpress lists one player whose arms are 4¼ inches longer than those of any other prospect they've ever recorded. His name is Mamadou Ndiaye, he stands 7 feet, 6 inches, and he averaged 8 points per game during his freshman season at UC–Irvine. Ndiaye is still in school, but if he does make it to the NBA, we should recognize him for what he is: the league's only 8-footer. The DraftExpress numbers (from measurements taken when he was a high-schooler) have Ndiaye's wingspan as 8 feet, 1 inches, while a recent Sports on Earth piece reports that it's 8 feet, 3 inches. When Ndiaye does eventually declare for the NBA draft, I'll be sure to tune in to watch the combine. And I hope they send the tape measure to the Hall of Fame.