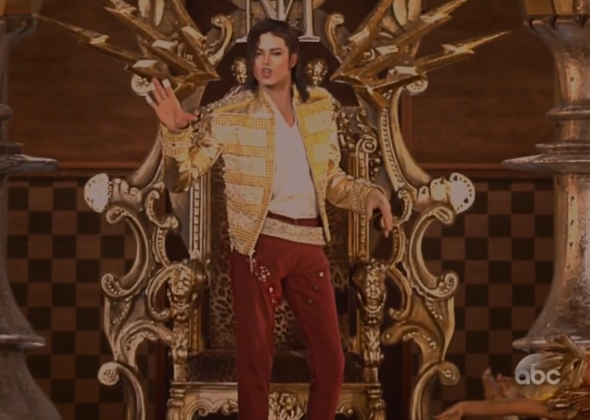 The Billboard Music Awards promised that their show last night would have a "once in a lifetime experience" featuring the late Michael Jackson. They delivered, but, of course, "once in a lifetime" doesn't necessarily mean enjoyable. Electing to go the 2Pac route, producers for the show resurrected the King of Pop in shiny hologram form for an elaborate performance of "Slave to the Rhythm," off his just-released posthumous album XSCAPE.
And since he was performing a song that dates back to 1989, I suppose, the producers figured it was appropriate to "bring back" a fairly young version of Jackson, not anything approximating the man whom fans saw in the This Is It tour documentary released shortly after his death. With the "set modeled on the art work for the album Dangerous," audiences were treated to an uncomfortable spectacle that saw Jackson emerge on a gold throne and then, of course, moonwalk across the stage as well as dance alongside dozens of actual people.
The problem with imagining how an artist who died in 2009 would've performed these "contemporized" songs were he still alive? You can't. Jackson was a visionary, constantly reinventing himself and transcending the pop-music scene. I'd like to think that, in 2014, he would've adopted a more progressive style and opted for less dated choreography and costumes. But the people who put together this hologram performance were not visionaries, and their spectacle fell flat, just another reminder that no one can replace this icon, not even his own hologram. This was more a cheap corporate gimmick than a deserving tribute.
In a night of seriously weird moments—Miley Cyrus and Wayne Coyne's bizarre "Lucy in the Sky with Diamonds" cover and Robin Thicke's desperate "Get Her Back"—Jackson's hologram was by far the weirdest.
---