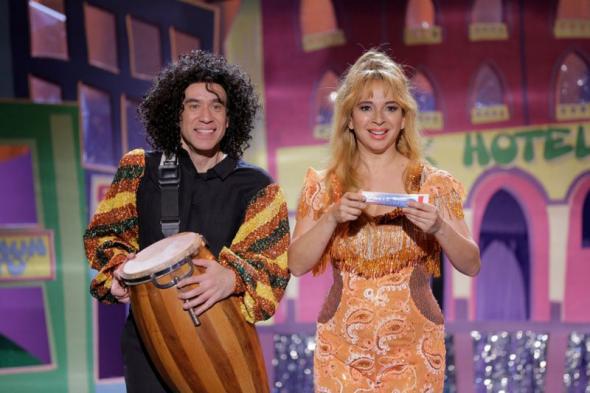 Twenty years from now, when a beloved, multitalented, professional funny lady gets a TV special doing whatever it is she most wants to do, perhaps the once-beloved, no-longer-common format she will long to revive is … the pop-up video. I'm teasing, but The Maya Rudolph Show, a one-hour variety special that aired Monday night on NBC and that Rudolph hopes will become a series, was suffused with nostalgia for the type of singing, dancing, sketch-comedy format—think The Carol Burnett Show—that doesn't much exist outside the bastardized confines of award shows these days, and which, on the strength of last night's pleasant, listless example, maybe needs reviving even less than pop-up video.
Rudolph, it almost goes without saying, is an appealing, talented performer with a great voice best known for her seven-year tenure on SNL, most memorably sending up a swath of divas. The Maya Rudolph Show, however, eschewed all impersonations. She began her show in full Oscars-opening-song style: self-aware rhyming lyrics, multiple costume changes, back-up dancers, a pony. The theme was that Rudolph finally had "my show," where she could do anything she damn well pleased, from dancing with the Laker girls to inviting SNL alums Fred Armisen, Andy Samberg and Chris Parnell—as well as Kristen Bell and Sean Hayes—to tag along as her merry band of players. (SNL alums' penchant for working with each other, and only each other, is starting to tip over from cute to stifling.)
What followed was a sporadically amusing, not at all timely mishmash of sketches and songs. There were skits about parents who voice GPS systems and doctors with vocal tics. Parnell sang a sweet lullaby to his new daughter. There was another song about the spelling of Maya's name. Janelle Monáe performed. The timeliest sketch of the night had Rudolph and Bell showcasing their pipes while making up words to the sequel for Frozen, Frozen Again. Rudolph and Samberg had a dance-off, with Samberg costumed like he was straight out of Saturday Night Fever, which was not the most anachronistic joke of the evening. That honor went to a song set on an old-timey boardwalk, where Craig Robinson's nut seller argued with Kristen Bell's clam vendor about which beachside snack was best. The conclusion, arrived at by Rudolph, was to eat clams and nuts at once, a combination that Robinson greeted with a "Yowza!" I greeted it with a "Huh?"
All of this may sound weird, but—if only! The show was pleasant without being particularly funny or memorable, odd without being urgent or edgy, scattershot without taking any big swings. There was one sketch in which Rudolph and Armisen played horrible rich people with a butler and no memory they had a kid. Wearing enormous sunglasses, Rudolph told the butler, "I can't look at you right now, because I'm not looking at things that are not symmetrical right now." Later she refused to say if she wanted red or white wine, because she was too busy thinking about whether to get her dog an iPhone, even though she didn't have a dog. This bit didn't seem to go over well with the audience, but it was promisingly strange and spiky, a bit that didn't quite work but at least gave Rudolph an opportunity to showcase her talent for spoofing the spoiled. Should the show get picked up, more of that please.
---