In the last several years, Landon Donovan said and did things that were, for a major athlete at the top of his sport, remarkable. In 2012, he talked candidly about the mental strain of a long career in sports and the difficulty of staying motivated. That fall, he said he needed a break from playing, which he had done professionally since signing with a German club in 1999 at age 17. In December, after his team, the Los Angeles Galaxy, won the Major League Soccer championship, Donovan took an indefinite leave from the Galaxy and the U.S. national team, which was about to begin the final round of qualifying for the 2014 World Cup. During his hiatus, he told a journalism class he was "exhausted from the weight of the last 15 years … really the past 28 years." He entered therapy and meditated. He played pickup soccer in Cambodia. He spent time with his family. After four months, Donovan returned to his team "excited and committed," and certain that he had done the right thing for his physical and emotional well-being.
"We have a sort of stigma that being in a difficult mental place is not acceptable," Donovan told reporters a few days after his return. "We should 'pull ourselves up by the bootstraps' and 'fight through it,' and all this, and it's a little peculiar to me, that whole idea, that if someone's physically hurt, we're OK with letting them take the time they need to come back, but if someone's in a difficult time mentally, we're not OK with letting them take the time they need to come back."
He continued: "Obviously, there's points in your life that's difficult. But if you're really at a place where you're struggling mentally, we need to be more compassionate and understanding of people in all walks of life and understand that they might need time away, too. That was certainly the case with me. I had the added physical element, in that my body was exhausted. But if I didn't take this time off, I would have been useless to everybody this year in a professional setting, and probably a personal setting. I absolutely needed it and am very glad that I did it." Donovan said he hoped that "there's at least a few people out in the world that can relate to this and can somewhat be inspired."
One man who couldn't relate was Jürgen Klinsmann. On Thursday, the U.S. national team coach omitted Donovan from the 23-man squad that will travel to Brazil for next month's World Cup. The decision to bypass the player who has scored more international goals than any American man, including the most celebrated tally ever, is the biggest and most polarizing in U.S. soccer history (sorry, John Harkes). On Friday, at the team's training camp at Stanford University, Klinsmann said that other players were "just a little step ahead of Landon in certain areas." He wasn't asked about, and didn't mention, Donovan's sabbatical or the cumulative effect of Donovan's candid observations about the toll of the game. But whatever Donovan's on-field deficiencies may be compared with his peak, this roster move likely isn't about "a little step"—some small physical distinction between him and other players. Rather, it's about a big gulf in thinking.
Donovan seems like a no-regrets sort of guy, and I'm going to assume he stands by his decision to take a restorative break from soccer. He didn't shy away from the possibility that his decision would have professional repercussions, including not playing in a fourth World Cup. But in retrospect, it seems clear that this was a move his coach could never understand.
Donovan's sabbatical must have struck Klinsmann—one of the best strikers of his generation and a World Cup champion for Germany in 1990—as nothing short of bizarre. In Europe, playing soccer at the highest level requires all-consuming passion in the face of ceaseless public scrutiny. That a player in his footballing prime could have been "burned out" and "needed a break" surely signaled a lack of commitment—that being one of Klinsmann's favorite words. Plus, as Sports Illustrated's Grant Wahl wrote on Thursday, Klinsmann "never entrusted his full faith" in Donovan after the player failed in a short stay in 2009 with German power Bayern Munich, where Klinsmann was coaching. (Klinsmann was fired shortly after Donovan's failed Bayern stint.)
"I don't think that Jürgen Klinsmann understands who Landon Donovan is as a player or as a person," two-time World Cup player Alexi Lalas said on ESPN after the roster announcement. "I think he can't fathom some of the decisions he's made because he puts them up against how he would go about things in his career and in his life."
When he was hired in 2011, Klinsmann talked about overhauling the style of play and the culture of soccer in the United States. But as with his seeming unwillingness to understand, or accept, Donovan, Klinsmann can sound condescending toward America's best players, as he did when questioning the decisions of stars Michael Bradley and Clint Dempsey to return to the United States from Italy and England respectively. This is of a piece with his patronizing attitude toward American soccer players and American soccer culture generally. 
"The problem is dealing with a generation who settles too early," Klinsmann said in March. "If [American players] can sign a contract in Europe, they think, 'I made it.' But what have you done? You're over there now and in our eyes in the U.S., we give recognition. But you talk to people overseas and they say they are just average, nothing special. You want to go for a team that's top four–five in the Premier League, the Bundesliga. Don't be on the bench, play all the time. I think we just gotta keep them hungry."
By that logic, players like Bradley, Dempsey, and Donovan aren't "hungry." Donovan in particular has faced that stigma for years. To his detractors, Donovan's candor reveals some internal weakness. It's a charge that has followed him since early in his career, when he left Germany as a homesick teen, chose to settle in the less-challenging MLS, and was mocked as "Landycakes" for his perceived softness on the field. Those criticisms mostly evaporated after Donovan potted the heroic last-seconds goal against Algeria that lifted the United States to the second round of the 2010 World Cup. But his choice to take time off revived the old notion that Donovan didn't care while also reinforcing the common misconception, in sports, that taking care of others (coaches, team, country) is more important than taking care of yourself.
Klinsmann did give Donovan a chance to return to the national team. But there was a whiff of disdain in his remarks about Donovan and his chances for Brazil. Fourteen months after it had ended, Klinsmann was still mentioning Donovan's hiatus. Last week, in the first episode of ESPN's six-part series Inside: U.S. Soccer's March to Brazil, Klinsmann said of Donovan: "The media thinks he has to be in the starting lineup. Or he has to be in Brazil. … That's not how it works. I have to choose the best 23 players based on what I see today."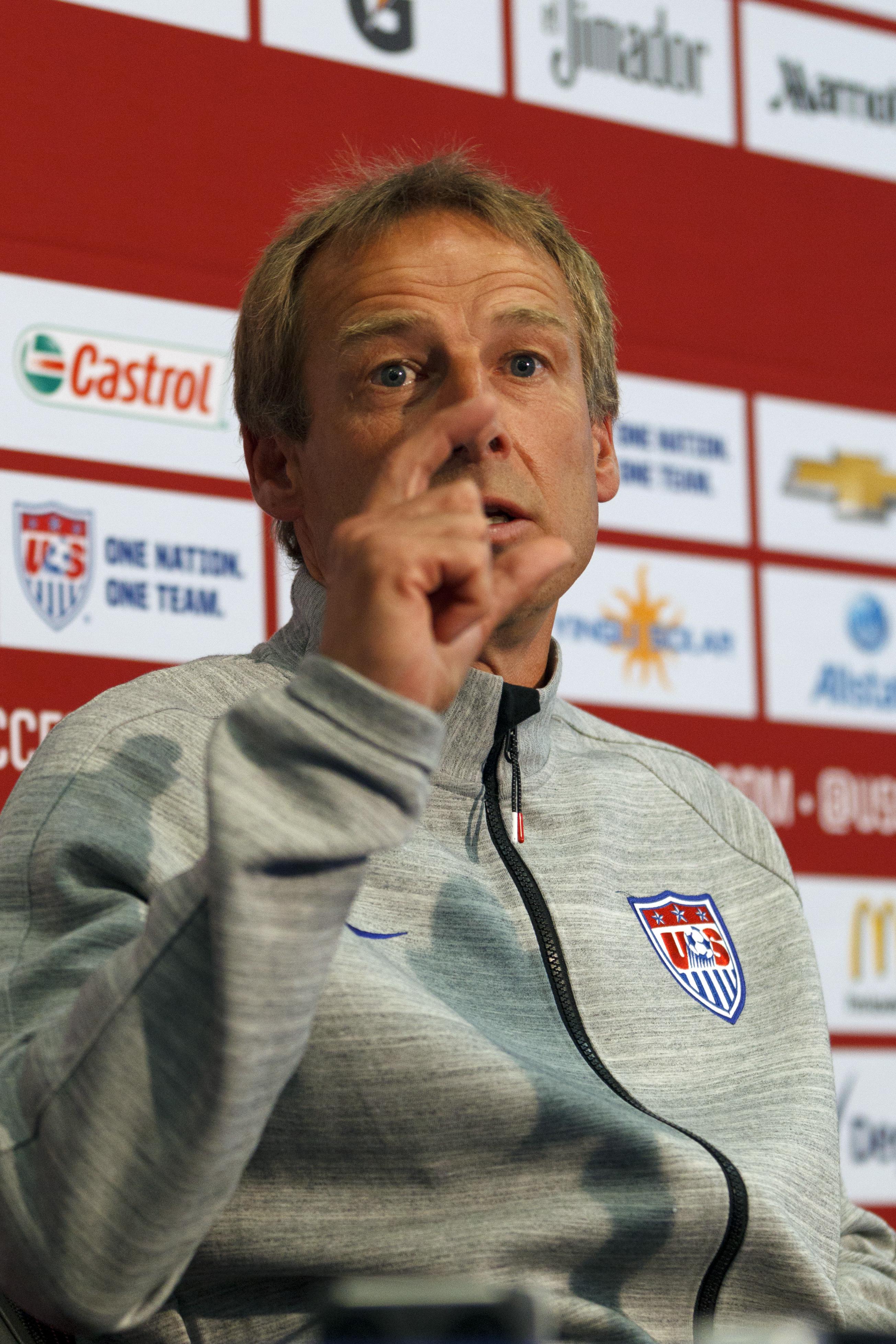 In his news conference on Friday, Klinsmann didn't specify where Donovan fell short, though he did say that he "maybe is not the one now anymore to go one against one all the time or going into the box or finishing off." Klinsmann did say that the coaches evaluate individual strengths and weaknesses in service of "the bigger puzzle" of the team. That seems like a narrow approach to team-building. Donovan's World Cup experience—three tournaments and as many World Cup goals (five) as Lionel Messi, Cristiano Ronaldo, Wayne Rooney, and Robin van Persie combined!—surely matters. His teammates deferred to and respected him, on and off the field. And, while he admitted to ESPN that age and injuries made it impossible for him to "train 12 straight days in a row and have 12 straight great days in a row," his skills surely hadn't deteriorated that much. Former national team coach Bruce Arena, Donovan's current coach in Los Angeles, said earlier this week: "If there are 23 better players than Landon, then we have a chance to win the World Cup."
Without Donovan the U.S. doesn't stand much of a chance in Brazil. And to be fair, they wouldn't have had much of a chance with him on the field either. Given the national team's status as a not-quite-contender, it's possible that cutting Donovan is a move designed to bolster the team for the future, and to make it very clear that this is Klinsmann's team now.
On the website World Soccer Talk, Matt Lichtenstadter drew a parallel between Klinsmann's roster choices now and in 2006, when he coached host Germany to the World Cup semifinals. Klinsmann overhauled both teams, keeping just 10 Germans from the previous World Cup and just six Americans from the 2010 U.S. squad. In Germany, Klinsmann passed over several veterans in favor of three 21-year-olds—forward Lukas Podolski, midfielder Bastian Schweinsteiger, and defender Per Mertesacker—plus a 22-year-old, David Odonkor, who had played just once for the national team. Now, Klinsmann passed over several American veterans in favor of 21-year-old defender John Brooks; 20-year-old defender DeAndre Yedlin, and forward Julian Green, who turns 19 in two weeks and has played once for the United States. Despite this infusion of youth, Lichtenstadter noted that the German team averaged 32 international appearances and the U.S. team averages 33.
But the parallels end there. Brooks, Yedlin, and Green have six caps among them. The Germans had 76. Just before the 2006 World Cup, Podolski was acquired by Bayern Munich. Schweinsteiger had already been playing for Bayern for four seasons, and Mertesacker would transfer after the tournament to Werder Bremen of the Bundesliga for a fee of 5 million euros. (Another youngster on that team was 22-year-old defender Philipp Lahm, also of Bayern, who had just 18 caps. Lahm played every minute of every game.) The Americans' résumés aren't as impressive. The German-American Green plays for Bayern's reserve team in the German fourth division. Brooks, another German-American, appeared in just 14 of 34 games this season for Hertha Berlin in the Bundesliga. Yedlin is in his second season as a starter for the Seattle Sounders of Major League Soccer after two years at the University of Akron.
Germany can pass over some veterans because the other veterans are all world-class players, and because the younger players are proven rather than promising. The United States doesn't have that luxury. In that context, the repudiation of Landon Donovan seems more personal than it does strategic.
No matter how much or how little he played, Donovan wouldn't have been a distraction in Brazil. Instead, Klinsmann has created controversy out of thin air, and risked alienating American fans in the process. The coach said that the best player in American soccer history didn't make the squad because of a "little step." It seems more likely that Donovan was omitted for another reason: the coach's big ego.