With less than a month to go before the World Cup kicks off, it's time to get acquainted with who's going to Brazil. For the next several weeks, Harrison Stark will tell you everything you need to know about all 32 countries, looking at how their rosters stack up and what role soccer plays in each nation's culture and politics. The previews will run in reverse order of the countries' chances of winning the World Cup. Here's team No. 29, Honduras. [Correction, May 30: This post originally stated that these previews were running in reverse order of the countries' predicted finish at the World Cup. They are running in reverse order of the countries' chances of winning the World Cup.]

"Professional football is something like war," renowned Dutch tactician Rinus Michels once said. Try telling that to someone from Honduras, a nation that knows all too well what can happen when soccer energies spill beyond the field. The Central American nation was a participant in the infamous "soccer war" of 1969, when traditional tensions between El Salvador and the larger but less populous Honduras boiled over during three World Cup qualifiers. With rioting and attacks on visiting fans accompanying each match, the final playoff (won by El Salvador) was followed by a Salvadoran invasion of Honduras. By the time the four-day war ended, more than 4,000 people had lost their lives.
Nothing nearly as devastating took place before this tournament, when Honduras completed an uneventful crawl to qualification. Still, the events of four decades ago give a picture of how seriously Central Americans take their soccer and how much the national team is a symbol of the country itself. "Soccer unites us," Honduran legislator and former World Cup coach José de la Paz Herrera once said. "We have an inferiority complex, and soccer makes us feel like we're the best."
It should be no surprise, then, that when Honduras qualified for the 2014 World Cup—the second time in a row after a long drought—a national celebration broke out. When the country qualified in 2010, overseas-based players were ordered by the government not to return to their club teams so they could join the party. This past fall, President Porfirio Lobo honored the team's qualification by declaring a national holiday.
As elsewhere, the national soccer team offers an antidote to divisive internal tensions and a distraction from issues at home. In 2009, for example, Honduras endured a constitutional crisis, where the president was deposed in a coup and the U.S. suspended aid payments. The economy has suffered since, and World Cup soccer—now and in 2010—has offered the nation a brief respite.
"The soccer team is the soul of the country," Roger Espinoza, arguably the team's standout player, told the New York Times. "When it wins, the whole country is happy, no matter what is going on with the president. If we don't win, you don't want to be there as a player."
Honduras is one of the teams—there are always a couple—that is truly just happy to make it to the World Cup. In 2010, it shared the unenviable honor of being just one of two teams not to find the net even once (the other was Algeria), crashing out in the first round. This time there are reasons to be slightly more optimistic (emphasis on slightly). Honduras has a true gem in Espinoza—his game against Brazil in the 2012 Olympics was one of the standout individual performances of the past few years. La Bicolor also had one the globe's top-scoring players in qualification: Jerry Bengtson, of MLS's New England Revolution, who scored 9 goals. An easy-ish group (France, Ecuador, and Switzerland) also means that Honduras has a slightly better chance to qualify for the round of 16 than its CONCACAF counterpart Costa Rica.
But in all likelihood, Honduras will go to Brazil, play three, and go home. That in itself will be cause for celebration.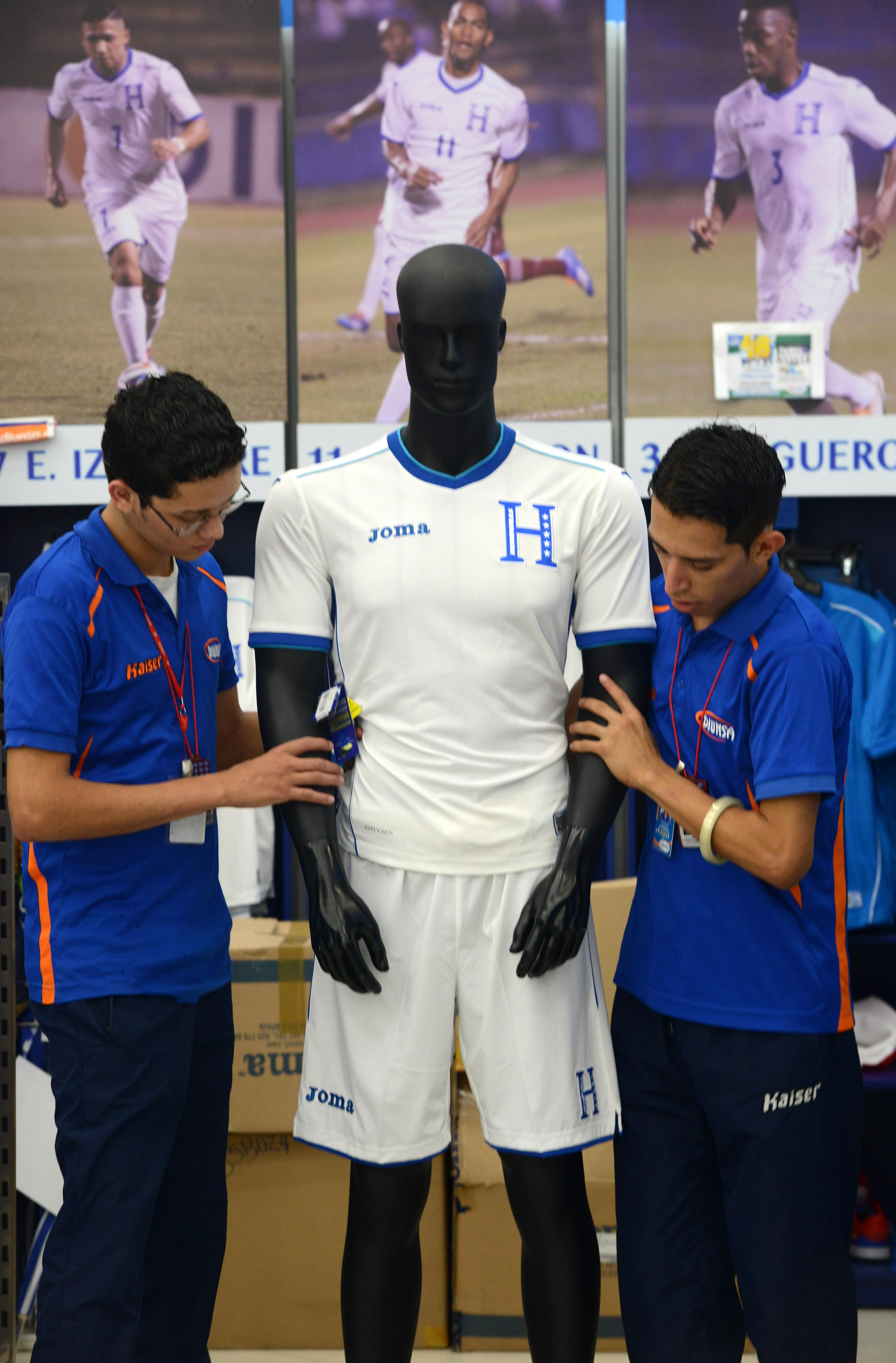 Match Schedule: Honduras is in Group E, one of the easier groups at the World Cup. La Bicolor will still finish last. They play France on June 15 before matching up with Ecuador, in what should be an even game, on June 20. Honduras will then round out the group against Switzerland, who will be looking to clinch second spot, on June 25.
How They Line Up: Defensively. Honduras tends to play with an anchorman, who sits in front of the defense, with two central midfielders in front of him. 4-1-4-1, which doesn't exactly get the pulse racing.
Key Players: Fans of mediocre British teams rejoice—this team is full of your favorites. At the back, Hull City fans (yes, all of you) will recognize Maynor Figueroa, famous for once scoring from his own half. He plays center back for Honduras, so Celtic's Emilio Izaguirre plays out wide. He's a similar player to Figueroa, only slightly faster.* Though both like to join the attack at their clubs, Honduras plays so defensively that they won't get the chance.
In the middle, Honduras relies on Stoke's enforcer Wilson Palacios, though he's been fading at club level for years. Another also-ran is striker Carlo Costly (Real España), now 31, who is too old to lead the attack but is still in the squad. Those two will need Espinoza and Bengtson to pick up their dead weight.
Rising Star: Andy Najar of Belgian side Anderlecht was a star when he was at MLS's D.C. United. The 21-year-old will inject some pace and flair into a side that desperately needs it.
Previous entries: Australia, Iran, Costa Rica
Want more World Cup previews like this? You can read all of Harrison Stark's country-by-country guides by purchasing the e-book The Global(ized) Game: A Geopolitical Guide to the 2014 World Cup for $3.99.
Some of this material has been adapted from World Cup 2010: The Indispensable Guide to Soccer and Geopolitics by Harrison Stark and Steven D. Stark.
*Correction, May 27, 2014: This post originally stated that Emilio Izaguirre plays "on the other side" of Maynor Figueroa. Izaguirre plays out wide and Figueroa plays center back for Honduras. The characterization of Izaguirre as a "left-footed Figueroa" has also been removed. Figueroa, too, has a strong left foot.