With less than a month to go before the World Cup kicks off, it's time to get acquainted with who's going to Brazil. For the next several weeks, Harrison Stark will tell you everything you need to know about all 32 countries, looking at how their rosters stack up and what role soccer plays in each nation's culture and politics. The previews will run in reverse order of the countries' chances of winning the World Cup. Team No. 25: Greece. [Correction, May 30: This post originally stated that these previews were running in reverse order of the countries' predicted finish at the World Cup. They are running in reverse order of the countries' chances of winning the World Cup.]

At the last World Cup, Greece showed up, won a single game, and was promptly eliminated in the first round. It was the most successful Greek team in World Cup history.
For most of its footballing existence, Greece has struggled. The team went to its first World Cup in 1994, where it failed to score and lost all three games by a cumulative 10–0. The squad continues to have few household names. And yet, Greece shocked the world when it won the 2004 European Championship, beating hosts Portugal twice. When Saturday Comes tells the story of a reporter asking striker Demis Nikolaidis a few hours after the final, "How on earth did you pull such a stunt?" His reply: "I have no idea."
"PLEASE DON'T WAKE US UP" read the headline of an Athens paper during that tournament. "I have spent my day online reading newspaper coverage from all over the world about Greece," the Financial Times quoted a Greek consultant at the time. "I want to savor every detail because I've never read any news about Greek sport before—we never win anything."
Such good news is hard to come by in Greece these days, where the cradle of European civilization has hit tough times. With a faltering economy and unemployment at a staggering 27 percent, there's not a lot to celebrate. The nation has been wracked by political infighting and has seen an alarming growth in far-right-wing movements, such as Golden Dawn. Infrastructure is crumbling. And the Onion has described Greece as "an abandoned gravel pit infested with cats."
As elsewhere, soccer acts as a welcome distraction. And the Greeks are obsessed—far more so than even many soccer-mad nations. It's estimated that a sizable portion of Greece's GDP goes to bookies to bet on matches. The nation has a reputation for hooliganism, and fans go crazy, doing anything to get a leg up on rivals. "Refereeing decisions may favor the home side to a laughable extent," a soccer guide once read. "If you're in Salonika for a game against a side from Athens, take a crash helmet."
These energies exploded during Euro 2012, when debt-ridden Greece played Euro-enforcer Germany. "Bring us [Angela] Merkel," demanded Goal News after Greece drew Germany in the round of 16. "You will never get Greece out of the euro," it wrote in one of several thousand Euro-euro double entendres. German papers joined in too: Bild, which had urged Greece to sell an island to help pay off its debt, wrote: "For 90 minutes it will be about more than just football. The euro crisis will be playing too. Rejoice, dear Greeks, defeat will be for free on Friday! No bailout will help you against [German coach] Joachim Löw!" The Greeks lost 4–2 in a barnstorming game that saw Angela Merkel herself going bonkers in the crowd. ("Greece from the gods, Germany from Merkel," a headline read.)
The irony here is that the coach who delivered that famous 2004 Euro win was German "King" Otto Rehhagel, a man known for such non-soccerish philosophizing as "The Acropolis has been there for several thousand years and we won't be here for that long." But Rehhagel had enough of Greece, and after almost a decade in charge, left after the 2010 World Cup.
The Greek national team has stagnated since he departed. And while this team is still built on defense—Germany's Löw described playing the Greeks as "like biting into a rock"—this squad is aging. Without an opponent like Germany to get the blood boiling, Greece's dire World Cup record looks set to continue.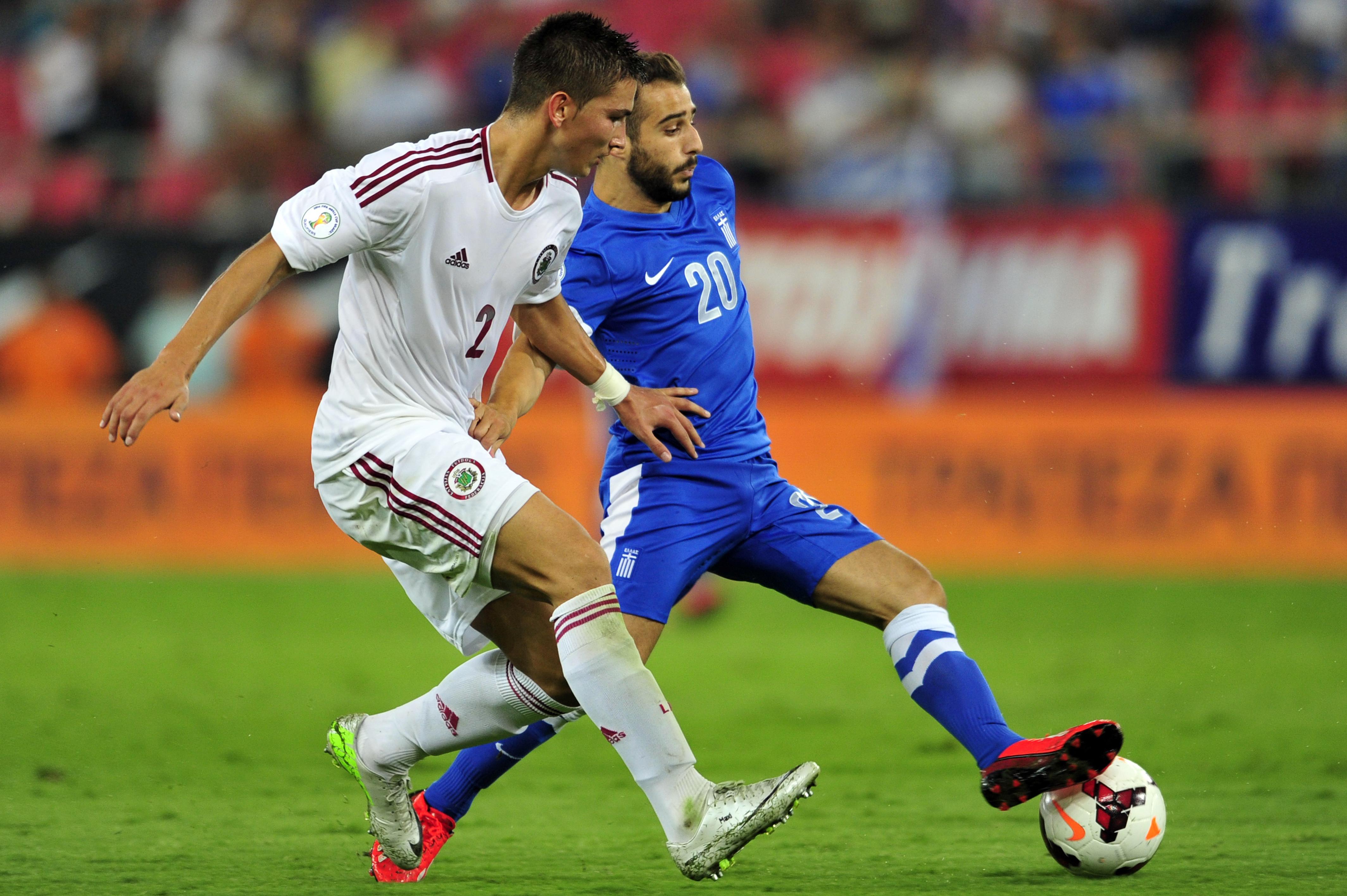 Match Schedule: Greece is in Group C, arguably Brazil's most evenly matched quartet. An opening game against Colombia on June 14 offers little hope, but Greece's tough backline will be more confident stifling Japan's smaller midfielders on June 19. The Greeks' final game against Côte d'Ivoire will be crucial—if the "Elephants" are already through to the second round, Greece has an outside chance to snag second spot.
How They Line Up: Greece won Euro 2004 with a defense-first mantra, winning every header and scoring off set-pieces. That's the mold of the current squad as well, which is a rigid 4-4-2.
Key Players: This team, like the Greek economy, is very much over the hill. "Why change a championship winning formula?" you might ask. "Because that was 10 years ago" seems like a reasonable answer, but that doesn't seem good enough for Greece. Though only a few of these guys actually played in 2004, the team is hardly built on youth.
Fulham's Giorgios Karagounis is still the team's hard-working captain, but as a central midfielder at age 37, there is only so much he can work.  Next to him, Kostas Katsouranis, of Greek team PAOK, could still play at 34, while Dmitris Salpingidis, 32 and also at PAOK, could play up front alongside 33-year-old Theofanis Gekas (Konyaspor), who has come out of retirement. Players like midfielder Lazaros Christodoulopoulos (Bologna) and the versatile Vasilis Torosidis (Roma) should be on the field instead.
If Greece is to have any chance, they'll have to play 26-year-old Kostas Mitroglou, once one of the most underrated strikers in Europe. He started the year spectacularly, especially in the UEFA Champions League, though he's barely played since his transfer to English club Fulham.
In defense, coach Fernando Santos should ditch the ancient Loukas Vyntra (33, at Spanish side Levante) and should instead go with Dortmund's excellent Sokratis "Papa" Papastathopoulos. Say it 10 times fast.
Rising Star: The volatile, but hugely talented, Kyriakos Papadopoulos (FC Schalke 04) hasn't recovered from an injury in time for the World Cup, so the best young talent on offer is Giannis Fetfatzidis (aka the "Greek Messi"), 23 years old, who has been encouraging for Italian side Genoa.
Previous entries: Australia, Iran, Costa Rica, Honduras, Algeria, Cameroon, USA
Want more World Cup previews like this? You can read all of Harrison Stark's country-by-country guides by purchasing the ebook The Global(ized) Game: A Geopolitical Guide to the 2014 World Cup for $3.99.
Some of this material has been adapted from World Cup 2010: The Indispensable Guide to Soccer and Geopolitics by Harrison Stark and Steven D. Stark.