With two weeks to go before the World Cup, it's time to get acquainted with who's going to Brazil. Slate's team-by-team previews will run in reverse order of the countries' chances of winning the World Cup. Team No. 21: Ghana. [Correction, May 30: This post originally stated that these previews were running in reverse order of the countries' predicted finish at the World Cup. They are running in reverse order of the countries' chances of winning the World Cup.]
If there's any justice in world soccer, Ghana will win the 2014 World Cup.
That's a bold claim for a team that made it to the quarterfinals for the first time ever in 2010. But it's tough not to love Ghana, a team with great players and a talented homegrown coach. Unfortunately, they also have a whole lot of bad luck.
American soccer fans once knew Ghana as the country Freddy Adu opted not to play for, then as the team that beat the USA in its final group game at the 2006 World Cup. Ghana beat the U.S. again in 2010, knocking the Americans out of the World Cup. So why should you have any sympathy for the Black Stars? Because in the very next game, they suffered one of the cruelest World Cup exits in recent memory.
Ghana was tied with Uruguay with a minute remaining in extra time when Uruguay's Luis Suarez batted the ball off the line with his hand. He got a red card, but Ghana's Asamoah Gyan—who scored the winning goal against the U.S.—missed the resulting penalty kick. Ghana then lost in the subsequent shootout. "Watching that game convinced me that, among other things, soccer is one of the most effective tools for mass human torture ever devised," historian Laurent Dubois wrote after the game.
That game was traumatic not just for Ghana but for much of the African continent. A victory against Uruguay in South Africa would've made Ghana the first African team ever to make the World Cup semifinals. There could be no country better suited to fill that role. Ghana is the birthplace of Kwame Nkrumah, that country's first independent head of state and one of the leading proponents of Pan-Africanism. The team itself has a history associated with social justice—called the Black Stars (after the name of the ship Marcus Garvey had wanted to use to take black Americans back to Africa and the Caribbean), Ghana and Nkrumah led the continent in boycotting the 1966 World Cup over Africa's underrepresentation in the tournament seeding. (Africa still arguably deserves more slots—it currently gets five, compared with Europe's 13.)
On account of all that, Ghana has been adopted as the second team for much of Africa. Dubois remarked that, at the last tournament, "[n]early everyone in the stadium was a [spiritual] Ghanaian." In 2010 many South African fans adopted the team, dubbing the players "BaGhana BaGhana" (a play on the South African team nickname Bafana Bafana). Even Nelson Mandela himself was a fan. "They represented the continent well," he said after the last tournament. "[T]hey can return home with their heads held high."
A cynic might say that it's easy to root for Ghana because they're very good at soccer. The Black Stars boast some of the biggest names in African football—players like Gyan, Michael Essien, and Kevin-Prince Boateng. Ghana also plays exciting, counterattacking football.
This time around, the team looks almost as potent as it did in 2010. Ghana impressed during qualification, playing under Ghana native Kwesi Appiah—a refreshing change from the norm, in which African teams are often coached by Europeans (though Nigeria, too, have an African coach at this Cup). Appiah, whose name is also rendered as Akwasi Appiah, has forged a steely mix of experience and youth in this squad, having promoted a number of players who won the under-20 World Cup with Ghana in 2009.
Could Ghana's luck finally change? A 6–1 battering of Bob Bradley's Egypt in a qualification playoff suggests it might. Then again, the draw didn't help, handing the team tough games against the USA, Portugal, and Germany. A Ghanaian run to the semis or beyond in 2014 would be spiritual justice after the last tournament. But in a group this tough, it's unlikely to happen.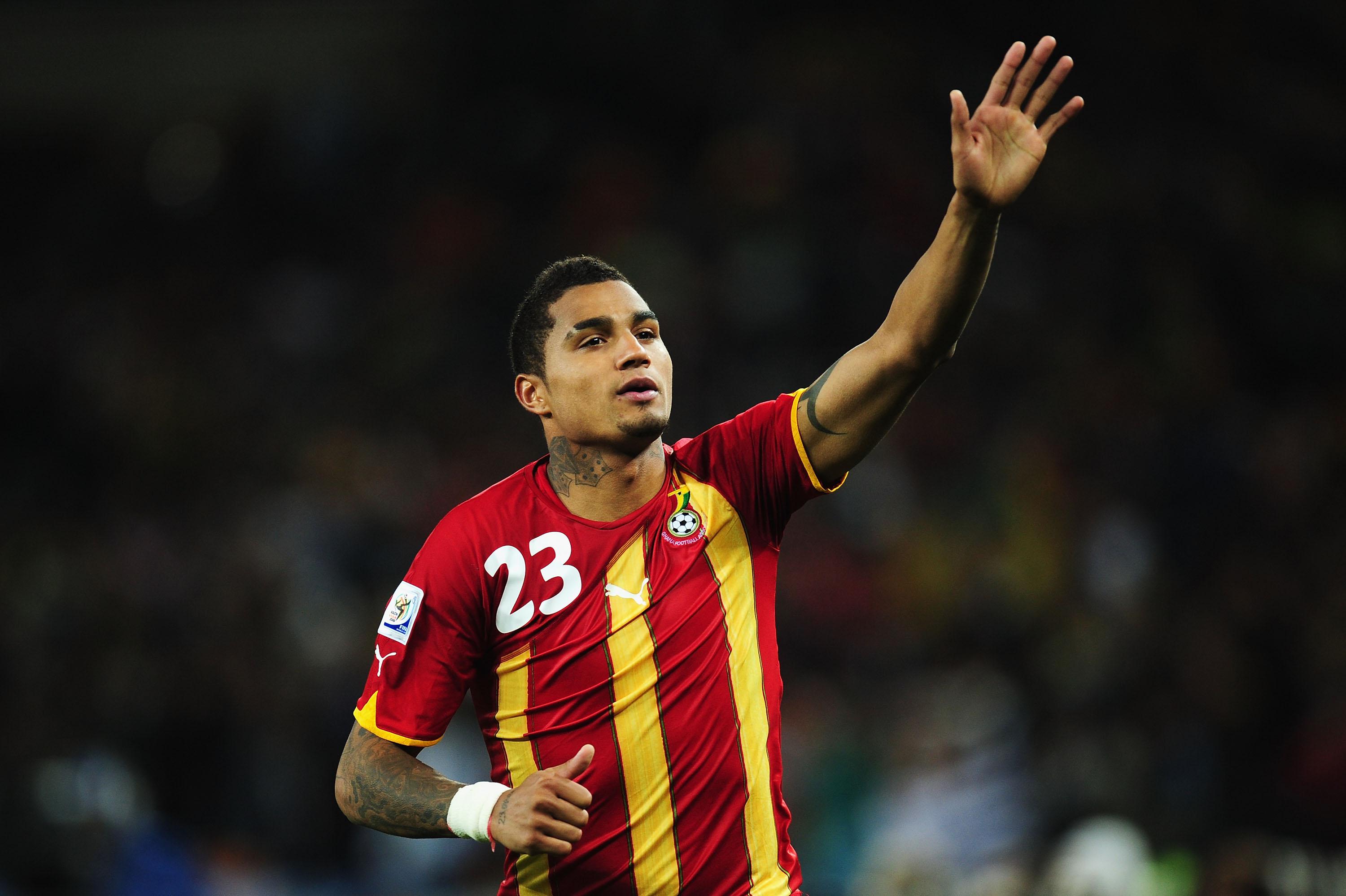 Match Schedule: Ghana is in the pressure cooker of Group G, where it plays the USA in its opening match, on June 16. The Black Stars then face Germany, whom they played in the 2010 group stage, on June 21. That match will be a sibling showdown between Ghana's Kevin-Prince Boateng and his half brother Jérôme Boateng of Germany. Ghana will then finish up by playing Portugal on June 26. Crucially, like Germany, Ghana avoids a trip to the Amazon. (The U.S. and Portugal did not get so lucky.)
How They Line Up: Ghana plays with tactical flexibility, meaning it can line up 4-3-3,  4-2-3-1, or even 4-4-2. Whatever formation Appiah chooses, Ghana will play fast, counterattacking football.
Key Players: A phenomenal striker and world-class midfield means this team will be great to watch, but a flimsy defense could be its downfall.
Up front, Asamoah Gyan (the UAE's Al Ain FC), or "Baby Jet" as he's known to fans of his music (his hit song features the line "sexy like cheese") plays up top and is the focal point for attacks. Udinese's Emmanuel Agyemang-Badu plays in the middle, and Appiah should really start Kevin-Prince Boateng (FC Schalke 04), who has often looked his best just behind the striker. Out wide, Marseille's André Ayew acts as more of an inside forward, and Juventus' Kwadwo Asamoah will most likely play on the left side of a midfield trio—though he's such a flexible player, he could play left wing, left back, central attacking midfield, hell, probably goalkeeper and referee, too. It's a formidable bunch.
The backline is less impressive. Évian's Jonathan Mensah (also known as just Jonathan) is a decent center back, but hardly top-class, whereas Daniel Opare (who just signed with Porto) is untested at the highest level. Though still a strong team, the Black Stars look much more defensively suspect than they did in 2010.
Rising Star: Jordan Ayew, also of Marseille, is Andre's little brother. He hasn't quite developed into the world-beater he was supposed to, but he's got time—he's only 22.
Previous entries: Australia, Iran, Costa Rica, Honduras, Algeria, Cameroon, USA, Greece, Croatia, Nigeria, Ecuador
Want more World Cup previews like this? You can read all of Harrison Stark's country-by-country guides by purchasing the e-book The Global(ized) Game: A Geopolitical Guide to the 2014 World Cup for $3.99.
Some of this material has been adapted from World Cup 2010: The Indispensable Guide to Soccer and Geopolitics by Harrison Stark and Steven D. Stark.