With two weeks to go before the World Cup, it's time to get acquainted with who's going to Brazil. Slate's team-by-team previews will run in reverse order of the countries' chances of winning the World Cup. Team No. 22: Ecuador. [Correction, May 30: This post originally stated that these previews were running in reverse order of the countries' predicted finish at the World Cup. They are running in reverse order of the countries' chances of winning the World Cup.]
If Ecuador feels like the forgotten man of South American soccer, that's because it is. Literally. In 2004, Ecuador almost withdrew from the Copa América tournament after a hotel canceled the team's reservation to make way for Argentina's national team. "If the hotel doesn't respect our reservation then, logically, we wouldn't have anywhere to stay, so we wouldn't go," said Luis Chiriboga, president of the Ecuadorian Football Federation at the time. "Logically, it's a question of respect."
Respect has been hard to come by for a team that lacks the pedigree of Brazil, the star power of Argentina, or the rich World Cup history of Uruguay. But Ecuador loves its soccer. When LDU Quito became the first Ecuadorian team to win the regional Copa Libertadores in 2008, the country went wild. "[P]eople are celebrating like crazy," a fan told the U.K.'s Guardian before the second leg of the final. "You have no idea—it's gripped the nation. We're delirious." Some maybe take it too seriously—just ask former national team coach Hernán Gómez, who was shot in the leg by a man who reportedly didn't like that he'd excluded the ex-president's son from the team. "It [the shooting] is something we all regret and condemn," former Ecuadorian president Abdalá Bucaram, the player's father, said at the time. "However, it's soccer and people get excited and take revenge."
People shouldn't shoot each other or take revenge, but it's OK to get excited. This is Ecuador's third World Cup, all since 2002. Last April, Ecuador rose to 10th in FIFA's world rankings. This represents a remarkable rise for a country that was once one of the worst soccer nations in the region. "[Ecuador] went in to the 1989 Copa America with the following record in the competition—four wins, 57 defeats, 69 goals scored, 254 conceded," soccer journalist Tim Vickery has written. "In South America, Ecuador was a footballing Luxembourg."
Much of the credit for the team's transformation goes to coach Dusan Draskovic, a journeyman manager who somehow ended up in Ecuador in the late 1980s. The legend goes that traditional regional rivalries had disrupted the team, but as a foreigner, Draskovic was able to unite a diverse group from all over the country. "You're amateurs here [in Ecuador]," joked the coach, who hails from the Balkans. "Where I come from we're professional regionalists."
"We'd have an international fixture and Dusan would call up players we'd never heard of," the former vice president of the Ecuadorian Football Federation told the Guardian in 2008. "Many of them became emblematic players for Ecuador."
Ecuadorian soccer has also improved because the country itself has transformed. Between 1999 and 2007, Ecuador's GDP doubled, and Jonathan Wilson has written about how the thriving economy rejuvenated the country's domestic league, where clubs can now not only keep some of their best local talent but lure players from abroad as well.
And, while not a new advantage, it surely helps that the national stadium is in Quito, some 9,100 feet above sea level. Struggling with the altitude, visiting teams tend to wilt. Ecuador qualified for the 2014 World Cup by going undefeated in Quito, winning every game but one, against Argentina. The bad news is that it failed to win a single game on the road, and this year's World Cup is in Brazil, not in Ecuador.
Away from the altitude, Ecuador's chances are slim, despite an easier group. And while the team will have the support of many neutrals—many will play in tribute to Christian Benítez, an Ecuadorian striker who died of a heart attack in July—the truth is that getting to the second round ahead of Switzerland will be difficult. Then again, it would have seemed impossible for Ecuador to even be here a few Cups ago. Who's to say it can't surprise again?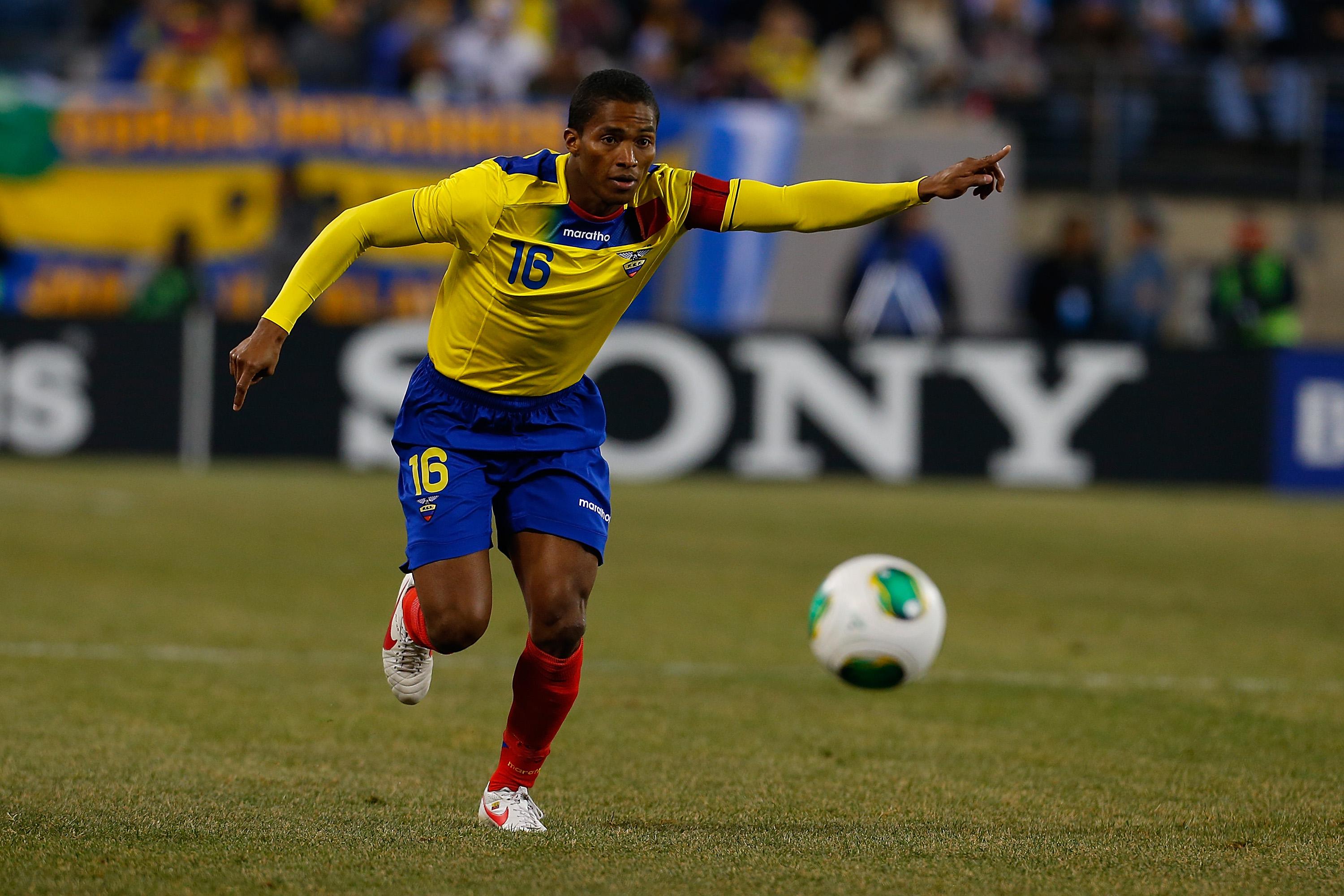 Match Schedule: Ecuador is in Group E, which is essentially a "group of life." Switzerland awaits Ecuador on June 15, in what will likely be a battle for second spot in the group (assuming France doesn't collapse as it did in 2010). Then, on June 20, it's Honduras in a match the Ecuadorians will fancy themselves to win. Finally, Ecuador rounds out group play against France, on June 25.
How They Line Up: Ecuador can vary its formation but tends to play a fast, counterattacking style, getting the ball to its talented wingers as quickly as possible.
Key Players: Ecuador has players spread out at clubs all over the world, but European fans will still recognize a few big names. Right winger Antonio Valencia, famous for his exploits at Manchester United, is the team's captain and the one most folks will know. Russian league fans will see that underrated central midfielder Cristhian Noboa (Dynamo Moscow) should see some action, too. On the left wing, Jefferson Montero, who is coming off the back of some very good form for the national team, will be a handful.
Up front, Manchester City reject Felipe Caicedo should start at striker. Considered a flop while in England, Caicedo is actually a quality player—now playing in the UAE, he's still devastatingly fast and can finish too.
In defense, the phenomenally named Frickson Erazo will be right at home, playing his club soccer at Brazilian Flamengo (though he's struggled to make the team at club level) while national team veteran Walter Ayoví (Pachuca), 34 years old, should play too.
Rising Star: 23-year-old Renato Ibarra, another talented winger. He's been excellent for the Dutch club Vitesse in recent years.
Previous entries: Australia, Iran, Costa Rica, Honduras, Algeria, Cameroon, USA, Greece, Croatia, Nigeria
Want more World Cup previews like this? You can read all of Harrison Stark's country-by-country guides by purchasing the e-book The Global(ized) Game: A Geopolitical Guide to the 2014 World Cup for $3.99.
Some of this material has been adapted from World Cup 2010: The Indispensable Guide to Soccer and Geopolitics by Harrison Stark and Steven D. Stark.