With two weeks to go before the World Cup, it's time to get acquainted with who's going to Brazil. Slate's team-by-team previews will run in reverse order of the countries' chances of winning the World Cup. Team No. 24: Croatia. [Correction, May 30: This post originally stated that these previews were running in reverse order of the countries' predicted finish at the World Cup. They are running in reverse order of the countries' chances of winning the World Cup.]
There's a famous Twilight Zone episode, "The Odyssey of Flight 33," in which an airplane gets lost in the clouds. As the crew emerges from the fog, they find that they're millions of years in the past. Looking out the airplane window at the dinosaurs below, the co-pilot, quaking with fear, addresses his passengers: "We're in trouble."
Feeling trapped in the past and terrified, he could just as well have been watching a Croatian World Cup qualifier. With their unapologetic displays of ethnic pride, these matches stand out as relics of a different era in world soccer.
International soccer is, by its very nature, a nationalistic endeavor. But in a Europe, where soccer is globally televised and the role of the individual nation-state is waning, bellicose displays of jingoism are—largely—a thing of the past. Simon Kuper wrote about how when Holland played Germany in a recent Euro tournament, nobody went overboard with the celebrations. Instead of soccer being a conduit for old nationalistic energies, he wrote, it became a display of a "kind of party nationalism, a holiday nationalism, where you paint your face with the national flag but wouldn't dream of dying for your country." That's the type of nationalism most of Europe subscribes to, and the kind you'll likely see at the family-friendly FIFA World Cup.
The Balkans, where the wounds of ethnic wars are still fresh, can be an exception. Croatia performs a very distinct, and very political, type of nationalism in its matches, a kind of behavior that makes much of Europe deeply uncomfortable. In the Guardian, Croatian journalist Aleksandar Holiga writes that:
Before every home game Croatia play, the same song is played. It has an anthemic, ABBA-esque melody, some hard rock riffs, a heavy bass … and a bit of an ethnic touch. It's called "Lijepa Li Si" ("You're So Beautiful") and the man who sings it calls himself Thompson after a submachine gun, a nickname given to him while he fought in the Croatian War of Independence in the 1990s. His first hit song included a slogan used by Croatian fascist[s] and there are recordings online where he sings songs about murdering Serbs in concentration camps.
Accordingly, Croatia has found itself in trouble with Europe's soccer authorities. "I'm not happy with Croatia," UEFA President Michel Platini recently said. "They are a good team but it's unacceptable when you've got 100 or so assholes among the crowd." In 2012, UEFA slapped Croatia with a large fine after its fans racially abused Italy's Mario Balotelli, who is of Ghanaian descent. And in November 2013, UEFA banned Croatia's talismanic defender, Josip Šimunić, for 10 games after he participated in fascist chants (also frequently described as "pro-Nazi" chants) with Croatian fans after securing qualification. Even if Croatia makes it to the World Cup final, Šimunić will miss the entire tournament.
Why is Croatian soccer such a breeding ground for fascist sentiments? As Holiga has written, "Fascist and racist symbols or activities are, of course, illegal, and over the years there have been virtually only two places where you could come across them: in the crowds at Thompson concerts … and football matches."
While Šimunić is perhaps an extreme example, soccer has long been a venue for Croatians to assert their ethnic identity. During the Croatian War of Independence, waged from 1991 to 1995, military units were formed directly from The Bad Blue Boys, a supporters group for the Dinamo Zagreb soccer club. (A memorial to those supporters killed in the war sits behind the main stand in Dinamo Zagreb's stadium.) As the backbone of the once-formidable Yugoslavia team, Croatian players have used soccer as a vehicle to assert their nationalistic aspirations. When Croatia made a splash by going to the World Cup semifinals in 1998, the team became a rallying point. "We were under Yugoslavia for 45 years and we couldn't say we were Croats," said Igor Štimac, who played in the 1998 tournament. "Now we can. That is very important for us." Watching the 1998 World Cup, Franjo Tuđman, the country's first president, said "football victories shape a nation's identity as much as wars."
Those feelings are still an integral part of Croatian fan culture. Though we're unlikely to witness any truly alarming displays of fan fervor in Brazil—it's tough to fly an army of Ultras to Porto Alegre—Croatia still offers a glimpse of the World Cup's past life, a time when international soccer acted as a nationalistic release for nearly every country. Now, those days are mostly over.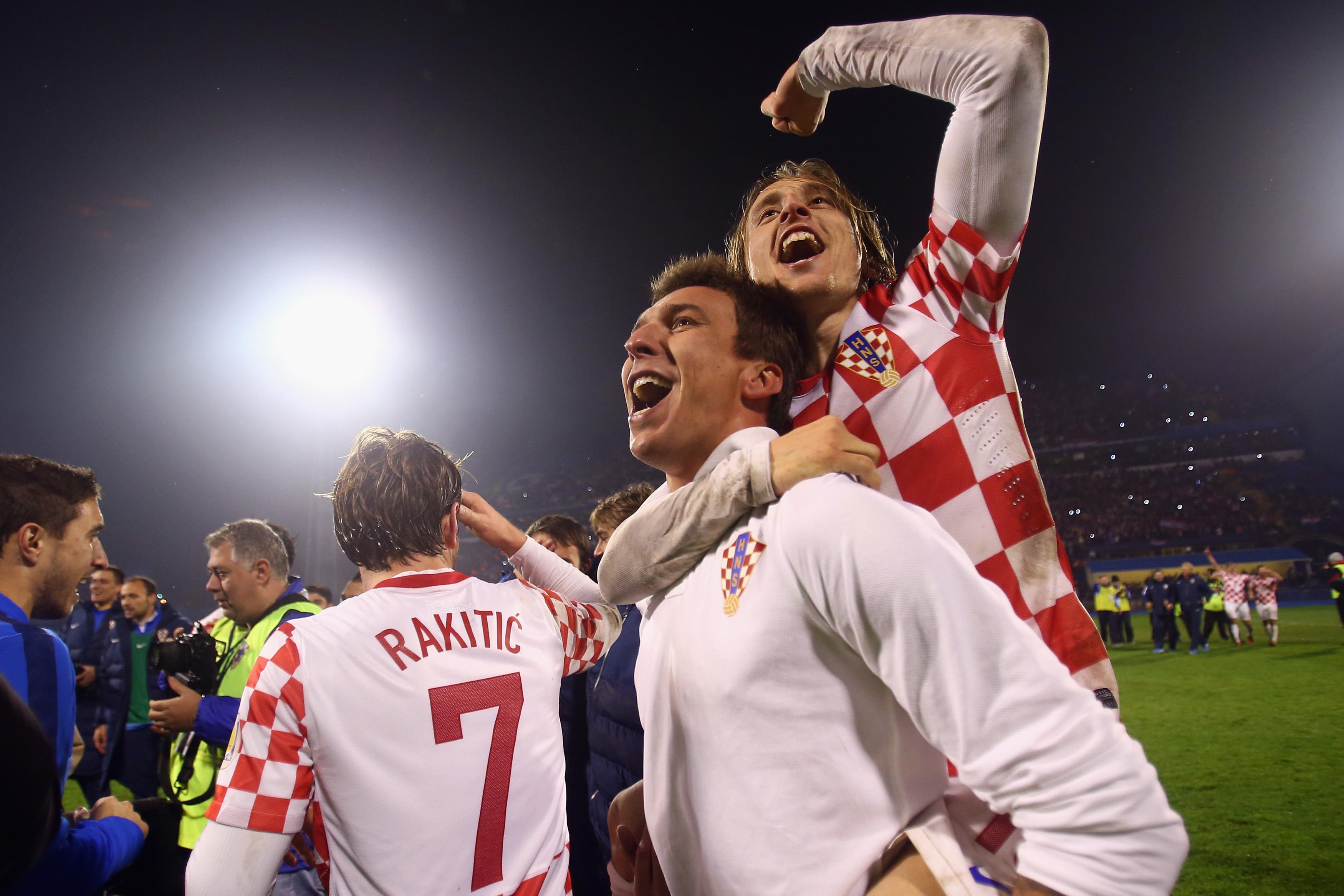 Match Schedule: Croatia is in Group A, and it will have the honor of playing the opening game of the tournament on June 12 against hosts Brazil. It'll be tight, but they'll likely lose. Croatia has a much better chance against Cameroon on June 18, meaning that the final game, against Mexico on June 23, will probably determine who advances. In the heat of Brazil, Mexico has a slight advantage.
How They Line Up: Croatia tends to play with one man up front and the fullbacks pushing forward, an attacking 4-2-3-1. The squad boasts an array of technically gifted midfielders, so they tend to hold on to possession, slowly probing for openings. Without the ball, this is a physical team that likes to hassle opponents, so expect a series of scrappy games.
Key Players: Mario Mandžukić (Bayern Munich) will be the furthest player forward, but he's much more than a target man—he is an exceptionally hard worker (when he wants to be) and is excellent at closing down opponents. His pressure up front, which forces opponents to hoof the ball forward, makes Croatia's physical approach work. And after falling out with Pep Guardiola at Bayern, he's looking to impress potential suitors.
Behind him, Luka Modrić (Real Madrid) can do it all, and he will. Modrić makes the team tick—expect him to lead Croatia in assists. He'll be next to Ivan Rakitić (Sevilla FC), whose creativity attracted a host of European suitors in January. The issue here will be whether he and Modrić gel or get in each other's way.
Croatia will be giving up more goals than usual without Šimunić. Right back Darijo Srna (Shakhtar Donetsk) is a constant threat going forward (and from free kicks) but can leave gaps behind him. Croatia will need to hold onto the ball to stop Brazil and Mexico from creating chances.
Rising Star: Mateo Kovačić (Inter) is only 20 but can play any midfield position: No. 10 or anchorman, wide or central. Coach Niko Kovač will probably use him as an impact sub, but Kovačić is good enough to start for almost every other country. He's unlucky to be on a team that features both Modrić and Rakitić, but it would be hugely exciting if the three played together.
Previous entries: Australia, Iran, Costa Rica, Honduras, Algeria, Cameroon, USA, Greece
Want more World Cup previews like this? You can read all of Harrison Stark's country-by-country guides by purchasing the e-book The Global(ized) Game: A Geopolitical Guide to the 2014 World Cup for $3.99.
Some of this material has been adapted from World Cup 2010: The Indispensable Guide to Soccer and Geopolitics by Harrison Stark and Steven D. Stark.