With less than a month to go before the World Cup kicks off, it's time to get acquainted with who's going to Brazil. For the next several weeks, Harrison Stark will tell you everything you need to know about all 32 countries, looking at how their rosters stack up and what role soccer plays in each nation's culture and politics. The previews will run in reverse order of the countries' chances of winning the World Cup. Now for a look at our 30th-place team, Costa Rica. [Correction, May 30: This post originally stated that these previews were running in reverse order of the countries' predicted finish at the World Cup. They are running in reverse order of the countries' chances of winning the World Cup.]
If well-being and soccer success were linked, Costa Rica would be a world power. The problem is that you don't have to be a shiny, happy person to win the World Cup (just ask Diego Maradona).
No matter. Nicholas Kristof once called Costa Rica "arguably the happiest nation on earth." Arguably? A 2010 study by Dutch economist Ruut Veenhoven found Costa Ricans to be just that, ranking ahead of countries like Norway, Sweden, and Iceland. Familiar to some as the "Switzerland of Central America," Costa Rica is the most stable democracy in the region. The World Bank shows the country has a literacy rate of 96 percent, roughly equivalent to the United States, and Costa Rica is becoming known as a thriving tech economy. Most famously, Costa Rica has no standing army, having abolished its military in 1949. With studies ranking the country high in metrics of gender equality and sustainability, Costa Rica is a pretty good place to live.
And, apparently, a pretty good place to play soccer. Whether it's the supportive fans, beautiful climate, or ancient soccer ball–like sculptures that litter the landscape (the famous pre-Columbian Diquis spheres), Costa Ricans excel on home turf. In qualifying for this tournament, Costa Rica finished second in the region (just behind the U.S.) after winning all five of its home games in the final round of qualification.
The bad news is that the World Cup is in Brazil, not Costa Rica, and Costa Ricans failed to win a single game on the road.
On the bright side, this will be the country's fourth World Cup appearance, and in the previous three, Costa Rica didn't acquit itself terribly. The fans will want to forget Germany 2006, where it lost all three games, but in 2002, Costa Rica found itself in a group with Brazil and Turkey—two semifinalists—and still managed to emerge with four points as it tied the Turks, beat China, and lost to Brazil 5–2 in one of the more entertaining matches of the first round. In 1990, Costa Rica's only other appearance, it did even better, upsetting Scotland and Sweden before predictably crashing out in the next round.
The 2014 iteration is a decent squad, with players plying their trade in several of Europe's top leagues. When the manager of a national team has limited time to prepare his players, having them train at top clubs is key. "The players are in good shape and they have been working hard with their clubs, which is important, because that is not something we can do in three or four days," Costa Rica coach Jorge Luis Pinto has said.
Pundits tend to look at the USA and Mexico as the dominant CONCACAF powers, usually writing off the other teams from the region. But with a solid attack and goalkeeper (not to mention an unusual formation), this Costa Rica team won't be a pushover, even to heavyweights Italy and Uruguay. That doesn't mean they'll get out of the group—they won't—but they won't embarrass themselves either.
And for a country with so much else going for it, that's OK. Just getting to the World Cup is a cause for celebration. "I've worked all my life, so hard, to make it to the World Cup, all my life," Pinto said when Costa Rica qualified, tears in his eyes. "This is sheer happiness."
Just like everything else in Costa Rica.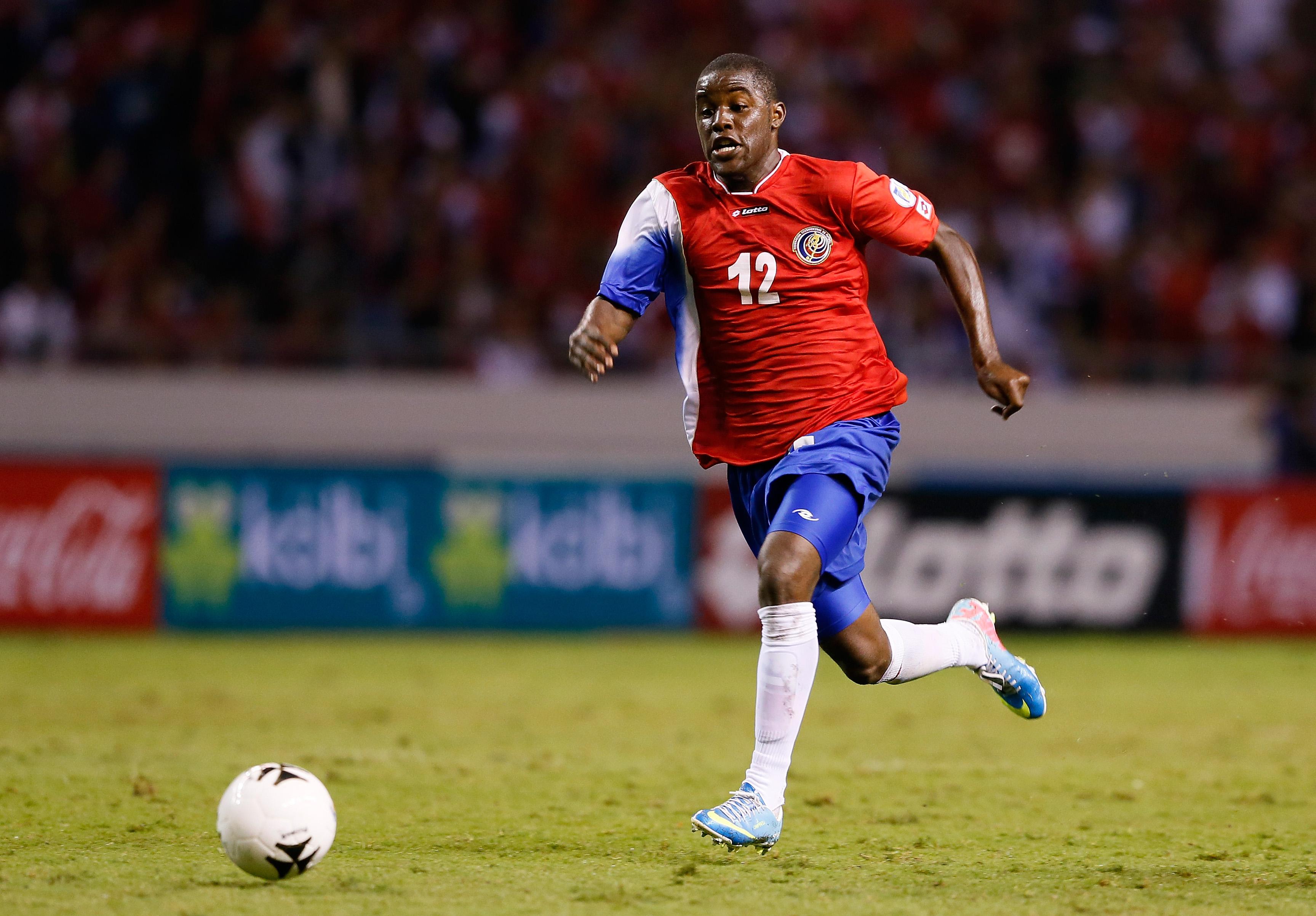 Match Schedule: Costa Rica is in Group D, against three heavyweights, and could well lose all three games (with its usual dignity, of course). On June 14, they line up against Uruguay before playing Italy on June 20. Its final game, on June 24 against England, could be an exhibition—both may be eliminated by then.
How They Line Up: Somewhat unusually with three center backs and two wing backs, probably best described as 5-4-1, with a striker playing off of an attacking midfielder. Costa Rica likes to sit deep, playing defensively and scoring on counterattacks. But some decent attacking players mean that Costa Rica isn't as boring as it might seem at first glance.
Key Players: Though a defensive side, the most recognizable Costa Rican players are forwards with lots of flair. The problem is they're also incredibly inconsistent. Bryan Ruiz (PSV Eindhoven, on loan from Fulham) is the side's star, pulling the strings and orchestrating the attacks. Historically, he's been brilliant for Costa Rica, but he's coming off the back of a terrible year in England. He improved slightly after Fulham offloaded him to PSV, but Costa Rica will sputter if he remains off-kilter. Up front, they rely on the pace of Joel Campbell (Olympiakos, on loan from Arsenal). Still only 20, Campbell floats in and out of games. But when he's on, he's on (consider the 30-yard wonder goal he scored against Manchester United earlier this year). In this group, he'll need to be on.
At the back, the main man would have been Everton's excellent Bryan Oviedo, but a broken leg earlier this year will keep him out of the tournament. With Oviedo off the roster, expect Costa Rica to bleed goals in every game. The responsibility will fall on Mainz's Júnior Díaz, who has played all across Europe, and keeper Keylor Navas, who was a key part of Spanish side Levante's resurgence several years ago.
Rising Star: Campbell is the star of the future but if you're looking for a real hidden gem, check out Celso Borges of Swedish club AIK. At 25, he's no child prodigy, but he's a tenacious, box-to-box midfielder with an excellent long-range shot who has somehow managed to stay off the radar of larger European clubs. This could be his breakout tournament.
Previous entries: Australia, Iran
Want more World Cup previews like this? You can read all of Harrison Stark's country-by-country guides by purchasing the e-book The Global(ized) Game: A Geopolitical Guide to the 2014 World Cup for $3.99.
Some of this material has been adapted from World Cup 2010: The Indispensable Guide to Soccer and Geopolitics by Harrison Stark and Steven D. Stark.