It's now impossible to ignore the systemic problems in college sports. Northwestern University football players' unionization efforts reveal that they work between 50 to 60 hours a week. The New York Times' report on the botched investigation into an alleged sexual assault by Heisman Trophy–winning quarterback Jameis Winston revealed that the police department's lead investigator had been in the employ of Florida State University's football booster club. That same booster club also pays about 25 percent of the school president's salary. Given these screwy priorities, I can understand why many of my faculty colleagues wish that higher education would get out of the sports business.
My experiences have left me more hopeful. As an English professor, I see more students in classrooms than in the locker room. But in recent years, I have come to know a few of them as teammates. In addition to teaching courses and writing books, I play flat-track roller derby under the name Stone Cold Jane Austen.
In September, I was asked to serve as faculty adviser to one of the world's first college roller derby teams, at Arizona State University. The ASU Derby Devils were founded on the heels of the University of Arizona's Derby Cats, who describe themselves as the first-ever official college flat-track roller derby team. There are just a handful of other school teams. If you Google "college roller derby," the second result is, "Why aren't there college roller derby leagues?"
ASU and the University of Arizona—longtime, big-time college sports rivals—are trying to change that. On April 26 in Tucson, we held the first-ever collegiate roller derby competition, and I'm sorry to report that my Derby Devils were trounced, 341–115, in 60 rough and hard-fought minutes of play. Even so, those few of us skating or cheering for ASU left grinning. The atmosphere at the Tucson Indoor Sports Center—with some 300 in attendance—was electric, and a rematch is planned for September in Tempe.
There are many possible explanations for roller derby's absence, until now, from college sports circles. It's hard to imagine Stanford or Notre Dame embracing a sport imagined as equal parts Gothic-costumed theater and sadomasochistic spectacle, accompanied by deafeningly loud heavy-metal music. We already have football for that.
The exponential growth of contemporary roller derby has taken place outside of university walls, in community-based, all-ages teams. Our international governing body, the Women's Flat Track Derby Association, counts 243 full member leagues and 101 apprentice leagues, having started with just a handful a dozen years ago. None of these leagues enjoy a college affiliation or substantial university support.
The best explanation for derby's failure to launch on campus is that the WFTDA has always mandated that member leagues be majority-owned by skaters and two-thirds managed by them. The governing philosophy in WFTDA's mission is "by the skaters, for the skaters." Our leagues have emerged as nonprofits. We recruit our own players, train and coach ourselves, and put on our own competitions. We are designed as democratic organizations, with bylaws, constitutions, and elections.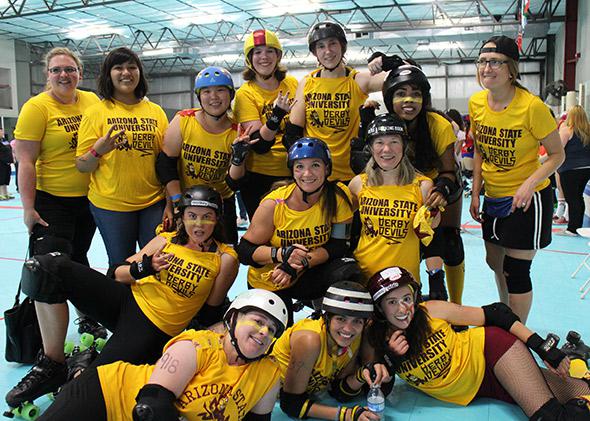 This do-it-yourself approach is in keeping with roller derby's alternative-sport ethos of inclusiveness, gender-bending, and boundary-breaking, but it's a level of autonomy and control that comes with literal and figurative costs. Roller derby can be very expensive. The equipment needed by a rookie player easily runs to $300. In most leagues, players must pay monthly dues ($25 to $50) to rent practice space, secure venues, and travel to competitions. We also buy our own jerseys, shiny short-shorts, and colorful knee socks. DIY means more control, but it also means greater economic barriers to starting out or staying in the sport.
As a result, college-student derby participants have rarely enjoyed the minimal institutional resources available even to intramural or club athletes. They play on community teams, without access to the relatively clean practice spaces, functioning bathrooms, or reliable locker rooms of their campuses. Many derby leagues end up renting warehouses with concrete floors in strange locations. My former league, the CoMo Derby Dames of Columbia, Missouri, rented space to compete at the local fairgrounds, where we duct-taped mattresses to obstructing concrete pillars and left events with horse manure caked on our wheels.
These sorts of conditions, along with the sport's bawdy theatricality, may lead you to mistake roller derby for a stepsister to monster-truck competitions. Roller derby may be an unusual sport, but it is certainly a sport. I especially value its origin as a women's sport that has prompted the development of men's play, rather than the other way around. Having grown up in the first generation of girls to benefit from Title IX, I played "girls' soccer," as opposed to "soccer," in school. It seems a feminist dream to be in on the ground floor of a sport we talk about as "roller derby," by contrast to "men's roller derby." (The U of A vs. ASU bout was co-ed, although female-dominated, with two men competing out of 25 skaters.)
Uniqueness has its drawbacks. There are those in the derbyverse, as we call it, who would like roller derby to look more conventional. A number of skaters have chosen to drop our signature unrefined monikers—the ASU Derby Devils feature such athletes as Nun Meaner, Sigmund Droid, and Haute Flash—for those on their birth certificates. On Team USA, Julie Adams and Tracy Akers now skate alongside Carmen Getsome, Snot Rocket Science, and OMG WTF. That the bid for roller sports to join the Olympics was rejected, for the third time, might lead skaters to wonder whether the fun we're having prevents our being taken seriously. (It's unclear whether Metta World Peace and Chad Ochocinco help or hurt our case.)
It is at this moment of in-between-ness that roller derby is coming to our campuses. From what I have seen, roller derby is a model for combining the positive possibilities of college extracurricular experiences with the benefits of organized sports. Watching ASU Derby Devils President Alisa Lee—who skates as Maiden Asia—build a team out of nothing has been breathtaking. Her experience, modestly supported by university resources and a part of her academic program, has been transformative. Maiden is learning not only how to be a better coach, athlete, and team member, but how to create and sustain an athletic organization, to manage people, and to run events. Her work with ASU Roller Derby is more reminiscent of that of a student newspaper editor or student body president than a stereotypical student-athlete.
Maiden's experience—in the best of all possible worlds—is what it should mean to be a part of an amateur team on a college campus: by student-athletes, for student-athletes. The ASU Derby Devils are unusual in college sports in being an all-ages team, with undergraduates and graduate students training and competing alongside faculty and staff. (That's how I, a 47-year-old professor, ended up skating on a short-handed ASU squad.)
It's difficult to predict how popular roller derby will remain with the next generation of co-eds, much less how amateur college sports will evolve. If 100 years from now we are still taking rightful pride in what higher education does to help launch a thoughtful, healthy citizenry into a complicated world, then our campuses' sports programs must help, not hamper, that project. The past century's fraught history for college athletics should not lead us to lose sight of its immense potential for nurturing new generations of leaders, including women like Maiden Asia.