In the last minute of normal time in the Champions League final, David Villa won a free kick for Atlético Madrid just outside Real Madrid's penalty area. 
The Atlético fans behind the Madrid goal let out a triumphant roar. "Atleti! Atleti!" One nil up in the last minute. Madrid players screaming at the referee. A free kick on the edge of Madrid's box, the chance to score a second, the time nearly up. They sensed it was their cup.
José Sosa sent the free kick into the arms of Iker Casillas. On the sideline, the fourth official raised the board to indicate that there would be five minutes of injury time.
Casillas, the Madrid captain and Spanish national hero, had won his first Champions League final at 19, and his second at 21. Now, at the age of 33, he was finally about to discover what it felt like to lose the biggest club game of all.
"When you're in a final at 19, you don't realize how important these titles really are, not just for you as a player but for your club," he had said at the press conference the night before. "Everyone was used to us winning all the time. Now they see how difficult it is to get to the final."
Sitting alongside Casillas at that press conference had been Sergio Ramos, the smoldering volcano of machismo who is the rock of Madrid's defensive line. In the course of his remarks, Ramos had referred indirectly to José Mourinho, the coach with whom Madrid bitterly parted company this time last year. 
Under Mourinho, Madrid had been swift, strong, and ruthless, destroying teams with lightning counter-attacks. But too often they failed against disciplined defenses who refused to give them space in behind.
The suspicion had taken root that for all their swagger and bombast, for all the supposed greatness of their individual players, Real Madrid lacked the spark of divine fire that had enabled the great Barcelona team to torch the best defenses. 
There was disagreement about why this was so. The players blamed Mourinho for his negative tactics. Mourinho blamed the players for not being good enough. Casillas and Ramos had been his biggest enemies. To win the Champions League in the first year after the despised coach's departure would be the sweetest vindication.
With five minutes to go, Mourinho was about to be proved right. After waiting 12 years to get back to the Champions League final, the players of Madrid had stumbled through the first half in a daze. They had woken up in the second half but all their attacks had foundered against Atlético's red-and-white wall. It was a story of familiar failings.
Individually and collectively, they had blown it. Casillas had committed an embarrassing error to gift Atlético their goal. Gareth Bale, the most expensive player in the world, had squandered three great chances. Cristiano Ronaldo, the World Player of the Year, had been a virtual non-participant.
Each of these men was face to face with disgrace.
All they had was five more minutes.
With frenzied energy, they flung themselves forward in a final assault. They forced a corner, then another.
From this second corner, Luka Modric swept a beautiful ball high into Atlético's penalty area. Sergio Ramos leapt and crashed the header of his life into the bottom corner of Thibaut Courtois' net.
Madrid had failed to pick the lock, but in the end, they had battered down the door with sheer animal force.
The Madrid bench sprinted to the corner to celebrate with the players and fans. They were celebrating as though they had won the cup. At the other end of Lisbon's Estádio da Luz, the three tiers of Atlético supporters were as silent and still as a photograph.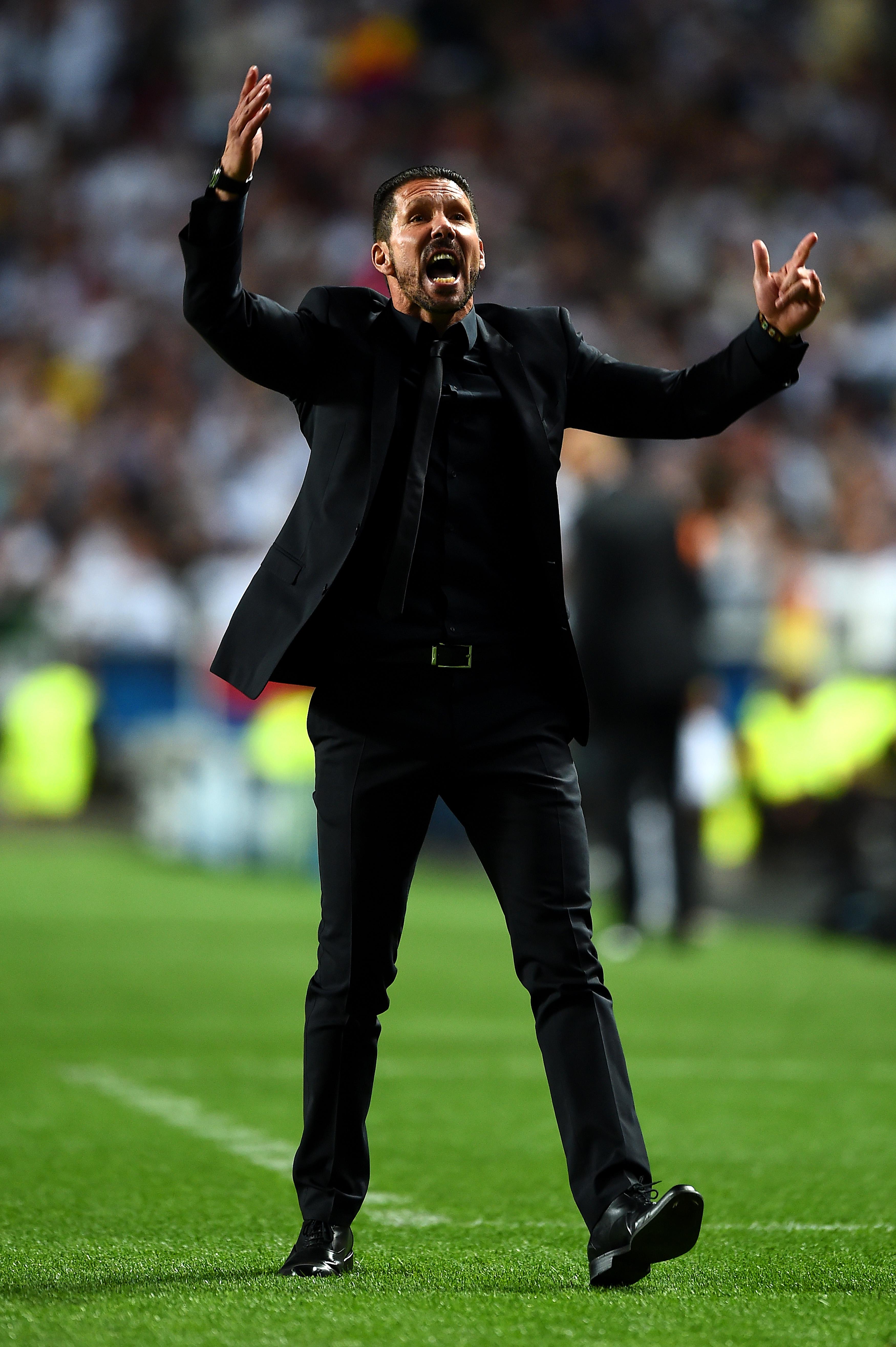 As soon as the final whistle went, Atlético coach Diego Simeone marched onto the field and confronted the referee. He wanted to know why there had been five minutes of injury time. 
If Simeone was angry it was because he knew his team was in trouble, and he knew that it was partly his fault. This was unfamiliar territory for Simeone, the brilliantly successful young coach who had been acclaimed the previous night by his midfielder Tiago as "a god."
The extraordinary commitment and resilience of his team has been the story of the season in European football. Atlético's success has been based on a fierce collectivist ethos in which every player, in the coach's words, plays with "passion, unity, devotion—because that is when they become more than just athletes." Atlético have taken on and beaten teams with many more star players than they have. Stars, the coach says, "are just names."
How strange it was, then, on the day of the final, to see Simeone betray his own ethos with his team selection. Atlético's top scorer, Diego Costa, had injured a hamstring a week earlier, and it seemed impossible for him to have regained full fitness in such a short space of time. 
Yet faced with a choice between the unfit star Costa and the fully fit subordinate Adrián, Simeone picked the star. Some names, it turns out, are more equal than others. It was the wrong decision. Costa had lasted only eight minutes before Simeone had been forced to replace him with Adrian. 
Now Atlético's players were exhausted. They had given everything, and it hadn't been enough. And there could be no reinforcement from the bench, because Simeone had already used all three substitutions.
Simeone was shouting at his players, trying to rally them, but it must have been hard to hear him over the booming chant from the Madrid end. "ESTE PARTIDO LO VAMOS A GANAR!" the Madrid fans shouted. We are going to win this match!
Within minutes of the resumption of play, Atlético's Juanfran pulled up injured. He had no choice but to hobble on. Atlético now had a scarecrow at right back, and Madrid could not be expected to chivalrously ignore that fact for very long.
Five minutes into the second half of extra time, Ángel di Maria got a chance. He cut in from the left, sprinting past the exhausted challenge of Juanfran. Courtois parried his shot, but the ball looped up beyond the far post, where Bale soared above Alderweireld to head into the top corner.
Atlético tried to take the game to Madrid but they could no longer run. When Marcelo got the ball two minutes from time, five Atlético players were marooned offside in the Madrid half, too shattered to get back in position.
Where Marcelo would once have been confronted with eight defenders organized in two solid ranks, now there was only a disorganized rabble of five, and one of them was injured. The Brazilian ran straight through the middle and smashed a cruel third beyond Courtois.
From Madrid's point of view, there was one imperfection. Cristiano Ronaldo still had not scored. Now he darted into the Atlético area, where he was tripped by Gabi.* Ronaldo grabbed the ball, scored the penalty, tore off his shirt and ran towards the Madrid fans, screaming and flexing his world-famous muscles.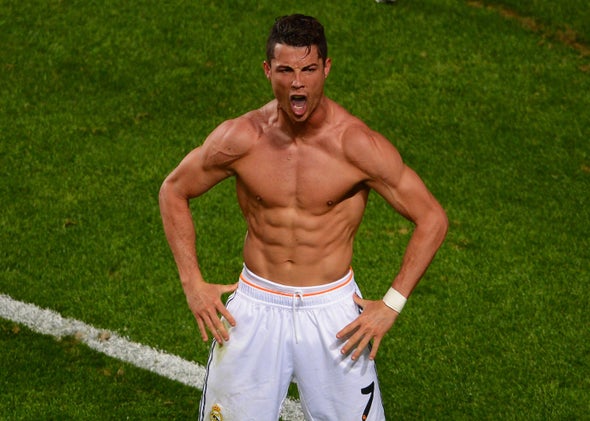 To Ronaldo this must have felt like the crowning moment of his Madrid career. To many spectators, it would have reminded them why they'd never liked Ronaldo. Bizarrely, he had been the only Real Madrid player not to join the celebrations after Bale's goal. Instead of rushing to the joyous scrum in the corner, he had hung around the center circle in what looked suspiciously like a sulk that the glory had gone to somebody else. Now here he was, celebrating as though he had struck the winning goal, rather than merely inflicted a gratuitous indignity on already-beaten opponents.
It was all too much for Diego Simeone, who by this time had again invaded the pitch, incensed to have had a ball kicked in his direction by Madrid's defender Raphaël Varane. Varane was booked, Simeone sent off. It was probably the most appropriate way for Simeone to depart the scene: a man such as he can be destroyed but not defeated.
And in a way, Ronaldo's shirtless posturing, however graceless, was also appropriate, because that bulging physique told the real story of the match. Ronaldo has a legitimate claim to be considered the greatest athlete to have played the game, and yet he's probably not even the fastest player in the Madrid team. That would be Bale, whose sprint, leap, and header in the 110th minute would have been beyond most players after a match of such intensity. And the Sergio Ramos goal was likewise a prodigious feat of physicality to which Atlético had no answer.
That's the advantage of being the richest club in the world: You get your pick of the superhumans, while everyone else has to make do with mere humans. Mind-over-matter took Atlético to the brink, but on Saturday night in Lisbon, muscle mattered more.
*Correction, May 25, 2014: This post originally misstated which Atlético player conceded a penalty. It was Gabi, not Juanfran.