Read about African soccer today, and you'll notice every pundit waxing poetic about Ghana or Côte d'Ivoire. It's easy to forget that not so long ago, Cameroon's "Indomitable Lions" were Africa's biggest soccer power. In 1990, Cameroon stormed to the quarterfinals, beating defending champs Argentina and only missing the semis after losing to England in extra time. "The whole of the Third World supported Cameroon," said Roger Milla, who scored four goals in that tournament as a 38-year-old striker. (Milla also scored in the 1994 World Cup at age 42.)
That seems like an eternity ago for a team that now grabs headlines for very different reasons. In Cameroon, the blurred—some would say invisible—line between soccer and politics frequently lands the team in trouble. President Paul Biya famously allied himself to the country's francophone population, and when a French-speaking Cameroon squad made it to those famous 1990 quarterfinals, Biya used the team as a springboard for his 1992 election win. He's still in power, as term limits have been scrapped, and made headlines in 2009 for renting 43 hotel rooms, for $40,000 per day, on a vacation in France.
In 2006, several domestic matches had to be called off because stadium officials refused to release nets and balls. As it turns out, the Cameroonian government owns the stadiums, and a dispute between the soccer authority and government led the sports minister to order the locker rooms locked. Most recently, Cameroon almost lost its spot in the 2014 World Cup after electing an alleged financial crook to head its national football association. (FIFA invalidated the election and briefly suspended the Cameroon Football Federation, but the suspension was lifted after less than a month.)
Corruption is rampant in Cameroonian soccer. Bribes are so common in the domestic league that the referees' association once issued a statement begging club owners to stop offering them money. Players also regularly complain of going unpaid—in 2002, the team refused to board a plane to a tournament unless they received wages in cash. Captain Samuel Eto'o temporarily quit in 2012, writing in a statement, "The national team environment is still made up of amateurism and bad management which do not suit the requirements for high-level sport."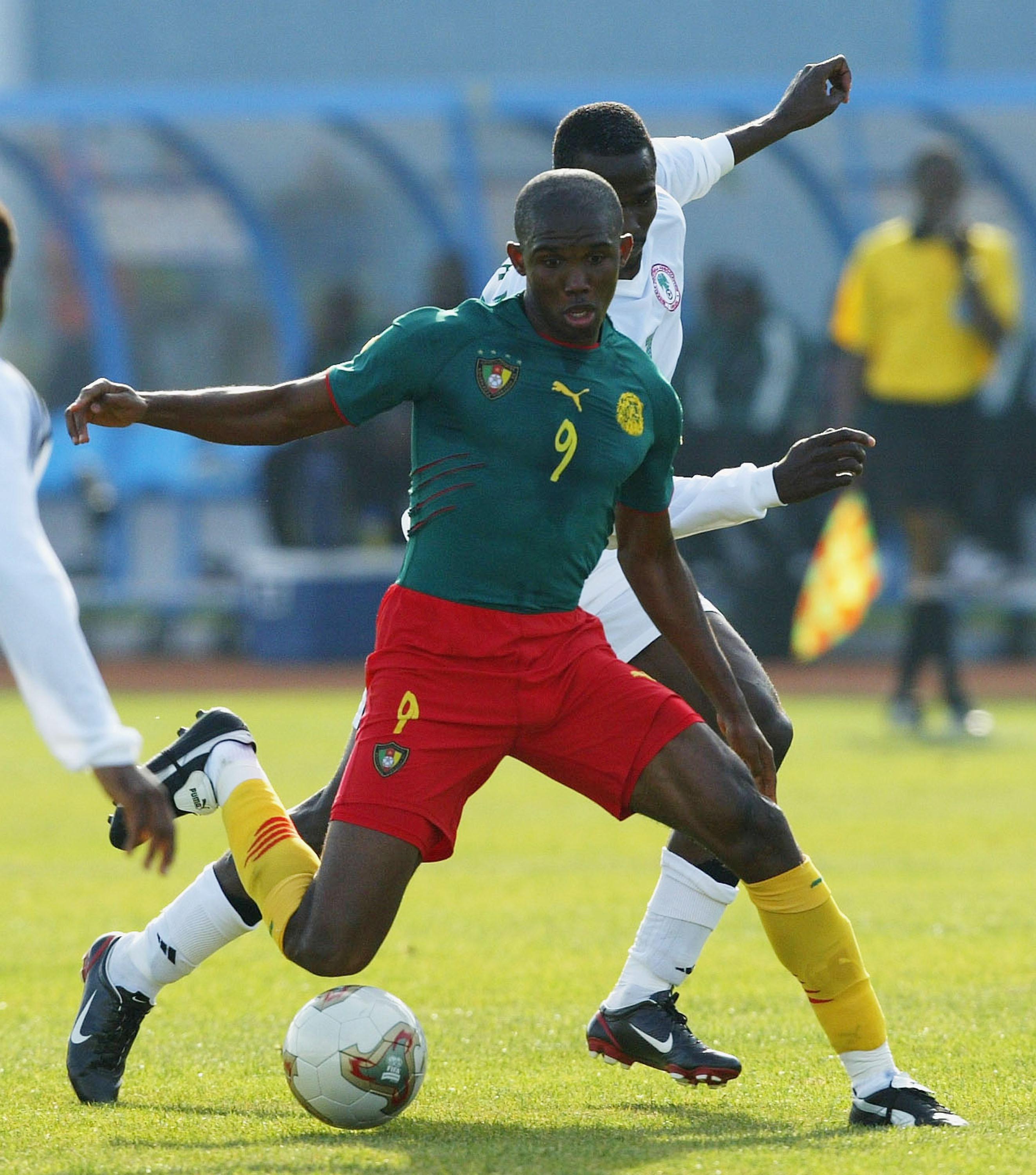 Over the last decade, the Indomitable Lions have also made more headlines for what they're wearing than what they've done on the field. Eto'o famously bought each of his teammates a $45,000 gold-and-diamond "Eto'o World" watch when the team qualified for the 2010 World Cup. The team proceeded to lose all three of its games. Cameroon also faced another possible FIFA ban in 2004 for arriving at a tournament in a sleek, one-piece "soccer suit" instead of traditional kits, garb the Guardian called "Star Trek convention football chic" and "ready-made winter underwear." FIFA's threat was all the more problematic because the Cameroonian team hadn't brought any other uniforms. "We really did not want this kind of scandal," said Puma, the suit manufacturer. "But football must have new ideas, which is what FIFA says it wants for the game."
Despite all of the dysfunction and corruption and fashion faux pas, Cameroon has a heck of an international record. This is the country's sixth World Cup out of the last seven—a record far better than any other African team. Cameroon also won the Olympics in 2000, finished second at the Confederations Cup in 2003, and won the Africa Cup of Nations in 2000 and 2002.
You'll note that those results are all a decade old at this point. (The national team's best recent result is a runner-up finish at the Africa Cup of Nations in 2008.) But despite the scandals and the country's relatively poor recent international results, there are reasons to be optimistic. Eto'o has played remarkably well for Chelsea this season at 33 years old, and the team boasts a formidable defense. Plus, for the first time in a long time, Cameroon has a good coach in German Volker Finke, who will bring an attractive, high-intensity pressing game to the tournament.
Cameroon, though, is unlucky to be in such a difficult group. "We didn't underestimate them," said England manager Bobby Robson after the 1990 World Cup, "They were a lot better than we thought." Perhaps Cameroon will shock the world again this year, and that famously nonsensical one-liner will get another spin. But it's likely that 1990 will seem further away than ever.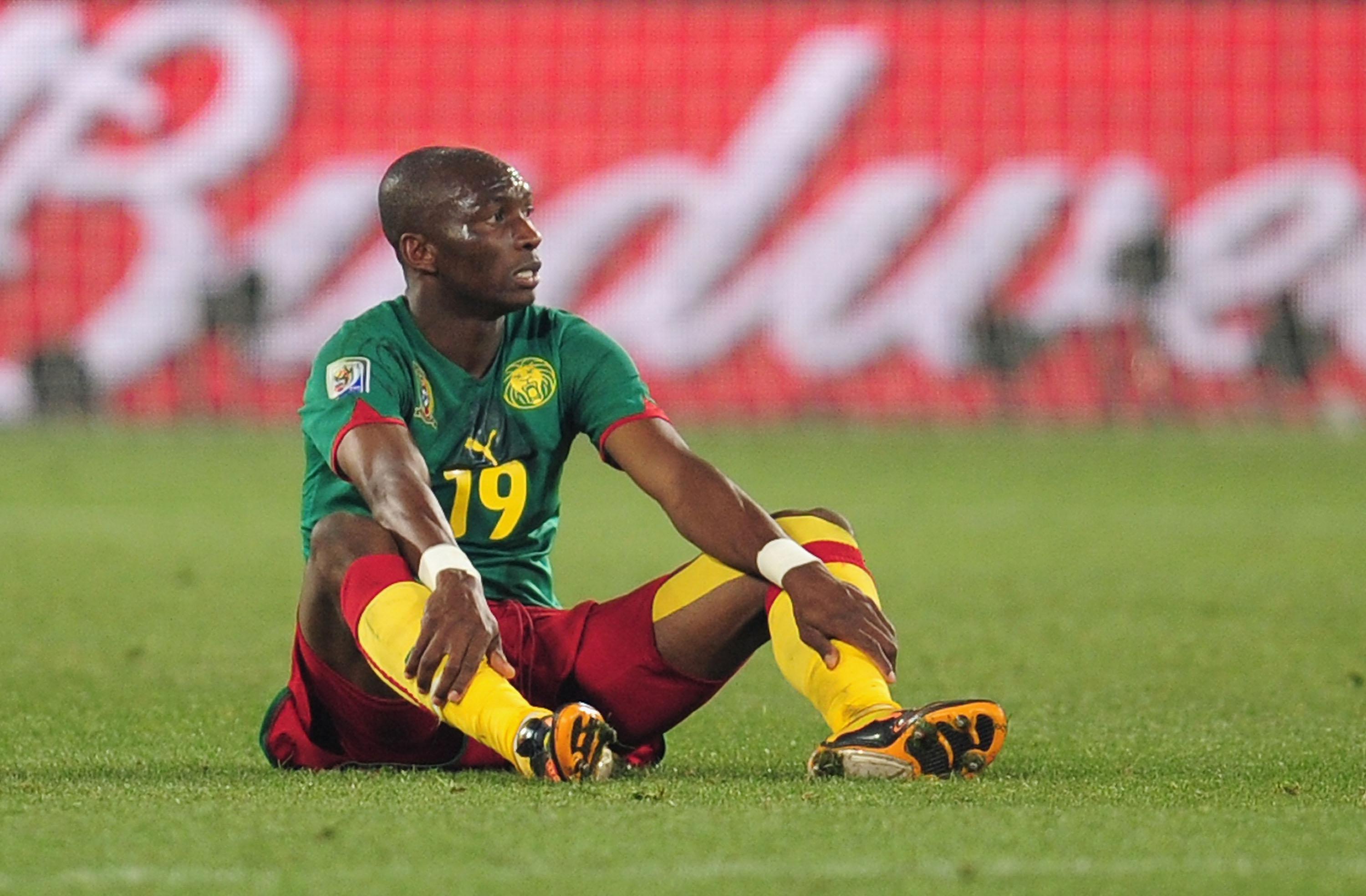 Match Schedule: Cameroon is in Group A, which is harder than it looks. An opening game against Mexico on June 13 will be more difficult than many imagine, and Croatia on June 18 won't be much easier. Cameroonian fans will hope that when the Indomitable Lions play Brazil on June 23, the hosts will already be through and won't try too hard.
How They Line Up: When in doubt, keep it simple. Cameroon's formation is pretty fluid, but it's best described as a 4-4-2, with the midfielders looking to circulate the ball to the forwards as quickly as possible.
Key Players: Eto'o may be not the ruthless finisher he once was, but he's still this team's focal point. And in midfield, Stéphane Mbia (Sevilla) will provide the muscle, while Alex Song (Barcelona) will serve as a deep-lying playmaker, spraying passes from in front of the defense.
On paper at least, Cameroon has a solid backline. It'll likely be up to Nicolas N'Koulou (Marseille) and Aurélien Chedjou (Galatasaray) to martial the defense, alongside Premier League favorite Benoît Assou-Ekotto (Tottenham). But it's between the sticks where things get interesting. While African sides generally have a reputation for unreliable goalkeepers, Carlos Kameni (Málaga) is excellent. The problem is he's hardly played for his club, meaning Guy N'dy Assembé (Guingamp) will have the No. 1 jersey at the World Cup. That's the wrong choice.
Rising Star: Only 22, Joël Matip (Schalke 04) the 6-foot-4 defender can also play in midfield and has been steadily improving at his German club. It'll be interesting to see how long Schalke can keep him.
Previous entries: Australia, Iran, Costa Rica, Honduras, Algeria
Want more World Cup previews like this? You can read all of Harrison Stark's country-by-country guides by purchasing the e-book The Global(ized) Game: A Geopolitical Guide to the 2014 World Cup for $3.99.
Some of this material has been adapted from World Cup 2010: The Indispensable Guide to Soccer and Geopolitics by Harrison Stark and Steven D. Stark.