With less than a month to go before the World Cup kicks off, it's time to get acquainted with who's going to Brazil. For the next several weeks, Harrison Stark will tell you everything you need to know about all 32 countries, looking at how their rosters stack up and what role soccer plays in each nation's culture and politics. The previews will run in reverse order of the countries' chances of winning the World Cup. First up, and likely to bring up the rear in Brazil: Australia. [Correction, May 30: This post originally stated that these previews were running in reverse order of the countries' predicted finish at the World Cup. They are running in reverse order of the countries' chances of winning the World Cup.]
The history of soccer in Australia is not dissimilar to the path the game has taken in the United States. Both countries are devoted to a pantheon of other sports, and so soccer has historically had a relatively modest following Down Under compared with its religious status elsewhere. In both, soccer's development was delayed because of its association with the English colonialists. Australia and the United States both tend to play sports no one else does—we have American football, they have Aussie rules—and tend to dominate the games they take seriously. (In Australia, those sports are cricket and rugby.) In both, soccer has been the sport of recent immigrants, and tends to be most popular in Western outposts: Seattle and Portland in the U.S., Perth in Australia.
But that's where the similarities between the Stars and Stripes and the Socceroos end. Whereas the United States has been steadily, if slowly, improving its soccer pedigree, Australia seems to be headed backward.
Roughly a decade ago, the Aussies seemed to be on a steady upward trajectory. A number of the nation's top players, like Harry Kewell, Tim Cahill, and Mark Viduka—members of the so-called golden generation—starred for the biggest teams in England. In 2006, Dutch tactician Guus Hiddink, one of the world's best coaches, led the Socceroos at the World Cup, and he didn't disappoint.* Australia played wonderful soccer, got out of its group, and only went out to eventual winners Italy on a dubious penalty. The U.S. headed home in the first round, winless.
Those years now look like a fluke. Hiddink left and the next generation of internationally ready players never came. Today, Australia's squad still contains many of the same names it did in 2006, though these increasingly bedraggled fellows are now playing their club soccer at elephant's graveyards like the Australian league and the Qatari professional league. In 2010, Australia had the second-oldest team at the tournament and played like it, rolling over 4–0 to Germany in the first game and only winning 2–1 against a Serbian side that never seemed to show up. The run-up to this tournament was similarly bleak. After struggling to ensure qualification in the summer of 2013, Australia crashed out of the East Asian Cup, losing to Japan and China. A series of high-profile friendlies abroad were intended to boost Australia's soccer standing globally but did the opposite: The Socceroos lost to Brazil and France back to back, both by the embarrassing score of 6–0. In response, it sacked its coach, a move that doesn't normally pay off right before a big tournament.
Why Australia hasn't done better is puzzling. Some suggest that after its 2006 triumphs, the country has reverted back to what the Financial Times' Sydney correspondent Raphael Minder has described as a kind of Aussie inferiority complex inspired by its geographical isolation and colonial history. This translates to a defeatist attitude in its soccer, where Australia is infamous for its near-misses in qualification, failing to make the World Cup seven out of seven times between 1978 and 2002, in seemingly ever-more ludicrous fashion: The Aussies, for example, were beating Iran 2–0 in 1997 when internationally famous disruptor Peter Hore ran onto the field and dismantled the nets. After the restart, Iran came back and earned a 2–2 draw.
More recently, Australia has coped poorly with its decision to change its regional affiliation. Twenty years ago, Prime Minister Paul Keating made the controversial argument that Australia should be considered part of Asia. Today, he gets his wish, as the Socceroos now play against other Asian countries to qualify in the World Cup rather than in the Oceania group, where they arguably belong. This should have made the team better, as it has to steel itself against opponents like South Korea and Japan rather than American Samoa and Fiji. Instead, the team has arrived at the last two World Cups looking out of sorts.
Could this year have been different? Maybe—FIFA's bizarre seeding coefficients mean that Australia could have gotten lucky with its draw. But it didn't, and the Group of Death—Australia joins Spain, the Netherlands, and Chile—will ensure that this will be a short trip to Brazil. The Socceroos will surely end up at the bottom of their group. The only question is if they can pick up even a solitary point.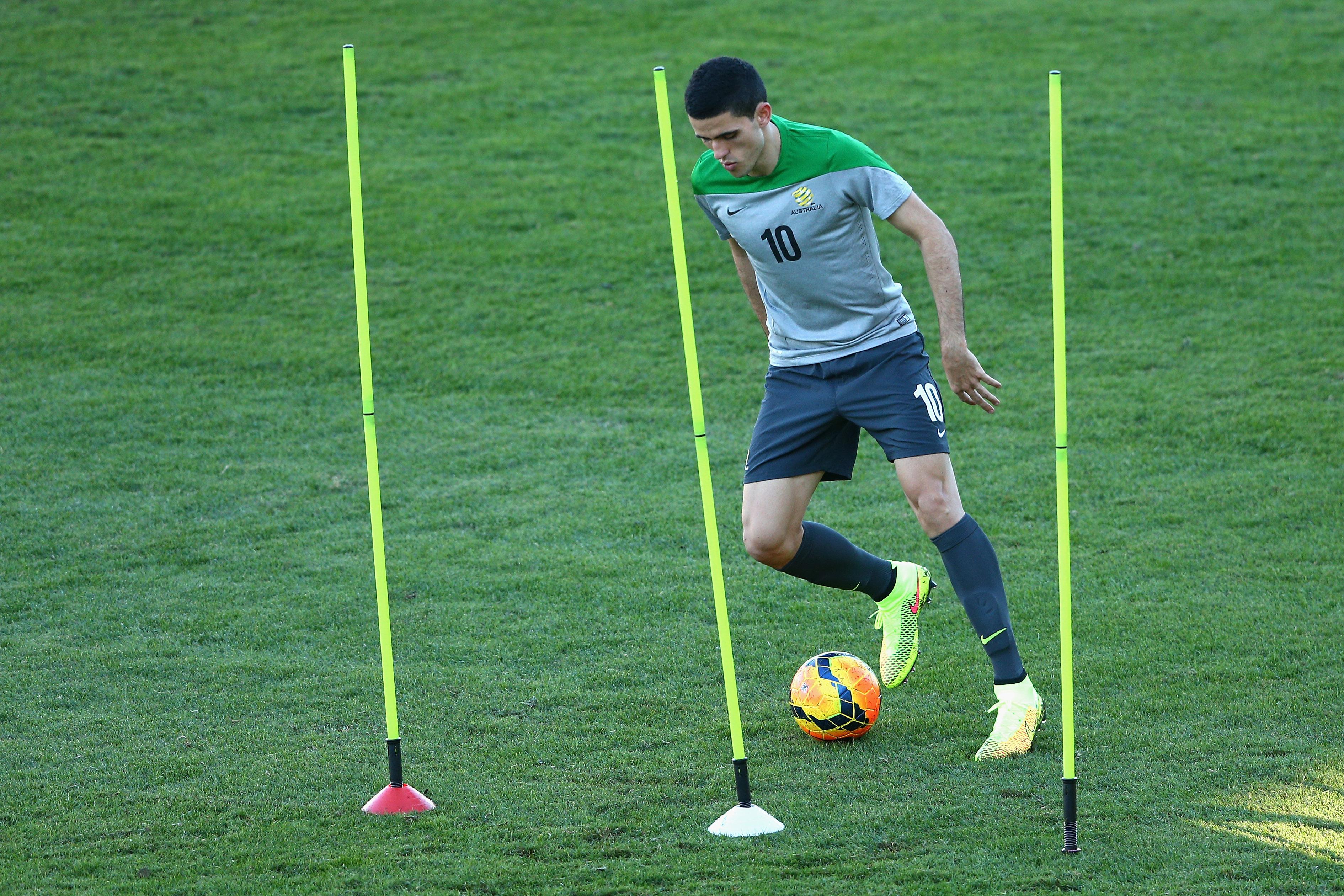 Match Schedule: Australia is in Group B, the hardest aside from the torture chamber the U.S. finds itself in. The team's official slogan is "Socceroos: Hopping Our Way into History!" but the only place Australia will be hopping is home. On June 13, Australia plays its opening game, and its easiest, against underrated Chile before lining up against 2010 finalists the Netherlands on June 18 and defending champions Spain on June 23. There will be no more Australia matches after that.
How They Line Up: In a straight, staid 4-4-2 (or a 4-4-1-1 depending on how you look at it). This is a team that plays well-organized, boring soccer.
Key Players: To his credit, new coach Ange Postecoglou has attempted to integrate younger talent into his World Cup squad. The problem is that none of the new players are any good. The core is still the "golden generation," most of whom are more gray than golden at this stage. Tim Cahill (New York Red Bulls), at a spry 34, still starts up front, while Mark Bresciano (Qatar's Al-Gharafa) is the same age and still in the middle of the park. There's some hope, though. Mile Jedinak (Crystal Palace) is hardly a spring chicken (or should it be a spring wallaby?) at 29, but he's been solid for the Premier League side this year and should provide some mobility in midfield (assuming he's fit).
There were rumors that Lucas Neil was also in the picture, but at 36, it's probably no surprise he didn't make the team as he doesn't even have a professional club. Luke Wilkshire (Dynamo Moscow) will be on the back line, but at 32, he, too, is starting to struggle. The thought of him marking Iniesta, Robben, and co. is terrifying.
Rising Star: It absolutely would have been Robbie Kruse (Bayer Leverkusen), but he tore his ACL in January. Instead, the onus will fall on 22-year-old Tommy Oar of Dutch side FC Utrecht. An attacking midfielder, here's hoping he can gel with the catatonic Cahill.
Want more World Cup previews like this? You can read all of Harrison Stark's country-by-country guides by purchasing the e-book The Global(ized) Game: A Geopolitical Guide to the 2014 World Cup for $3.99.
Some of this material has been adapted from World Cup 2010: The Indispensable Guide to Soccer and Geopolitics by Harrison Stark and Steven D. Stark.
Correction, May 19, 2014: This post originally said that Guus Hiddink coached Australia at the World Cup in 2005. Hiddink became manager of the Australian team in 2005, but the World Cup was in 2006. (Return.)