With less than a month to go before the World Cup kicks off, it's time to get acquainted with who's going to Brazil. For the next several weeks, Harrison Stark will tell you everything you need to know about all 32 countries, looking at how their rosters stack up and what role soccer plays in each nation's culture and politics. The previews will run in reverse order of the countries' chances of winning the World Cup. Let's have a look at team No. 28, Algeria. [Correction, May 30: This post originally stated that these previews were running in reverse order of the countries' predicted finish at the World Cup. They are running in reverse order of the countries' chances of winning the World Cup.]

If Albert Camus were alive, he would have been one of the tens of thousands in the streets celebrating Algeria's qualification for the World Cup. Camus, the Nobel Prize–winning author who was born in Algeria and moved to France (much like the family of longtime French national teamer Zinedine Zidane) was something of a soccer aficionado.* At one time, Camus harbored hopes of being a professional goalkeeper. But he contracted tuberculosis, and his hopes ended there (though his time as a goalie—the alienated player who stands alone in his ability to use his hands—surely informed his existentialist philosophy). "All that I know most surely about morality and obligation, I owe to football," he once wrote.
A longtime critic of France's colonial rule in Algeria, Camus supported the Algerian soccer team before Algeria had won its freedom from the country's colonial overlords.* In his seminal The Ball Is Round, David Goldblatt details how soccer was tied to the nationalist insurgency in the 1950s that led to Algeria's split with France. Games frequently led to political violence, and Algerian freedom took a major step forward in 1958 when Algerians formed the country's own national team, touring the world and winning converts to the independence cause.
If soccer and nationalism have always gone hand in hand in Algeria, so too, unfortunately, has violence and bloodshed. The Desert Foxes qualified for the 2010 World Cup by defeating Egypt in a heated playoff, one in which hostility between fans led to the withdrawal of ambassadors from both countries—and nearly a war. When Algeria beat Burkina Faso to qualify this time around, the celebrations were marred when 12 fans were killed and more than 200 injured, with most of those deaths due to traffic accidents.
The Algerians do have much to be proud of on the field—this is their second consecutive World Cup, which is quite an achievement given Africa's paltry number of slots at the tournament. For a former colony with deep ties to its former master, defining a distinct national identity on the pitch will always be a complicated project. When Zidane's French side won the World Cup in 1998, he dedicated the victory to "all Algerians who are proud of their flag … who have made sacrifices for their family but who have never abandoned their own culture." But Zidane himself had chosen to play for France. Karim Benzema and Samir Nasri, two of France's current stars, made the same choice. (Nasri may regret that decision after being left off France's roster for Brazil.)
That may seem like a familiar colonial narrative, but a 2009 rule change has leveled the playing field a bit. At the Algerian Football Association's recommendation, FIFA modified its eligibility requirements, allowing players to switch national allegiances so long as they had yet to make a senior competitive appearance. And so in a post-colonial twist, Algeria began poaching French players with Algerian roots, scouring French youth academies for potential talent. At the 2010 World Cup, Algeria had 17 players that were born and raised in Europe, more than half its team.
It's a great strategy if you want to bring in the Algerian diaspora. It's somewhat less effective if you're trying to build a cohesive team. At the last tournament, the squad played like France Jr.—technically solid, but stodgy and defensive—but seemed undermined by the players' lack of familiarity with each other. American fans will remember Landon Donovan's last-gasp winner against Algeria in 2010, a pulse-racing finish to what was otherwise an utterly forgettable game.
France and Algeria have never played in the World Cup and haven't played in any competition since 2001. If they do meet each other, it would be the game of the tournament—a match even bigger than Senegal's memorable 1–0 triumph over the defending champion French in 2002. The two nations could not face off before the quarterfinals, though, and Algeria is unlikely to make it that far. Though Group H is not the toughest, Belgium, Russia, and South Korea are all decent. Let's hope, though, that the Algerians record an upset or two, if only for Camus.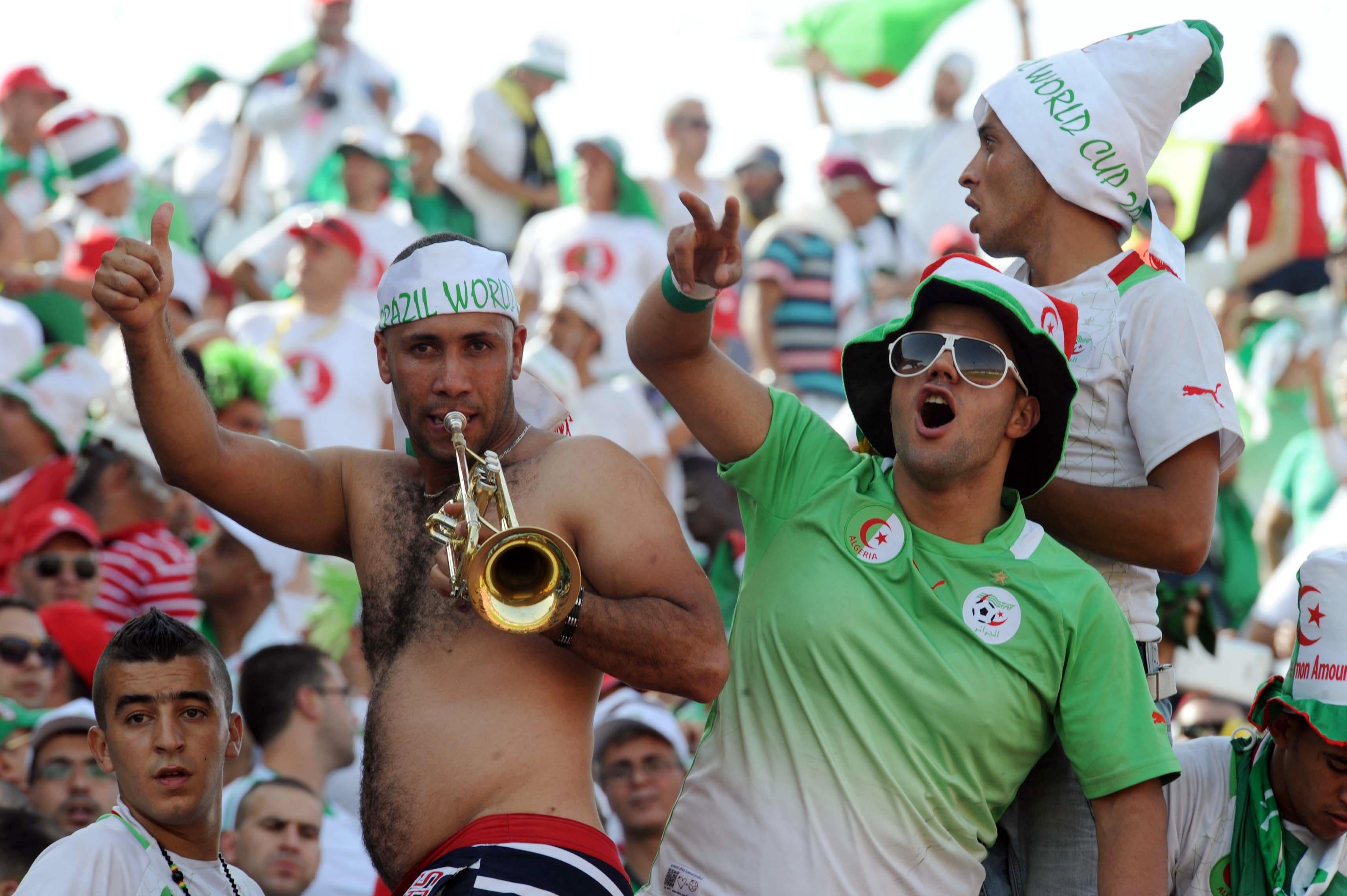 Match Schedule: Algeria is in Group H, which is one of the more evenly matched groups at the World Cup. Its first match, against Belgium on June 17, is its hardest and one Algeria will likely lose. There's slightly more hope against South Korea on June 22 and Russia on June 26, but not much.
How They Line Up: 4-4-1-1, with lots of players behind the ball. A less slick, more defensive France.
Key Players: The man most likely to make something happen is Valencia's Sofiane Feghouli, an attacking midfielder comfortable playing out wide or in the middle. One of La Liga's most underrated players, he's kept his club ticking after the departures of Spanish stars David Silva, Juan Mata, and Roberto Soldado. His creative partner will be Bastia's Ryad Boudebouz—everything will come through these two.
Up front, Porto's recent acquisition Nabil Ghilas is coming off a promising season while Dinamo Zagreb striker El Arbi Hillel Soudani has a great record for Algeria, scoring 10 goals in 20 games.*
Fans of underrated defenders from Italy's Serie A, rejoice! Napoli's Faouzi Ghoulam will be the bedrock of this defense while left back Djamel Mesbah of Livorno offers width going forward (though when his concentration lapses, it really lapses).
Rising Star: Tottenham's biggest breakout star this year was Nabil Bentaleb, 19. A central midfielder comfortable playing defensively or box-to-box, Bentaleb chose to play for the Desert Foxes over France and England. Algeria will be glad to have him.
Previous entries: Australia, Iran, Costa Rica, Honduras
Want more World Cup previews like this? You can read all of Harrison Stark's country-by-country guides by purchasing the e-book The Global(ized) Game: A Geopolitical Guide to the 2014 World Cup for $3.99.
Some of this material has been adapted from World Cup 2010: The Indispensable Guide to Soccer and Geopolitics by Harrison Stark and Steven D. Stark.
*Correction, May 21, 2014: This post originally misstated that Zinedine Zidane was born in Algeria. Zidane's family emigrated from Algeria, and he was born in France. This post also referred to Albert Camus as a "longtime advocate of Algerian independence." Though scholars are divided about Camus' stance on Algeria, it would be more accurate to call him a "critic of France's colonial rule."
*Correction, May 27, 2014: This post originally stated that El Arbi Hillel Soudani has scored in half of the games he's played for Algeria. He has scored 10 goals in 20 games, but has only scored in nine of those 20 matches.