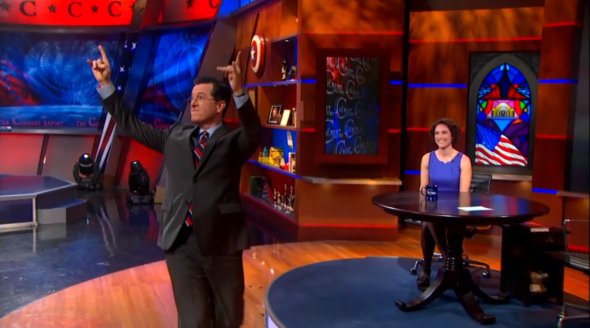 I just lost my favorite gig. Not going on TV with Stephen Colbert—he is taking his fabulous writers and producers with him to CBS, so there may still be room in the suitcase for a little Supreme Court commentary, too. (I can hope.) I'm talking about prepping other guests for dealing with Colbert's character. "Just tell him why he's wrong," I always told people who asked me how to handle his genius weirdness.
For The Late Show, Colbert will leave his conservative alter ego behind and turn into himself. If you're wondering whether you'll like the real him, you will, I promise. He's a mensch. If you have any doubt, listen to this lovely Fresh Air interview. That's the real Stephen talking to Terry Gross.
I'm excited for Colbert to remake network late night. But I'm also mourning, for a moment, the passing of his character. It was such a distinct performance, a lark that also took all of us, as viewers, on a deep dive into American politics. I never worry when people tell me their main sources of news are The Daily Show and The Colbert Report because we learn a ton while we laugh. And in fact, Colbert's greatest skill is that he asks great questions. That part he'll take with him.

Previously
Stephen Colbert Out of Character: How He Might Be as Late Show Host
"Stephen Colbert" Changed Late Night. Now Stephen Colbert Might Be Able to Save It.
---