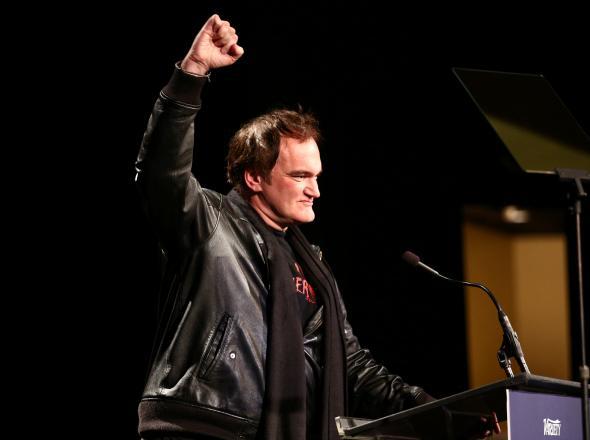 When the screenplay for Quentin Tarantino's Django Unchained follow-up, a five-part western titled The Hateful Eight, leaked online in January, Tarantino vowed not to move forward with the film, telling Deadline, "I have no desire to make it." He then filed a lawsuit against Gawker Media for publishing a story containing a link to the script (though they weren't the source of the leak), moved on to a screenplay for a different project, and, two nights ago, staged a reading of The Hateful Eight script at the Ace Hotel in Los Angeles, with a cast that included Samuel L. Jackson, Kurt Russell, Bruce Dern, Amber Tamblyn, and more.
The big news, though, is that Tarantino is still working on the script, leading people to suspect that he may make the film after all. He announced during the reading that he's "working right now on a second draft," with a third to follow.

Tarantino declined to divulge further details, but he did say that the ending of the final version would differ from the one being read that night. In The Hateful Eight's first draft (spoiler alert!), the story ends with a chapter called "Black Night, White Hell," which leaves all of the film's major characters dead. But at the reading, he said that chapter's been entirely rewritten. So what happens now is anyone's guess.
What's also unclear is who Tarantino will make privy to the script this time around. He sent out the first draft to six people, he said, including actors Michael Madsen, Bruce Dern, and Tim Roth. He subsequently accused Dern's agents of leaking the script, which they denied.
However he decides to proceed, it looks like we may get another Tarantino epic before long, this time a post-Civil War drama set in Wyoming. And if you don't mind spoilers, you can read reviews of the live-reading over at The Playlist and The Hollywood Reporter.

---