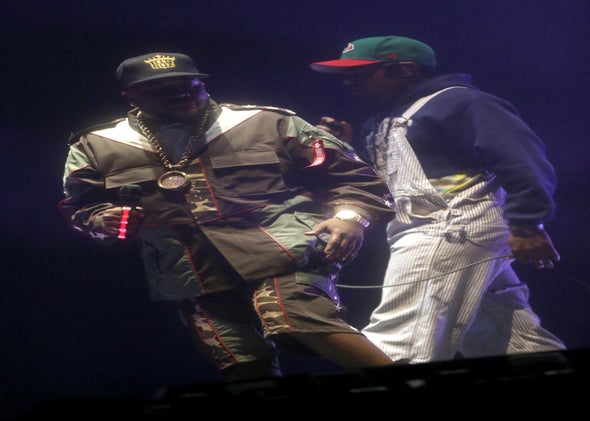 Late last year, rumors started circling that Outkast may be reuniting. The group hadn't toured since the 2003 release of Speakerboxxx/The Love Below—one of only two hip-hop records to win a Grammy for Album of the Year—and skepticism was rightfully rampant: André 3000 had expressed discomfort with tour life, Big Boi seemed committed to furthering his solo career, and since their hiatus in 2007 the duo has appeared uninterested in reviving one of the most legendary acts in the genre.* But the reunion was confirmed—in honor of their 20th anniversary, the pair would be playing almost 40 gigs in 2014 to adoring festival audiences around the world.

The first of those concerts came last night, when Outkast stormed through a 90-minute set at Coachella that included appearances from Future and Janelle Monáe. They kicked the performance off with "B.O.B", and from there delivered a rich and varied sampling of their ouevre, managing to get to all the fan favorites while also also digging up some deep cuts from their solo work. Enjoy.

Correction, April 12, 2014: This post originally stated that Speakerboxxx/Love Below was the only hip-hop record to win the Grammy for Best Album of the Year. The Miseducation of Lauryn Hill also accomplished the feat. 
---