The season premiere of Mad Men Sunday night began with a pitch, not for Sunkist or Ford or any of the other accounts that generated so much excitement for Sterling Cooper & Partners last season, but for the Bulova Accutron. Why did "Time Zones" spend so much time on a wristwatch?

The answer may lie in the Accutron's connection to perhaps the biggest event of 1969, the year in which this season is set to take place: The Apollo 11 space mission and man's landing on the moon.

As many watch collectors know, the Accutron, introduced in 1961, was a watch long associated with the Space Race. Bulova gave free watches to test pilots in order to forge a connection between their watches and spaceflight in the American imagination, and the Accutron played an important role in the computer systems of NASA spacecraft. This in turn helped the Accutron move from Americans' imaginations to Americans' wrists and in 1969, Bulova was determined to place the first watch on the moon.
The company (spoiler alert) didn't succeed—that honor went to the Accutron's rival, the Omega Speedmaster, which became the official astronaut's watch—but Buzz Aldrin and Neil Armstrong did leave a Bulova timer on the Moon's Sea of Tranquility.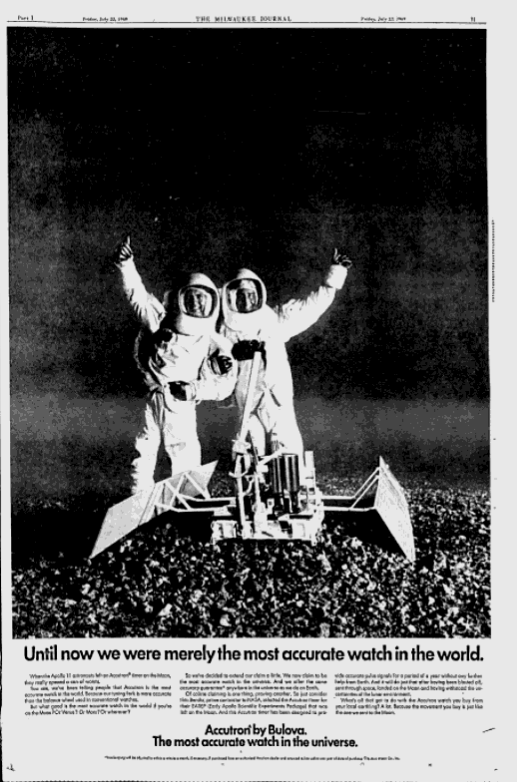 This was enough for Bulova to continue to tout its role in the July 1969 moon landing, and their clever marketing campaign boosted sales. "Until now, we were merely the most accurate watch in the world," ran their newspaper advertisement later that month in papers around the country. They called the Accutron "The most accurate watch in the universe."
It remains to be seen what Matthew Weiner and co. might do with Accutron's connection to the Space Race. Perhaps Sterling Cooper will make the doomed push to get the Accutron around Neil Armstrong's wrist, or perhaps their efforts will echo the space race more obliquely. Regardless, it will be hard for them to come up with an ad slogan as good as that.
Read all of Slate's coverage of Mad Men.