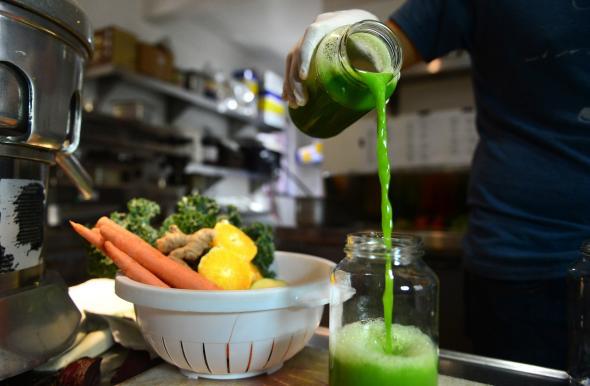 As the afternoon winds down, you may be trying to decide whether to toast the end of the workweek with beer, wine, or spirits. Can I interest you in a kale or foie gras martini instead? These are real concoctions served at upscale restaurants in populous American cities, and the food media shone a spotlight on both this week.
At New York's new Chalk Point Kitchen, helmed by a Michelin-starred chef, bartender William Bastian is mixing "cucumber, celery, lime, lemon, and kale juices (pressed in-house) with ginger beer and apple vodka," according to Grub Street. In a photo, the $13 cocktail looks like something Poison Ivy might drink and is garnished with a lemon half-wheel.
In Las Vegas, Eater reminded us on Wednesday, Andre's, one of the restaurants in the Monte Carlo, serves a sludgy-looking emulsification of "Grade A foie gras, vodka, brandy, clover honey and Tahitian vanilla bean." "This very popular martini at Andre Rochat's restaurant sells for $18," writes the food blog's Susan Stapleton.
I am all for creative mixology, and I am aware that kale and foie gras are both delicious ingredients, but I must say that hearing about these cocktails sets my teeth on edge. Just because a libation is served in a martini glass doesn't mean it's a martini. And I know I'm not alone in saying that I would much rather drink a real martini—perhaps one of the contestants of Slate's Martini Madness tournament—with kale chips or foie gras on the side. Whatever your poison is, cheers.
---