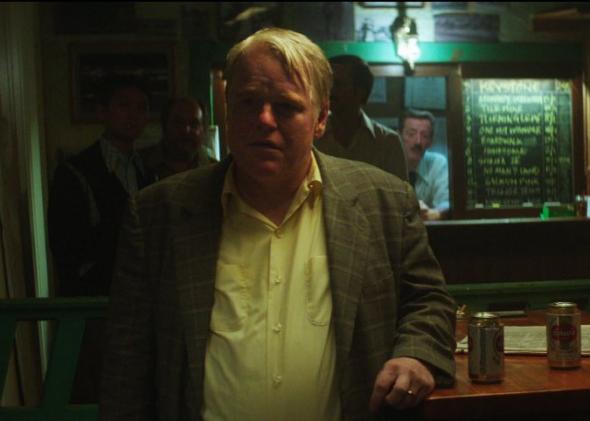 On Mad Men, Roger Sterling more or less gets through each season on the strength of his "silver fox" charm in lieu of actual work. (He uttered not a word about Sterling Cooper & Partners in last night's season premiere.) In real life, however, John Slattery is a much harder worker whose most recent outside venture involves directing his first feature-length film. God's Pocket, based on Pete Dexter's 1983 novel, takes place in a close-knit blue-collar community in which the men "work, marry, have children, and until recently, die like everyone else," as one character puts it in the trailer. The "until recently" refers to a local 22-year-old construction worker whose workplace death was ruled an accident, caused by a fatal fall.*
But as suspicions surrounding certain details of the "accident" begin to emerge, the man's mother (Mad Men co-star Christina Hendricks) demands that her husband (the indelible Philip Seymour Hoffman, in one of his final roles) dig up the truth. The movie looks a bit like Mystic River, but with a sense of humor. Richard Jenkins and John Turturro round out the cast, and the film opens in limited release May 9.
*Correction, April 14, 2014: The article originally stated the age of the deceased contruction worker as 42. He is 22.

---