Brow Beat is following the final season of Mad Men with the perfect meter to keep track of all the latest oddsmaking on Don Draper's death: The Don Draper Death Watch.

Leading up to Mad Men's season premiere, we were skeptical that Matthew Weiner would end his show in so conventional a manner as the death of his protagonist. But there were some ominous notes in Sunday night's episode—even setting aside those howls from the coyotes in the valley—that made us second guess that assumption just a bit.

First, there was the dreamlike sequence in which Don Draper has a chance encounter with a seatmate (played by Neve Campbell) on a cross-country flight. Just as the seatmate seems to echo Don's past lovers, he seems to remind her of her deceased husband. In what could be foreshadowing, or a warning, the husband was an alcoholic ("He was thirsty," she says, "and he died of thirst"), and he died at 50. (Don is 42.)

And then there was the premiere's closing shot: Don steps alone out into the cold night, after apparently being a bit "thirsty" himself. Perhaps Don will heed his seatmate's warning and go the way of Freddy Rumsen, but so far he's not inspiring much faith.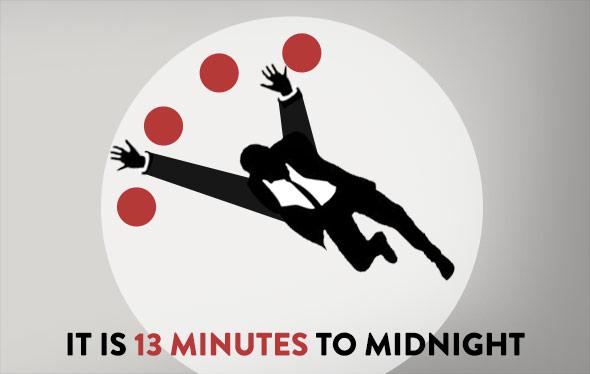 Update, April 16: An earlier version of this article referred to our tool as The Don Draper Doomsday Clock. The Bulletin of the Atomic Scientists, the creators of the original Doomsday Clock, objected to this title. Lest the reader confuse the fate of Don Draper with the fate of the planet, we have changed the name.
Read all of Slate's coverage of Mad Men​.