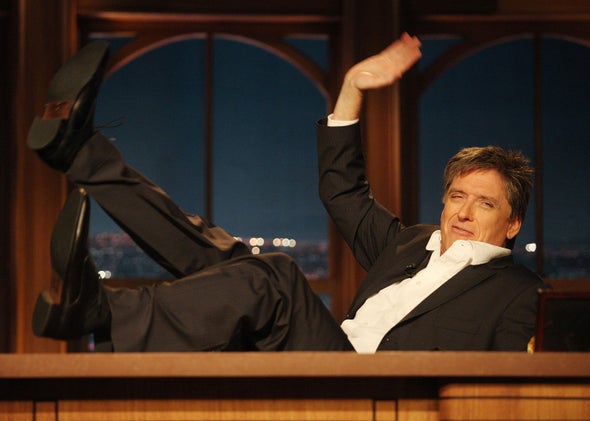 Craig Ferguson, after 10 years as host of the Late Late Show, is leaving his desk in December. He announced the news at the taping of his show for tonight, quipping that "CBS and I are not getting divorced, we are 'consciously uncoupling,' but we will still spend holidays together and share custody of the fake horse and robot skeleton, both of whom we love very much."

The news isn't surprising. After Stephen Colbert won the contest to succeed David Letterman, whose show directly precedes Ferguson's on CBS's late night docket, the Scottish comedian was widely expected to jump ship. In fact, he already has a gig as host of Celebrity Name Game, a game show debuting this fall.

Still, this is bad news for fans of late night television. It's even bad news for haters of late night television: Ferguson was an irreverent genius, a consistent and consistently surprising comic who took the genre's tiresome format and threw it out the window. He had no in-house band. He had no in-house announcer. His co-host was a robot. His monologues eschewed weak and easy one-liners, focusing instead on anecdotal digressions and slice-of-life observations. Above all, his Late Late Show was informed by a unique kindness, vulnerability, and sense of perspective. Never was that more evident than in one of his best openings, when he refused to skewer Britney Spears and other embattled celebrities given his own struggles with alcoholism and depression.
Other openings, like his famed eulogy to his father, also struck a nerve with audiences. These confessional moments made Ferguson, more than any other host, a friend to his viewers. He took the same approach with his guests: he never prepared questions for them, preferring to naturally unearth their interests and ideas. That improvisational method was especially refreshing when compared to the styles of his often pandering competitors, and it produced late night's most candid, sincere, and enlightening conversations. (His interview with Archbishop Desmond Tutu even won a Peabody). For Ferguson, being funny came with the responsibility of being smart; his show never sacrificed serious thought for cheap laughs.

No one can complain about Colbert's ascent to late night's premier position. But it is slightly tragic considering that someone as talented, endearing, and innovative as Ferguson was waiting in the wings. He was late night's best host. Some may say the genre is dying, doomed to irrelevance given its overplayed tropes and inflexible format. Those who've stayed up until 12:35 for the man with the lovable Scottish brogue know that it's been quietly revolutionized for a decade.

---