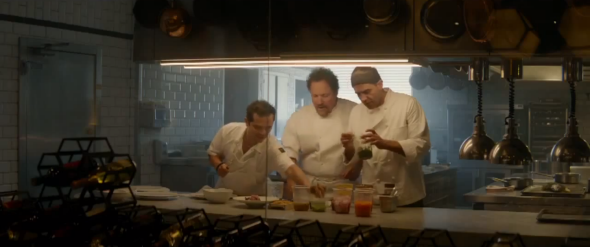 After Jon Favreau's foodie comedy Chef premiered at SXSW last month, the first reviews were mixed. While Variety's Joe Leydon called it an "amiably rambling dramedy" that's "far too entertaining to be dismissed as self-indulgence," Indiewire's Drew Taylor said it "goes from being boring to exceedingly tedious." (Both writers, and many others, drew parallels between the film's plot—in which a past-his-prime L.A. restaurant chef, played by Favreau, gets panned by a restaurant critic and returns to a more intimate style of cooking—and Favreau's Hollywood career post-Cowboys and Aliens.)
Now, Open Road Films has released its first trailer for the film, which opens in wide release on May 9, and this preview plays up the comedy part of "dramedy," with a clichéd salsa-tinged soundtrack and more than one gag about male genitalia:
In addition to the requisite food truck, there are appearances by an impressive roster of supporting actors, including John Leguizamo as a sous chef, Dustin Hoffman as a no-nonsense restaurant manager, Robert Downey Jr. as a quirky benefactor, and Oliver Platt as the dreaded critic. (Platt's real-life brother, Adam, is New York's restaurant critic, a coincidence that Favreau has said he wasn't aware of when he was casting the role.)
Unfortunately, the women of the film—Sofia Vergara as Favreau's ex-wife and Scarlett Johansson as a hostess in Favreau's restaurant—are relegated to roles as supporting caregivers who comfort Favreau when he's down and moan appreciatively when eating his food. Johansson gets plenty of screen time but says exactly two words in the 2½-minute trailer. In the full-length film, I hope Chef's actresses are given more interesting things to do than look pretty. 
Luckily, there's another type of eye candy in the trailer—if its shots of food being lovingly chopped, sautéed, and plated are any indication, Chef will make you hungry even if it doesn't make you laugh.
---