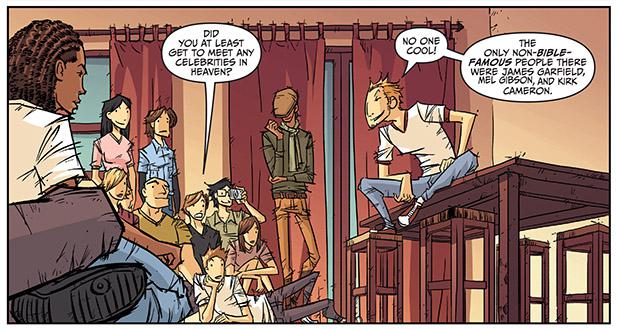 So what happens is, it's the rapture. And this one dude gets sucked up into heaven, even though he's pretty much a sinner. And when he gets kicked out of and sent back to Earth, he launches a campaign to convince those who remain that the pearly gates aren't worth decades of clean and boring living. Better to live it up down here, says charming bastard Bram Carlson, than be stuck eating lousy manna up there. Luckily, he's got a demon on his side to help make his case. Unluckily, his best bro has called some ass-kicking angels to battle him, and they've got swords.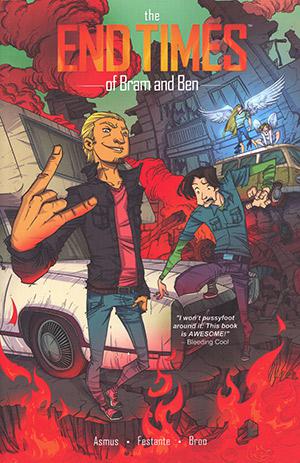 The comics miniseries The End Times of Bram and Ben started as a Kickstarter-funded project and evolved into a sharp, four-issue miniseries about faith and friendship, collected now in a trade edition with a bonus short story. It's a gleefully profane, blasphemous, and absurd look at the Apocalypse, written with great flair by James Asmus and Slate video contributor Jim Festante. And the book benefits greatly from the very clever cartooning of artist Rem Broo, whose busy panels—dense with rubbery figures and spring-loaded jokes—make for a rich and vibrant storytelling experience. We're very pleased to have Rem Broo illustrating the April issue of the Slate Book Review.
—
The End Times of Bram and Ben by James Asmus and Jim Festante, illustrated by Rem Broo. Image Comics.
See all the pieces in this month's Slate Book Review.
Sign up for the Slate Book Review monthly newsletter.
---