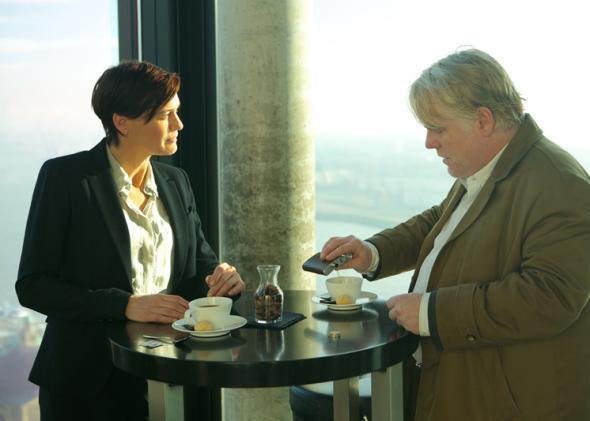 It's been a little over two months since the late, great Philip Seymour Hoffman's passing, but thankfully his singular talent will be on display in several forthcoming films. One of those movies is A Most Wanted Man, a John Le Carré adaptation that released its first trailer yesterday.

Like Tinker Tailor Soldier Spy, and really any adaptation of Le Carré's work, A Most Wanted Man looks to be an intricate, layered spy thriller grappling with all the usual moral conundrums of high-stakes espionage. Hoffman plays Gunter Bachmann, a German spy who runs a counter-intelligence unit intent on infiltrating the jihadist network involved in 9/11; Rachel McAdams is his foil, an impassioned human rights attorney committed to protecting a suspect's due process. Robin Wright and Willem Defoe fill out the rest of the cast.

The director is Anton Corbijn, who's no stranger to the genre: The American, his 2010 feature with George Clooney, was a glacially paced, beautifully shot longeur that pared the spy movie down to the sparse components of character study and atmosphere. A Most Wanted Man looks a bit more by the book, in terms of structure and pacing, but reviews from Sundance noted Corbijn's same pensive, methodical approach to the subject matter. Either way, in large part due to Hoffman's ability to extract brilliance from any role, it's hard to see this not being one of the more intelligent, exciting highlights of summer escapism; it hits theaters July 25.

---