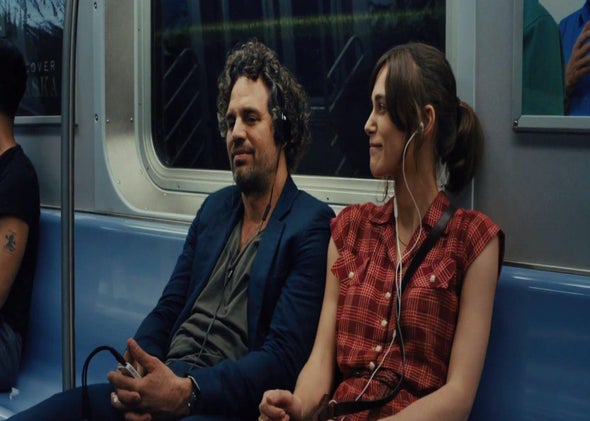 Rom-com season is coming. With the onset of spring comes a host of well-casted, soul-stirring romances meant to thaw the hearts of America after a long winter. One of those films is Begin Again, which recently released its first trailer. The plot is simple: Gretta (Knightley)  decamps to New York with her rock-star boyfriend Dave (Adam Levine), gets unceremoniously dumped, and is then discovered at a local bar by a disgraced record executive (Ruffalo) who is entranced by her heartbroken set. The two proceed to record her presumed debut album in random places around the city. Romance blossoms.

If you think that sounds like Once, 2006's low-budget musical hit that went on to become a Broadway play, that's because it shares the same writer-director, John Carney. He seems to have aped the basic template of that film—two down-and-out musicians collaborate in song and then fall into a deeper rapport—but that's fine: Once worked so well because of its simplicity and sincerity, not in spite of it.

As for the casting, Ruffalo is rarely disappointing when he does his scruffy, everyman charmer routine, and it's refreshing to see Knightley in a role that doesn't require her to be bedecked in Victorian regalia. Catherine Keener, CeeLo Green, and Hailee Steinfeld round out the cast, but the true success of this formula will be entirely dependent on how good the songs are. From the sound of it, Knightley's voice is surprisingly capable, so this could be be another hit for Carney. We'll see come July 4.
---