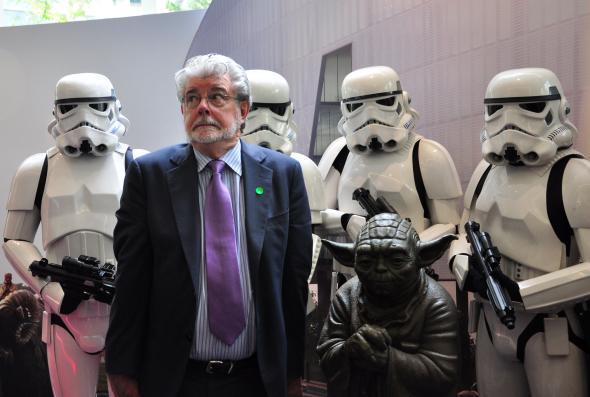 Yesterday, word got out of a short list of potential leading men for Star Wars Episode VII, which included Breaking Bad villain Jesse Plemons and John Boyega, best known for the 2011 film Attack the Block. "Sources" told Variety that announcement delays stem from debate about whether the studio wants to cast an actor of color in the role. "Disney had no comment."
This was the latest tiny detail about the movie to get widespread attention from news outlets. So far, though, we really don't know much about the highly anticipated film. J.J. Abrams is directing, it is scheduled to come out on Dec. 18, 2015, and Carrie Fisher says that she and her former co-stars Harrison Ford and Mark Hamill will all appear. Presumably, between now and that release date, we'll be bombarded with every minuscule detail about the production: casting news, plot details, concept art, set photos, and on and on and on.
Such tidbits are the hallmark of Hollywood marketing in its rococo phase. But I have a different idea for how to market Star Wars Episode VII, and I can sum it up in a single word.
Don't.
Have every cast and crewmember sign a nondisclosure contract, and scrap any formal promotional plans prior to the release of the latest installment. Let us know not one more single detail about the production until it's up on the screen for us to eagerly gawk at on opening night. Seriously.
Some details will leak, surely, but there are advantages to at least trying to keep them secret. If producers ditch the press releases and skip the trailers, they'll save millions in advertising and build even greater buzz among curious audiences. Curiosity might even push more people to see it on opening weekend than otherwise would. As a cultural experience, opening night would be something like a once-in-a-lifetime event, and no one, not even the most casual Star Wars fan, would want to miss out.
Contrast that with the standard approach. After the usual torrent of teasers, trailers, promo photos, interviews, and "exclusive sneak peeks," the typical big release has been picked apart nearly to death before it even comes out. And Star Wars will arrive with perhaps the highest expectations of any blockbuster in recent years.
Granted, Abrams tried to keep a big secret with Star Trek Into Darkness, and fans excoriated him for it. But part of his problem was that Khan had been listed as a major character on IMDb prior to screening, and Abrams' denials came off as irritatingly coy. But with the next Star Wars, we don't know yet who the major heroes or villains are. (As of today, rumored baddie Adam Driver is listed as exactly that: "rumored.") So now's the time to put this plan into effect.
There's a useful if imperfect analogy to be made with Beyoncé's surprise video-album from late last year. The lack of any advance promotion likely made Beyoncé an even bigger hit than it would have been otherwise. Within four weeks, it had already surpassed sales of her previous album, 4. Fans were crazy about it, and months later, they still are.
The release of Star Wars won't be a surprise, of course. And chances are that it would be virtually impossible to keep such a massive undertaking entirely under wraps, especially since the public already knows it's on the horizon. That said, if Beyoncé can film 17 videos with dozens of extras and crewmembers without so much as a hint that the album was completed and coming our way at the end of 2013, perhaps it's not quite as impossible as it seems.
But the real lesson of Beyoncé for Star Wars is the unbridled enthusiasm the album garnered upon release. Yes, it was important that the album was, in fact, terrific, but it also mattered that people weren't burnt out by advance promotion. Listening to the album on that first day, one had the rare opportunity to discover a major cultural release before anyone else, critics and media included, had talked about it. As a fan, that felt special and fun.
That could be you, Star Wars. Think about it.
---