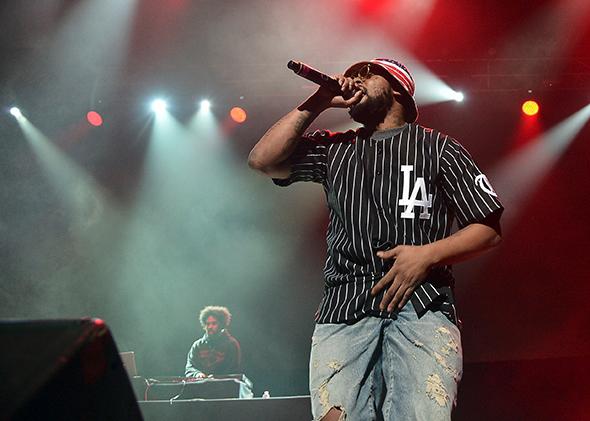 Los Angeles MC Schoolboy Q's major-label debut Oxymoron finally arrived last week, atop a raft of expectations that it fulfills and often exceeds. At first blush its title seems like a (literally) idiotic pun, the "oxy" referring to the unglamorous narcotic that Q once made his living peddling. But then you put on the album, 17 tracks of razor-sharp focus and unrelenting smarts, and the pun doubles back to contradict and thus fulfill itself. And just like that you've entered the hypnotic Möbius strip that is both Schoolboy Q and the musical world in which he lives.
Oxymoron isn't Q's first album—2011's Setbacks and 2012's Habits and Contradictions, both excellent independent releases, precede it—but it feels like part of a beginning. It's the second Interscope release from Los Angeles hip-hop conglomerate Top Dawg Entertainment, and the first since Kendrick Lamar's Compton opus Good Kid, M.A.A.D. City, a work that seems more and more monumental with each passing day. Oxymoron is released into a brave new world that Kendrick has to no small degree made and comes from a city he's come to define, more so than any artist since the heyday of gangsta rap. Now that Q and Oxymoron have arrived from South Central, the temptation to spin tales of L.A. rebirth against former-glory backdrops of Dr. Dre busting through "I Have a Dream" banners will likely prove hard to resist.
They'll also miss the forest for the palm trees. For earlier generations, rap was defined by locality—Jay Z has spent most of his adult life as one of the most famous people on earth but still reps the Marcy Houses and was goosing the real-estate value of 560 State St. via multiplatinum singles as recently as 2009. But these obsessions are increasingly outdated, more the province of elder statesmen and nostalgia-peddling publicists than the current condition of hip-hop itself. When Kendrick first emerged into stardom under the seeming tutelage of Dre, the local-color angle dominated, even if the music Kendrick was making sounded more indebted to Midnight Marauders or 808s and Heartbreak than Straight Outta Compton or The Chronic. And while no geographic dichotomy dominates the rap-fan imagination like East Coast vs. West, when TDE delivered its scorched-earth showcase at the BET awards last fall, the MCs rapped over Mobb Deep's "Shook Ones, Part 2," one of the most iconic works of NYC hip-hop ever made. Schoolboy Q lists his biggest influences as Biggie, Nas, and 50 Cent, New Yorkers one and all—a generation ago such an admission from an L.A. rapper would have been unimaginable.
This isn't to say that Kendrick and Q are New York–obsessed but rather that they're not particularly anywhere-obsessed. Oxymoron is a Los Angeles album that's distinctly post-coastal, its relationship to L.A.-as-rap-trope both crucial and incidental. The album features appearances from golden agers Kurupt and Suga Free, but their presence feels like nods to connoisseurship, cultish and half-ironic Easter eggs. The album's opening cut, "Gangsta," offers a sly if obligatory N.W.A. homage while "Los Awesome" is a love letter to the city over a stuttering, rattling beat courtesy of Pharrell (Virginia Beach). ZIP codes and time zones get fuzzier from there: "What They Want," featuring 2 Chainz and produced by Mike Will Made It, is Atlanta through and through while the club anthem "Hell of a Night" sounds so much like late-period Kanye (right down to the title), you could mistake it for a cover.
Kendrick and Q are formally associated with the SoCal supergroup Black Hippy (along with TDE associates Jay Rock and Ab-Soul), but they're also part of a larger, quasi-bohemian intelligentsia that includes artists like Harlem-bred, Houston-inspired A$AP Rocky and Detroit-bred, Radiohead-obsessed Danny Brown. This far-flung avant-garde is serious about music and seriously prolific at making it, advancing rap with a cosmopolitanism unbounded by place or even time: a looming star in the on-deck circle, the dazzling Brooklyn MC Joey Bada$$, sometimes seems suspicious of any rap made since 1999, when he was four.  Oxymoron will invariably prompt comparisons to Good Kid, but despite some moments of aesthetic overlap (the speed shifting on Q's "His And Her Fiend" recalls Kendrick's "Poetic Justice," although if you're looking for a truer source, spend 35 minutes with Houston pioneer DJ Screw's legendary "June 27"), Oxymoron is a vastly different work, and Q a vastly different MC than his flashier Top Dawg colleague—gruffer, grimier, more ruggedly utilitarian.
Oxymoron seems unlikely to yield a hit in the classic sense, although Interscope may care more about that than Q himself (he's protested as much in a recent Grantland profile). Its likely best shot at crossover manna, "Man of the Year," a lascivious and strangely melancholic ode to the, uh, female form, was released as a single back in November and peaked at No. 81. Nor does Oxymoron seem destined to change the fact that Q will remain overshadowed by Kendrick for the foreseeable future, a condition he shares with nearly every other rapper working in 2014.
Q may lack his labelmate's visceral obsession with being the hottest MC on the face of the earth, but this shouldn't diminish the album he's made, and Oxymoron feels like music on and for its own terms. It's a deceptively ambitious and mature work whose intricate creativity demands careful and repeated listens. There's no shortage of hard stuff here—the Alchemist-produced "Break the Bank" is probably the album's most explicit nod to its Left Coast hustler heritage—but more often than not Oxymoron pulses with elusive, murmuring beauty, dwelling in the ambivalent contradictions suggested by its title. "Hoover Street" is a seven-minute reminiscence of gangbanging that unfolds like a sprawling moral tussle, as Q winds his way through conflicts with rival gang members, struggling family members, and his own conscience over a shape-shifting musical backdrop. The album's best track, "Blind Threats," boasting a meticulously understated beat by Toronto producer Lord Quest and a guest turn from Raekwon (an MC whose gritty, workmanlike greatness Schoolboy Q recalls in his best moments), finds Q grappling with some most fundamental doubts: "Kneeling down with some questions to address, like why the ones who commit the worst sins live the best? The Ten Commandments, I can mark five checks / But I sense flaws, the Bible preaching blind threats."
It takes a knowing and worldly confidence to make music like this, a sense of where you are and of everything larger than you. When Kendrick infamously declared himself "King of New York" on Big Sean's "Control" last year  (as if anyone still remembers that track as "Big Sean's"), this was partly what he was getting at, and lost in the ensuing controversy was the fact that he and Q and their generation are something other than all that as well. That East-West thing might never be what it was, but Oxymoron is a reminder that what sounds like the world getting smaller is really the world getting a whole lot bigger.
---