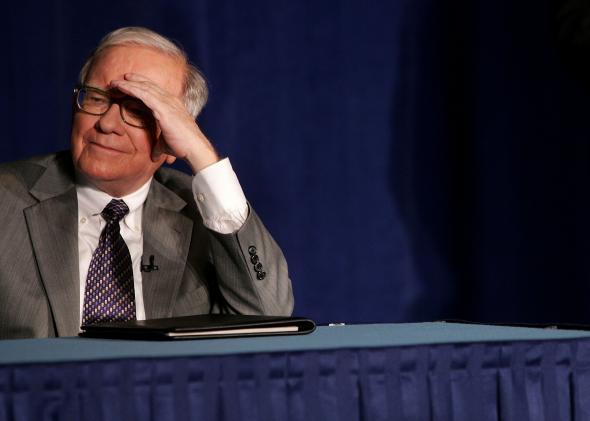 Earlier Friday, my colleague John Swansburg offered Warren Buffett a not-so-amazing deal, suggesting that the Oracle of Omaha buy out his then-perfect, 16-for-16 bracket for a mere $10 million. Buffett was wise to wait: Duke lost to Mercer, and Mr. Swansburg's picks were toast. He's not the only one: As of early Friday evening, after Gonzaga's win over Oklahoma State, there are just six perfect brackets remaining out of 11 million in ESPN.com's Tournament Challenge. And in the Buffett/Quicken Loans Billion Dollar Bracket Challenge, which is hosted by Yahoo Sports? There are a mere three.

Our last remaining potential billionaires: Letisha's Swag Bracket, eric hjermstad's Bracket, and Michelle's Awesome Bracket. (Great picks, Eric, but poor adjectival foresight.) All three of the perfect pickers have UCLA, Wichita State, Kentucky, Virginia, and George Washington to win in tonight's NCAA tournament action. If Tulsa, Cal Poly, Kansas State, Coastal Carolina, or Memphis win this evening, then Buffett's money is safe before the tourney's opening weekend. In the other three games, Letisha likes Stephen F. Austin over VCU, Providence over North Carolina, and North Carolina Central over Iowa State. Eric has VCU, UNC, and Iowa State. Michelle's got VCU, UNC, and North Carolina Central. No matter what, then, there will be at most one perfect bracket going into the weekend, with 31 games left to go in the tournament. I'm liking Buffett's side of that bet.
As David Sarno noted in his prescient piece, "Don't Take Warren Buffett's Bracket Challenge," Quicken is giving out $100,000 each to 20 top finishers. That's not $1 billion, but it's not chump change either. Well, unless you're Warren Buffett.
Update, 11:00 p.m.: Sorry, Letisha. Condolences, Eric. Tough break, Michelle. When Memphis beat George Washington, the $1 billion dream was over for our last three perfect bracketeers. Oh, and congratulations Warren. It's time to pop the champagne.
Update No. 2, March 22, 11:45 a.m.: While there are no perfect brackets left in the ESPN.com Tournament Challenge and in the Buffett/Quicken Loans Billion Dollar Bracket Challenge, there is one unsullied entry remaining in Yahoo Sports' Tourney Pick'em 2014. "Brad's Breathtaking Bracket" has all 32 of Thursday and Friday's games correct.
The Chicago Sun-Times identifies Mr. Perfect as Brad Binder, a fellow from Buffalo Grove, Ill. Brad did make one big mistake, though: While his bracket is hosted by Yahoo Sports, the site for the $1 billion challenge, he declined to opt in to Warren Buffett's NCAA cash-a-palooza. Now, he's been reduced to (playful) begging.
If you want to follow along with Brad's quest for perfection, he's got Florida, Syracuse, Michigan State, UConn, San Diego State, Oregon, Louisville, and Michigan in Saturday's action.
Update No. 3, March 23, 10:30 a.m.: Brad's Breathtaking Bracket is no longer quite so breathtaking. Dayton's win over Syracuse on Saturday, followed soon after by Wisconsin's victory over Oregon, finally busted Brad Binder's bracket. As far as we know, there are now zero perfect brackets remaining throughout the land. Picking the winners of 40 straight basketball games: It's very, very hard. Picking the winners of 63 in a row: As Warren Buffett knew along, that's essentially impossible.
---